Lockheed Martin (NYSE: LMT) has licensed the Dermoskeleton™ technology from B-Temia, Inc.  This is the same technology that runs the Keeogo lower body exoskeleton.  Lockheed Martin hopes to integrate the powered exoskeleton technology and apply it to its current product, the FORTIS, and as of yet unreleased products.
The FORTIS is a passive tool holding exoskeleton.  It is an unpowered physical assistive wearable device capable of supporting the weight of massive instruments.  The FORTIS takes the weight of heavy tools and directs it directly into the ground, bypassing the user.  However, since it is an entirely passive device, walking in it can be hindered.  If the FORTIS were to be powered, it could be turned into a more versatile platform (note, this will not be the first attempt to power the legs of a tool holding exoskeleton).
The above is just one possible application of the B-Temia technology to Lockheed Martin's exoskeleton projects.  This combination of resources and technology could benefit the development of military, industrial, and first response wearable robotics.
First response?  First response exoskeletons have not been mentioned once on the Exoskeleton Report, until now.  ExR defines the exoskeleton industry into four categories: military, industrial, medical, and commercial.  NIST and various other entities, however, have a fifth category, first response.  First response augmentation wearables are envisioned to assist the user in an intense emergency situation.  This could be an exoskeleton that helps a medic drag a wounded soldiers away from a fire zone.
Another possibility could be a tool holding exoskeleton such as the FORTIS carrying heavy equipment to open car doors in a crash site.  Imagine a fully mobile firefighter with the Jaws of Life and a mobile compressor on an exoskeleton that directs their weight into the ground (but without hindering movement).  The Lockheed Martin license agreement with B-Temia could make this a reality.
Yet another application of combining Lockheed Martin and B-Temia technology could be an exoskeleton that can support the weight of heavy personal protective gear.  This can be applied to a user that needs to enter a high radiation zone with multiple layers of protection but still be able to focus on their work.  Another potential application would be making the heavy Explosive Ordinance Disposal (bomb) suits less demanding to wear.
A Point of Curiosity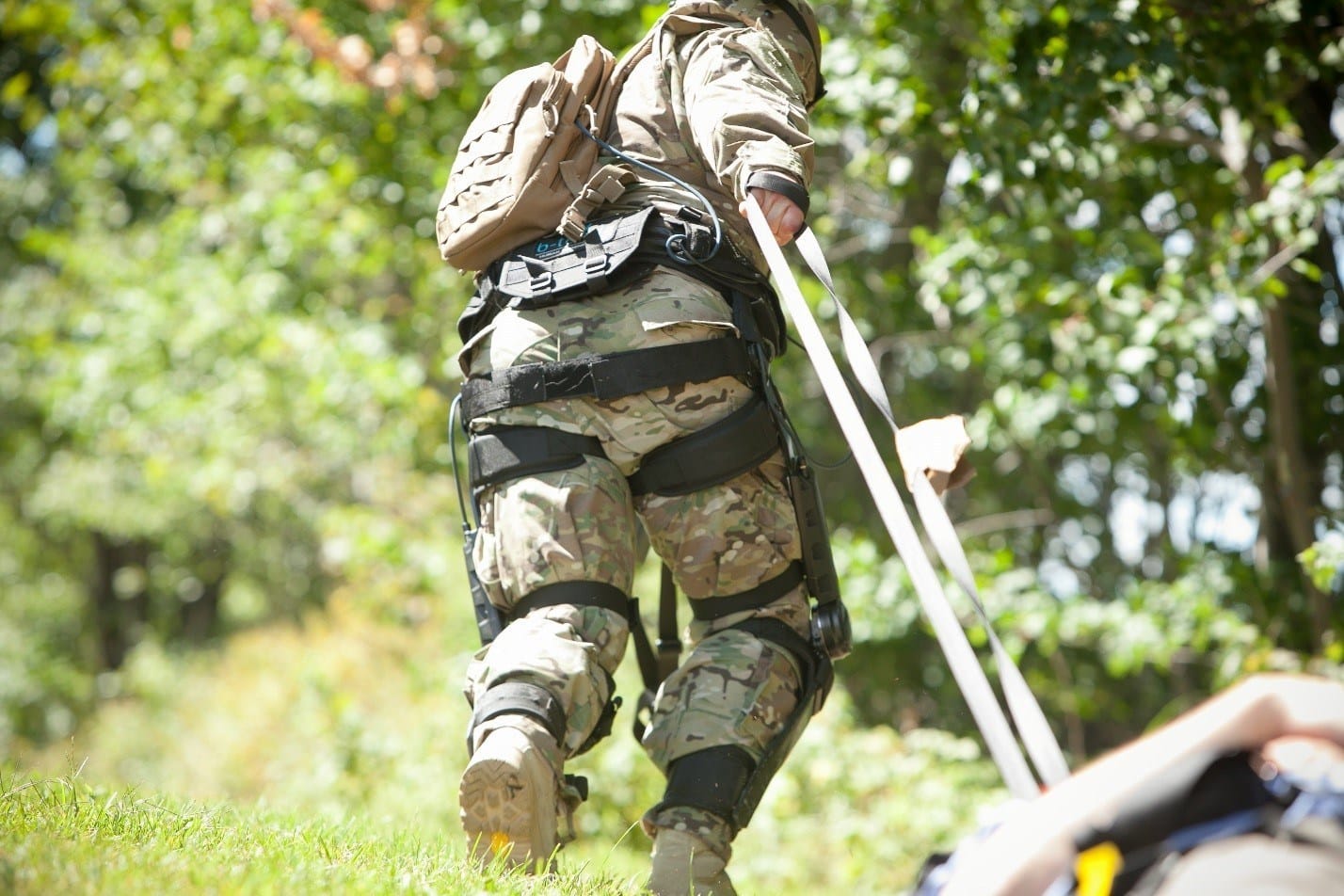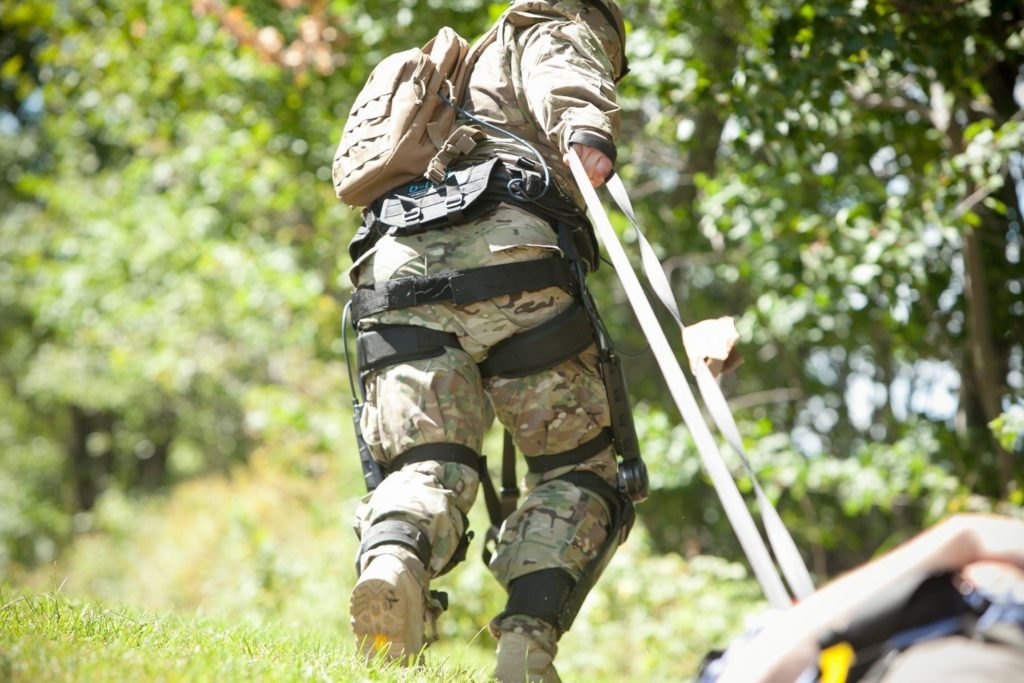 One aspect that is curious to this technology is that until now, it has been applied only to a powered knee exoskeleton, the Keeogo.  Functionally, the knee is critical for walking over uneven or elevated terrain, but not so much on level ground.  Will Lockheed Martin apply the technology that made the Keeogo to other body parts?  Is there an application, such as dragging or pulling that will require assistance at the knees?  Even with B-Temia's previous collaborations in battery technology putting high loads on the motors will drain any battery quickly.  We just can't wait to see what Lockheed Martin is planning!?
Not their First Rodeo
One of the many factors that make the Lockheed Martin and B-Temia license agreement unique is that this isn't the first collaboration for either company.  In the past, Lockheed Martin has partnered with Ekso Bionics and B-Temia with Revision Military.  You might remember this video from the latter, which presented a fully integrated exo with a military uniform, not standing out but completely merging with the soldier's gear:
As the exoskeleton industry matures, expect to see more collaborations between companies and institutions, it is just not practical for one company to do everything by themselves.  Many of those collaborations will not bear fruit, and some may even become a negative experience for one or more of the parties involved, but nevertheless, it is the path forward.  Here are just some of the recent exoskeleton licensing agreements, collaborations, and partnerships:
Want to know more?
Lockheed Martin original press release news.lockheedmartin.com
B-Temia's definition of Dermoskeleton™ Technology b-temia.com
Update:
We now know that the first new product of the Lockheed Martin and B-Temia license agreement is the FORTIS K-SRD: Lockheed Martin News.  FORTIS Knee Stress Release Device (K-SRD)™ is a powered exoskeleton "that counteracts overstress on the lower back and legs and increases mobility and load-carrying capability." Its main focus is to reduce injury and fatigue on soldiers performing physically demanding tasks that require repetitive or prolonged kneeling, squatting, lifting, dragging, carrying or climbing while carrying a heavy load.
Update:
BreakingDefense has published a great article featuring the FORTIS K-SRD and Lockheed Martin Product Manager Keith Maxwell: Lockheed Exoskeleton Gives Troops A Leg Up, Literally, May 17, 2017, By SYDNEY J. FREEDBERG JR.