One large step for ErgoSkeletons™, one even larger step for all exoskeletons.  The V22 and FLx by StrongArm® Technologies have gone on sale on 3M's website.  This is the first time an exoskeleton has gone on sale on a major North American website.  3M is a titanic distributor and manufacturer with over 55,000 products, predominantly in the technology field (and a competitor to Thermo Fisher).   This marks a huge development for the entire exoskeleton industry.   The V22 and FLx are poised to become the two most widely distributed exoskeletons in the world.
What are the V22 and FLx?
StrongArm Technologies sells ErgoSkeletons™, or ergonomic exoskeletons.  Both products currently on sale are body posture devices.  They prevent the spine from bending downwards during a lift.  Picking up heavy objects, or lift and carry as it is most commonly referred to, is considered to be the primary activity for construction, factory and other blue collared workers.  Bending down to pick up objects is also a major source of injury, causing thousands of dollars of sick leave, worker's comp, medical and legal expenses.  The V22 and FLx therefore fulfill a very real need within the industry that can be potentially observed not only numerically, but financially.  Ideally, a site that implements the use of the StrongArm™ products should report lower numbers and expenditures related to back injuries.  This is something that is much easier to quantify and translate into direct financial ($) effects.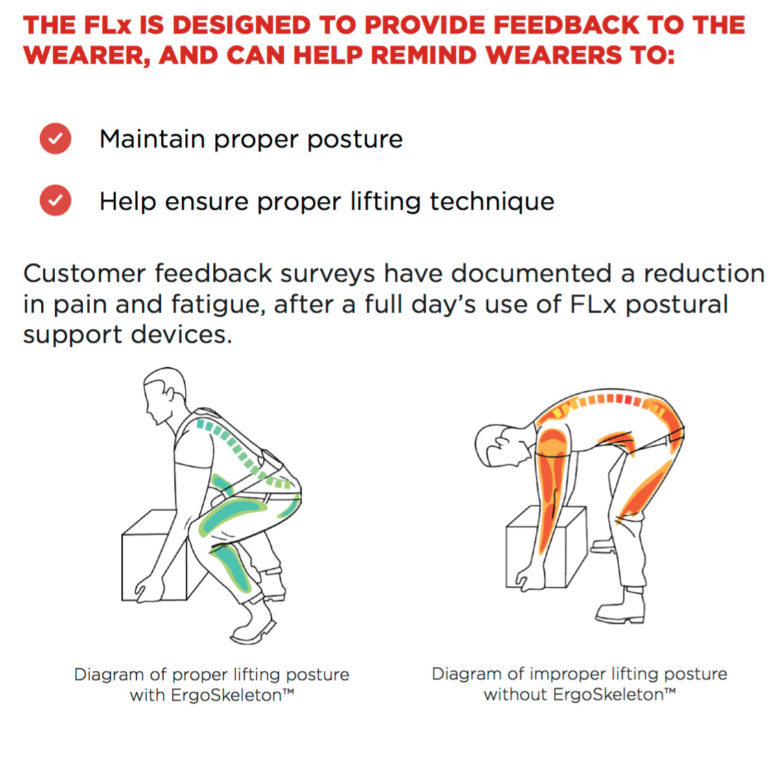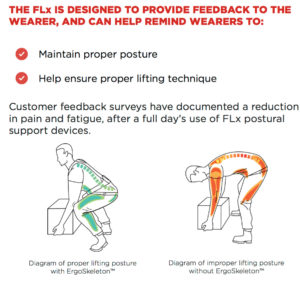 The V22 and FLx ergoskeletons are passive devices.  They have no motors or sensors.  The V22 weighs only 2.95lbs (1.33kg).  In complexity, these products are the most extreme opposites to the wearable robot revealed by Hyundai last week.  What makes the StrongArm Tech products so simple is that they also don't store energy.  The Laevo for example, has two gas springs on either side of the hip that store energy while a worker bends forward.  The V22 and FLx do not have that capability, and they only maintain correct, safe body posture while bending and lifting.  Some have reflected that because of the simplicity of these devices they are no longer exoskeletons but just vests.  They have no motors, no sensors and do no net work or assistance.  But it is that simplicity and the single minded purpose that makes the V22 and FLx so unique!
What makes StrongArm Technologies different?
StrongArm Technologies began as a small 3 person venture.  The company has been united by their experience with blue collared workers, some of them being their parents.  Laborers,  or as the founders refers to them, Industrial Athletes spend most of their days pushing their bodies to the limit in order to earn a living to support themselves and their families.  StrongArm Tech wanted to create a product that has a direct and meaningful impact now, rather than 10 or 20 years from now.  After 22 iterations, their first product was born.  The V22 or Version 22 was followed up by its smaller brother that lacks arm cables with a clutch mechanism, FLx.  During the entire development time, the company never lost focus of its goal: To develop a device that improves the lives of Industrial Athletes.  The developers of StrongArm Tech have never strayed from their original vision.  While other larger exoskeleton companies and labs tend to explore different applications for their wearables, StrongArm Tech started with the application and then moved towards creating the products.
The simplicity of the V22 and FLx is also why they are now the first exoskeletons to see mass distribution.  Not only are these passive devices that have no motors, sensors or batteries to worry about, but they don't focus on passively storing energy either.  Instead, the FLx has a single purpose, to maintain correct body posture during lifting and the V22 adds the arm cables for load redistribution (although the two products were developed in reverse).  Having a product that is designed to do only one thing and is advertised to do only one thing has made this infinitely easier to explain to both investors and customers alike.  September 2015 3M acquired a stake in StrongArm Technologies and invested $2.91 million.
Additional information:
The History of StrongArm Technologies and the 3M investment in the company:
3m Invests in StrongArm Technologies, DemocratAndChronicle, 2016 
Company website: http://www.strongarmtech.com
3M Website: http://www.3m.com/3M/en_US/company-us/