Webinar: Dr. Karen Nolan
November 12, 2020 @ 9:00 am
PST
Free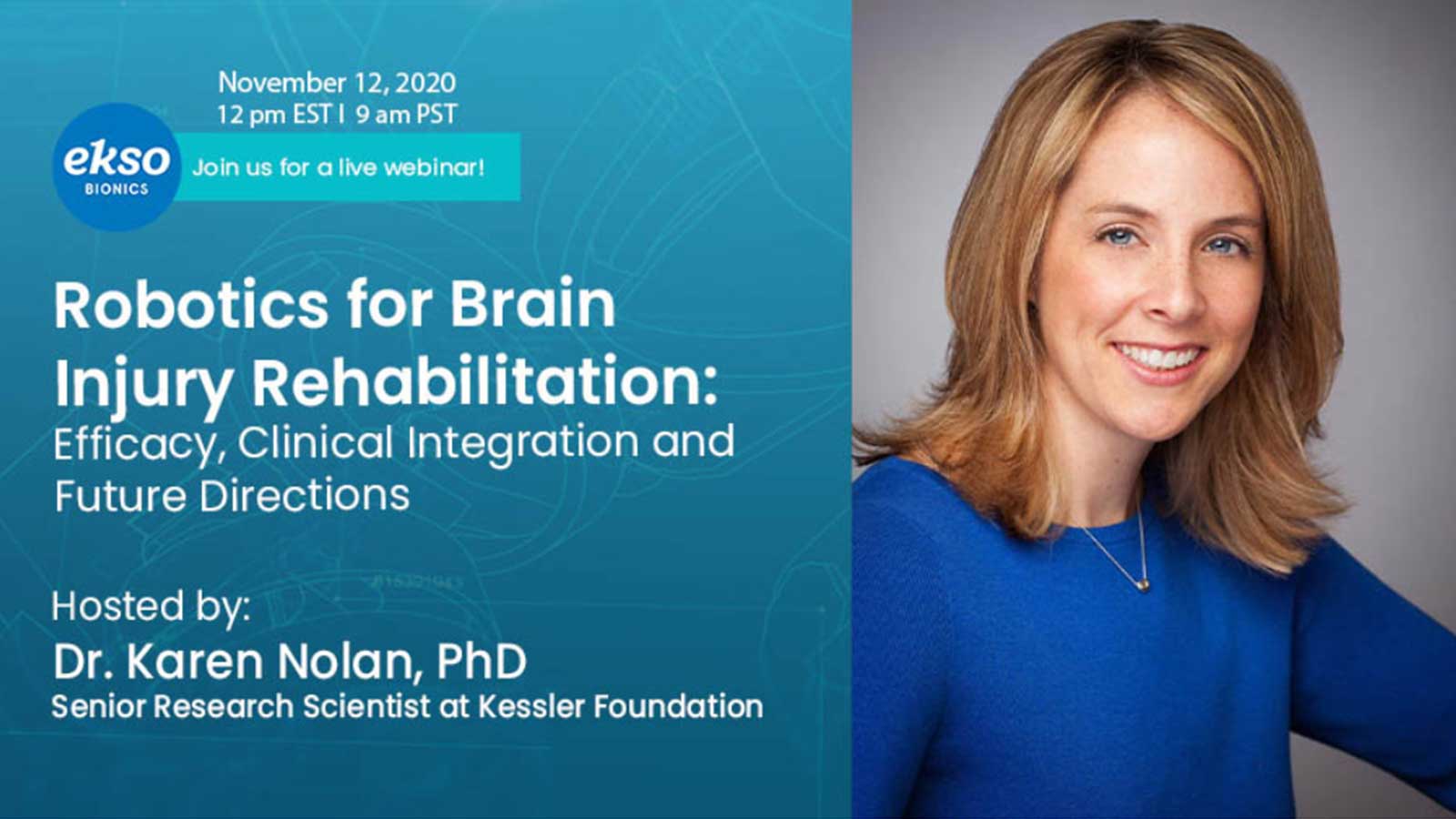 Ekso Bionics will sponsor a live digital talk from Dr. Karen Nolan, Senior Scientist in Mobility and Rehabilitation Engineering Research at Kessler Foundation on stroke and brain injury. The webinar will be held Thursday, November 12, 2020, at 9 am Pacific Time. The full name of the webinar is Robotics for Brain Injury Rehabilitation, Efficacy, Clinical Integration and Future Directions.
"Research by Dr. Nolan has focused on large multi-site randomized clinical trials (RCT) in brain injury populations through the Department of Defense, National Institutes of Health, National Institute of Disability Independent Living and Rehabilitation Research, and industry-sponsored funding. Currently, Dr. Nolan is PI of an RCT (funded by NIDILRR RERC) in investigating the efficacy of robotic exoskeleton gait training for acute stroke and Co-PI of double blind RCT (funded by Department of Defense) investigating the efficacy of virtual reality balance intervention for military, veteran, and civilian populations with TBI.
Dr. Nolan's work has allowed her to gain significant experience in conducting large-scale, multi-site RCTs utilizing objective measure of functional ambulation and balance in TBI and stroke. She is recognized as a leader in the field of biomechanics and motor rehabilitation and has been invited to give presentations of these topics at national and international conferences. Dr. Nolan serves as a grand viewer for National Institutes of Health, National Institute on Disability Independent Living and Rehabilitation research, VA, and is a member of the American Congress of Rehabilitation Medicine, International Society of Biomechanics, and Gait, Clinical Movement Analysis Society and Wearable Robotics Association."
Dr. Nolan has been instrumental in educating people around the globe on the potential and advantages of rehabilitation exoskeletons. Her TEDxHerndon talk alone has over 130k viewers to date. In fact, her research is so influential she is one of the few people to have a category tag on ExR of her own. Most recently, Dr. Karen Nolan and Dr. Soha Saleh of the Kessler Foundation Receive a Multi-Million Dollar Grant From the NIH. The $3,547,908 grant is to study the effects of using medical walking-assist exoskeletons shortly following a stroke. The team is scheduled to conduct a five-year study of "intensive high-dose gait therapy in the acute phase post-stroke, using a protocol of robotic exoskeleton-assisted gait training." Part of the rationale is that those that have suffered a stroke could make a faster and more complete mobility recovery with the introduction of early, safe, and highly consistent physical therapy.
You can register for the event at the Ekso Bionics website here.