I GOT LEGS: Exoskeleton Race – April 2023
April 29 @ 12:00 pm

-

1:00 pm

PDT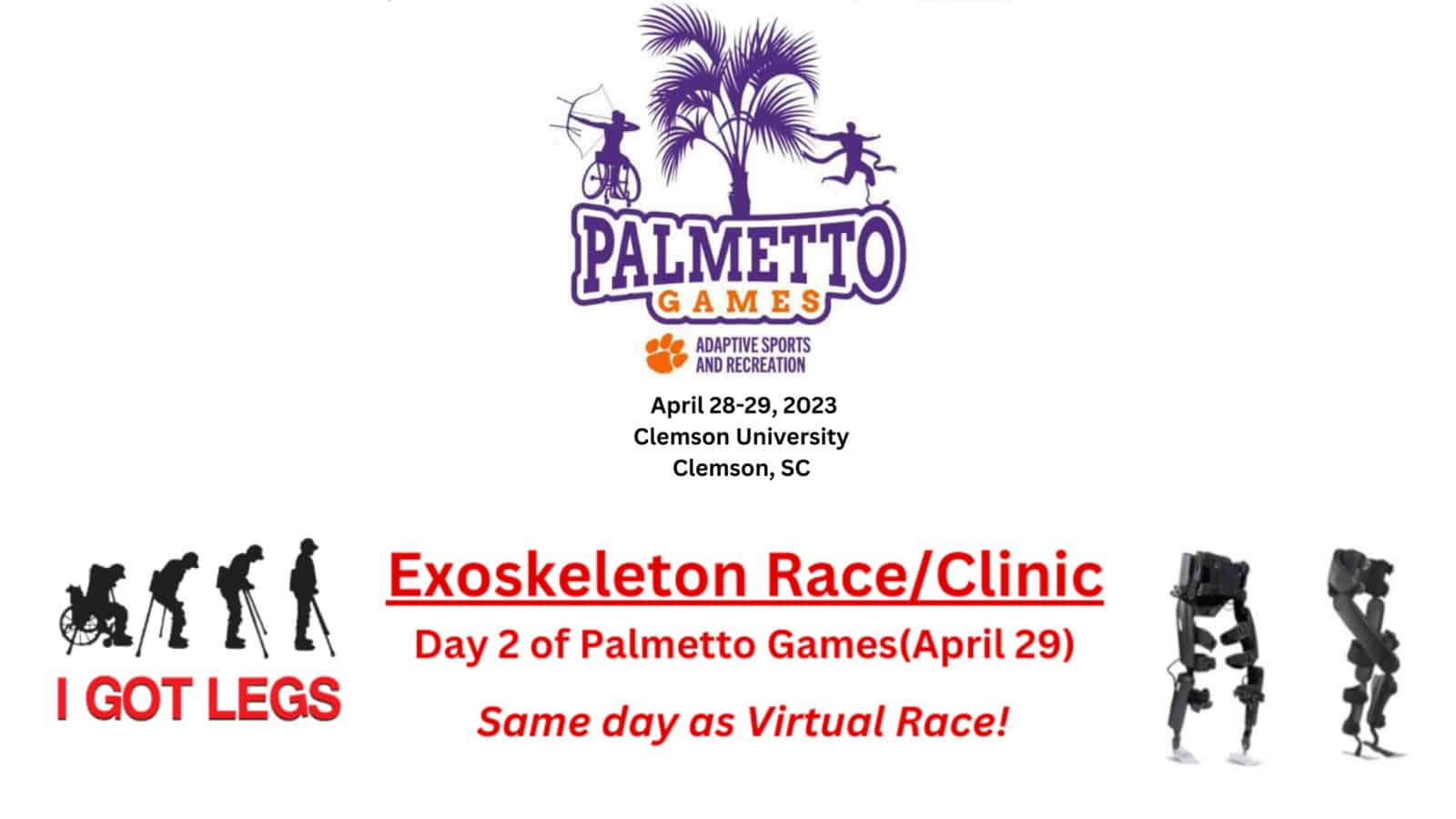 The next Exoskeleton Race, organized by I GOT LEGS, will be held from 12 pm-1 pm on April 29, 2023. There is a planned Facebook Live video feed on the I GOT LEGS Facebook page. The event will be divided into a virtual and in-person race.
The in-person Exo-Race will be part of the second day of the Clemson Palmetto Games held at Clemson University. As of three weeks before the event, two exo-racers are registered to go head-to-head on the field. The online component of the race, however, is expected to draw anywhere between 8 to 12 other exoskeleton racers doing the Virtual Race on the same day (April 29). A successful virtual race may draw more people to travel for future in-person interactions with the race.
I GOT LEGS plans to host a handful of Exoskeleton Races throughout the next couple of years. For more, read: Welcome to the World of Bionic Competition: The Exoskeleton Racing League.
Funds raised from the Virtual Race are meant to create future training programs, organize the next competitions, and build a community around this potential new sport for people with walking disabilities. The ultimate goal of the Exoskeleton Racing League (ERL) is to build enough support and data to create a new Paralympic sport "designed to empower individuals with paralysis to stand, walk, and race using cutting-edge exoskeleton technology."
"When I am standing and walking in my robotic exoskeleton, I do not feel disabled, nor do I feel able-bodied; I feel ReEnabled," Adam Gorlitsky, Founder of I GOT LEGS. Adam has completed multiple marathons over the last six years using his ReWalk Robotics powered exoskeleton.
It is not too late to register for either the 1-mile or 5-km events. Just go to: https://www.igotlegs.org/virtual5k.