After a successful Kickstarter campaign last year, the Swiss developer Auxivo AG has released a new exoskeleton education package, the EduExo Pro. The "pro" version is meant for wearable robotics educators and researchers and includes more powerful hardware and in-depth educational material. The EduExo Pro was designed to help teachers, professors, researchers, and students, learn about and teach exoskeleton technology. The inspiration for both the EduExo and EduExo Pro stems from the developer's personal experience with how few spots are available to students to participate in exoskeleton labs and research, due to the expensive nature of this technology.
If you are an educator, researcher, student, or engineer who would like to learn about exoskeletons and get involved in the development, you will realize that there are not many resources available yet and that it is almost impossible to get exoskeleton hardware to learn and experiment with. This is what Auxivo wanted to change by developing the EduExo Pro, a do-it-yourself exoskeleton kit that teaches you interactively about robotic exoskeletons. The EduExo Pro exoskeleton kit aims to bring this 21st-century technology into STEM classrooms, university classes, and research labs worldwide and inspire more people to learn about this fascinating combination of robotics and humans.
The EduExo Pro builds on the success of the original EduExo and is optimized for engineering education. Included are practical exercises on hardware design, electronics, control theory, software design, and scientific evaluation. The handbook contains all of the information needed to assemble and control the exoskeleton. The EduExo Pro can be used for group work, with enough material for participants to individually focus on hardware, electronics, software control, experiments, and game design integration. The EduExo Pro is more robust than the original kit and is malleable to modification and customization to make it fit into existing teaching curriculums.
While the package is advanced, it can also work as a STEM education tool for Robotics clubs, which always have downtime between robotics events and competitions.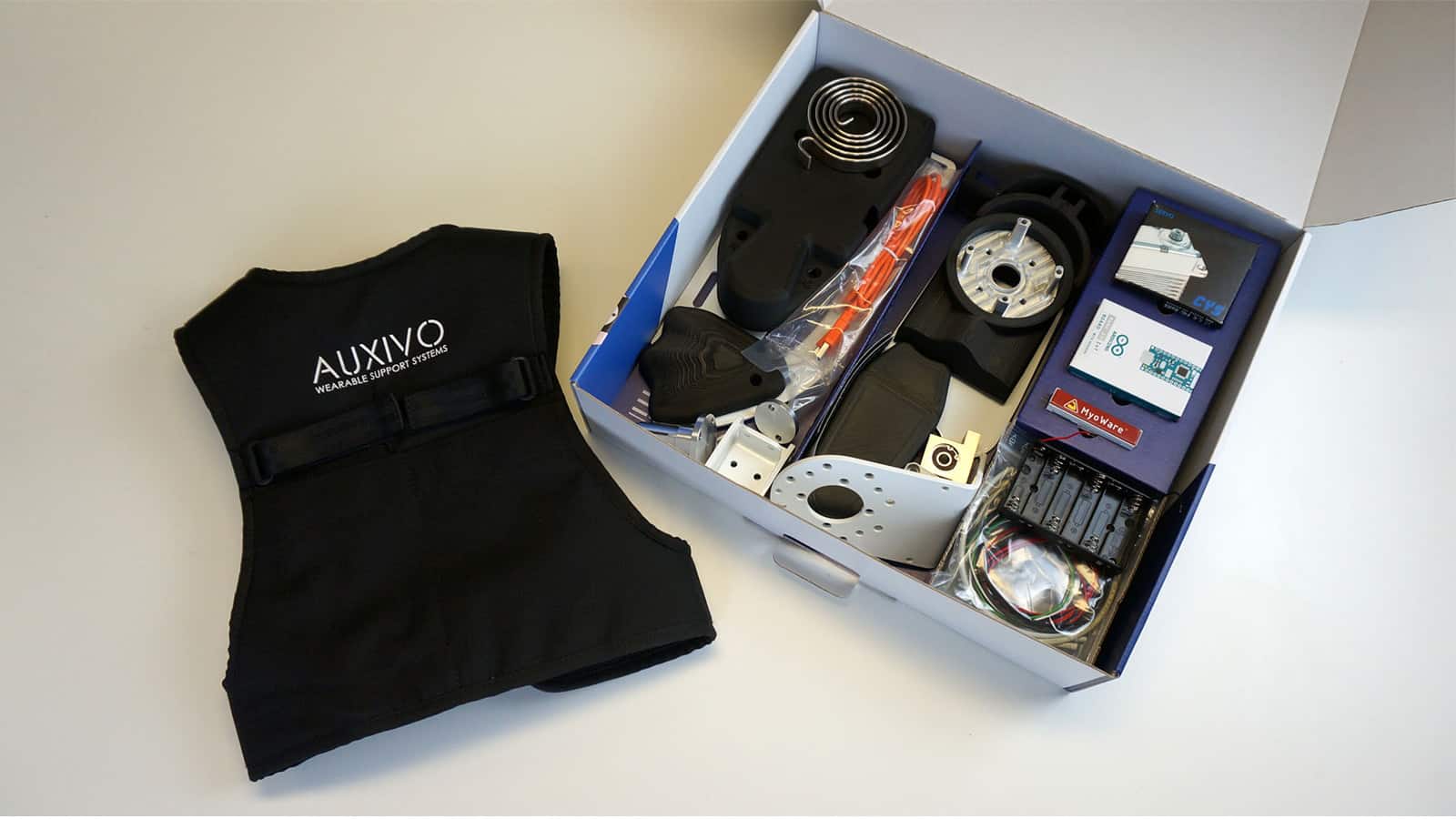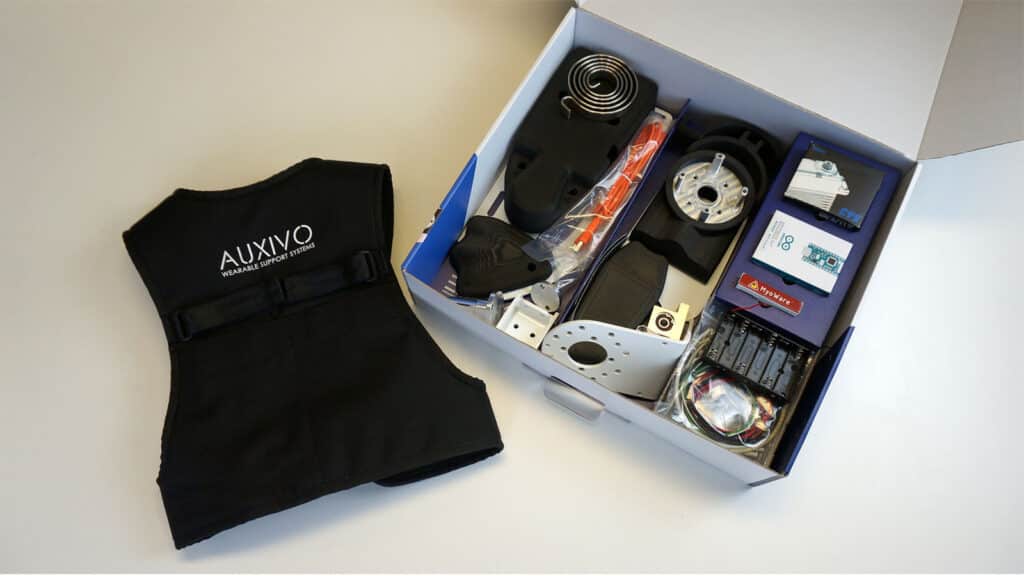 The main components of the EduExo Pro hardware are:
load-bearing parts made of metal
a size-adjustable textile interface to connect it to your torso and arm
ball bearings for the joints
a potentiometer in the elbow joint to measure the joint angle
an Arduino microcontroller to program data acquisition and control
a mechanical spring that assists the shoulder joint in lifting the arm
a servo motor with up to 6 Nm to support elbow movements
an electromyography (EMG) sensor to measure human muscle activation
housing and covers made of plastic
"The main challenge of the EduExo Pro development was to include advanced exoskeleton technologies to create a fascinating educational system while maintaining an affordable enough price to make the technology accessible to universities and schools." – Dr. Volker Bartenbach, CEO Auxivo AG.
The EduExo Pro is available in the Auxivo webshop for CHF 1590 (around 1690 USD) and can be shipped worldwide.
Previous coverage: Start-Up Auxivo AG Launches Educational Robotic Exoskeleton Kit on Kickstarter, July 6, 2021.