The Swiss exoskeleton company Auxivo AG, a spin-off of ETH Zurich and a specialist in industrial exoskeletons has launched a Kickstarter campaign for a new exoskeleton kit called "EduExo Pro." See the full campaign page on Kickstarter: EduExo Pro or continue reading about what makes this STEM education kit interesting and unique below:
The EduExo Pro aims to make exoskeleton technology accessible to students, educators, and researchers. The kit contains all the parts needed to assemble an arm exoskeleton. The EduExo Pro features a passive, spring actuated shoulder joint and a powered (motorized) elbow joint. An accompanying handbook provides theoretical knowledge and guides the user step-by-step through the assembly and programming of the exoskeleton. The goal is to allow students to build their own exoskeleton to learn about the technology, enable teachers and professors to integrate wearable exoskeleton technology into the courses, and provide exoskeleton researchers with a versatile platform to adapt to their needs.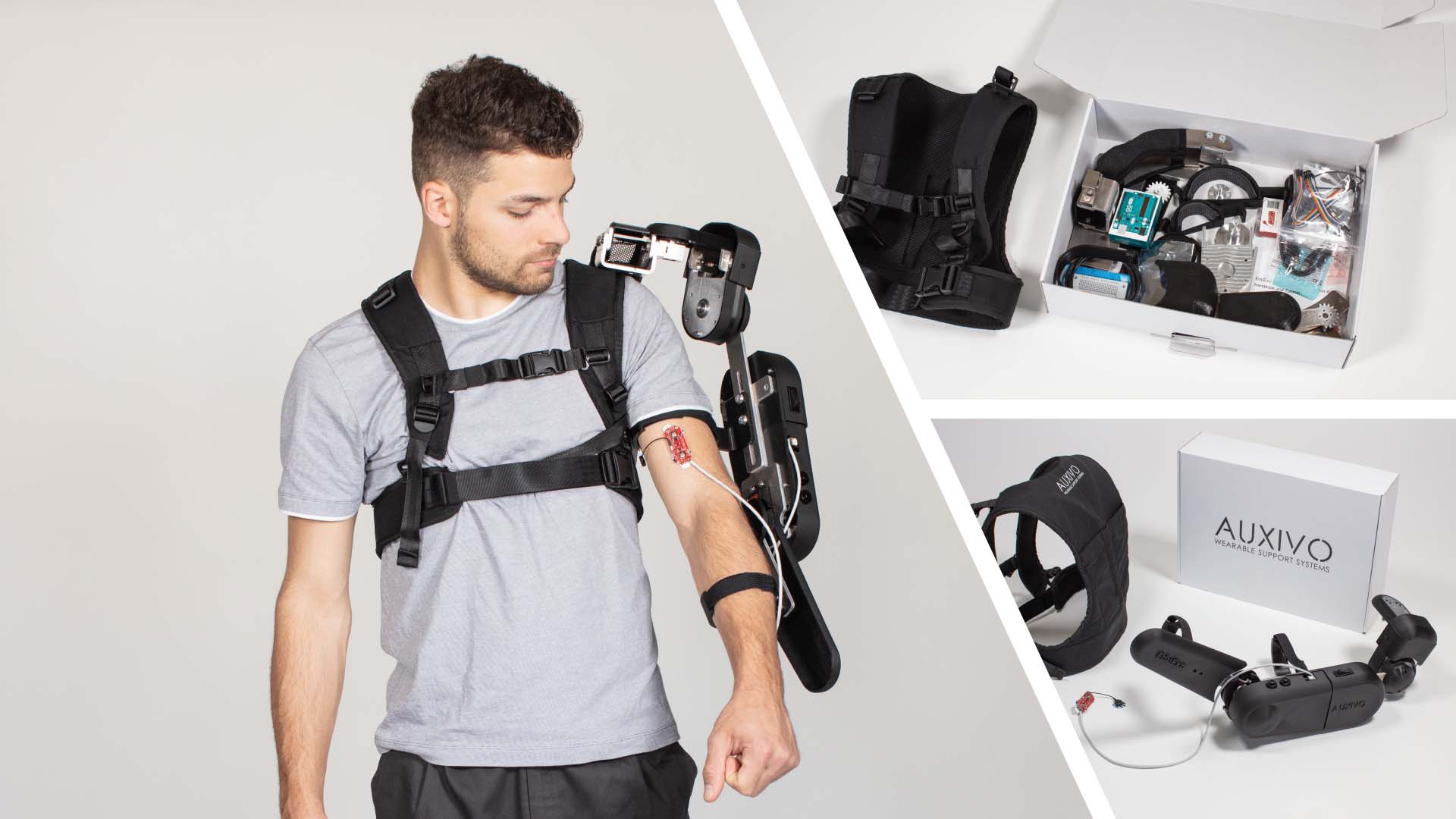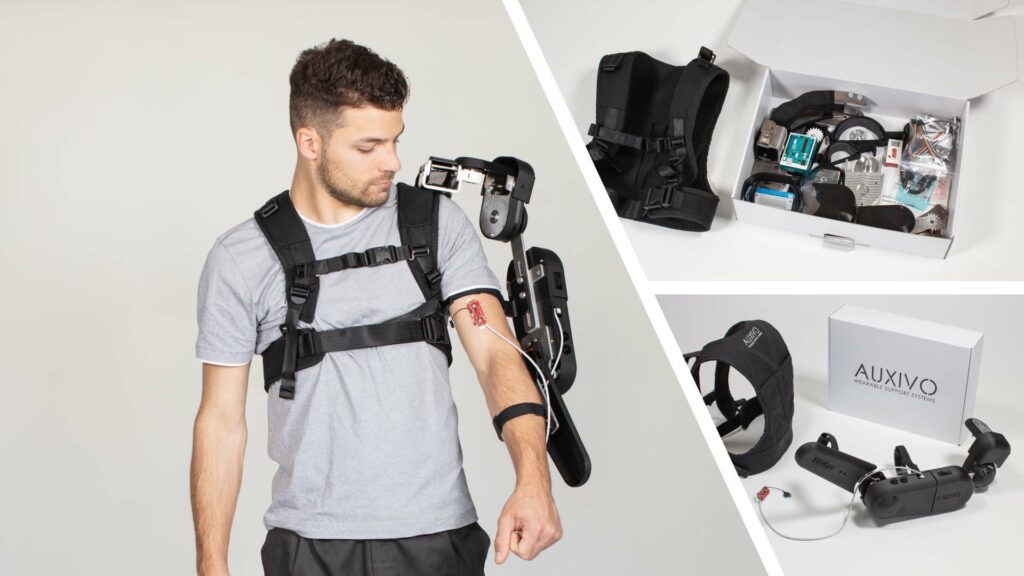 On Kickstarter, the EduExo Pro is offered for CHF 890 (approximately $967). For those who decide quickly, there is a limited number available for 790 CHF ($859). Later, the retail price will be 1090 CHF ($1,184).
What are exoskeletons?
Exoskeletons are wearable robotic systems that have become increasingly popular in medical and industrial applications in recent years. Exos support specific movements and work to reduce the physical workload and prevent injuries. As this is still a nascent technology, there is hardly any possibility to access and learn about exoskeleton systems outside of professional applications. Auxivo AG would like to close this gap by offering an exoskeleton kit to democratize the development of future exoskeletons.
How can I support the project?
You can support the development of this advanced educational kit in two ways on Kickstarter: either by preordering one of the new EduExo Pro or by ordering one of the already available EduExos that was developed a few years ago. On Kickstarter, both are now offered at a discounted price. The normal EduExos will all ship directly after the campaign ends. The new EduExo Pros are scheduled to ship later this year.
Years of Experience Stand Behind the EduExo Pro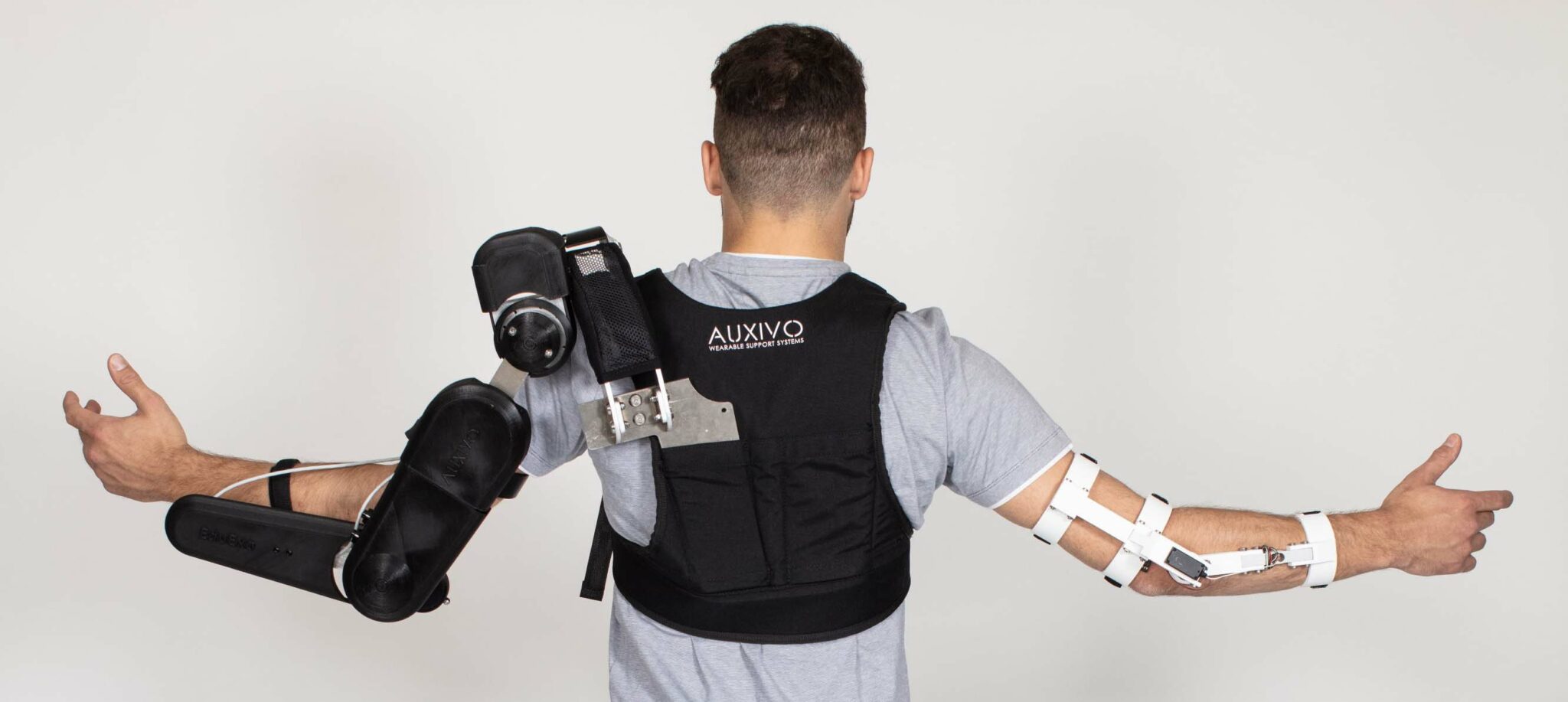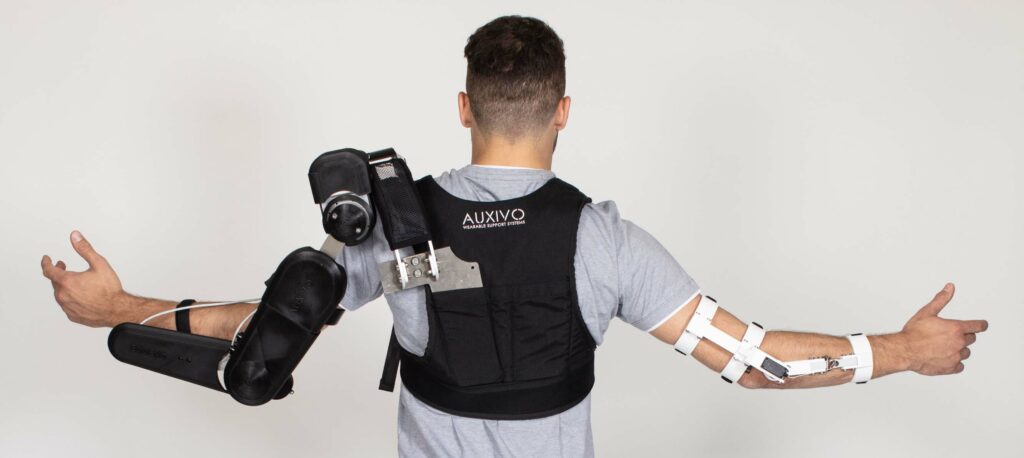 The Auxivo AG team is not a stranger to Science Technology Engineering Mathematics (STEM) education kits. Four years ago, the team leader ran a successful Kickstarter for the original EduExo and handbook. Since then, multiple EduExo powered elbow exoskeleton sets have found their way in homes and classrooms worldwide (the Exoskeleton Report owns one as well). The original EduExo was previewed at the WearRAcon17 Innovation Challenge, and it swept both first place and the Audience Favorite Award! (read: Wearable Robotics Association Innovation Challenge 2017). With four years of additional experience under their belts, there is every reason to believe that the EduExo Pro will be another groundbreaking product.
ROI
The EduExo Pro aims to fill a particular need in the fields of wearable robotics and exoskeletons: attract new inventors and increase access to the technology. It seems almost too simple, but wearable technology is best understood by physically trying and wearing it. However, the cost of powered exoskeletons can easily reach six figures ($100,000+) for just one unit. This creates a paradox: on one hand, more participants working in exo technology will boost development but getting access to this technology can be extremely expensive. Therefore, STEM education kits, such as the EduExo Pro, are the key to the future success of exo technology. Before you know it, the students of today will be the leaders of tomorrow and they will decide in which direction humanity's efforts of research will be directed.
If you or your company does not have an immediate need for the EduExo or EduExo Pro, consider buying several units and donating them to your local High School or Community College robotics club. Robotics clubs in the U.S. are busy with competitions like the FIRST Innovation Challenge for only part of the year, leaving plenty of time for students to work on robotics STEM education sets the rest of the time.
References:
Campaign link: https://www.kickstarter.com/projects/auxivo/eduexo-pro-a-robotic-exoskeleton-kit-for-stem-education?ref=discovery&term=eduexo
Link to Auxivo AG website: www.auxivo.com
Auxivo Youtube channel with EduExo videos: https://www.youtube.com/channel/UCeQ5UIS49nO3U8s7mOUM_ag