Last month, the Japanese exoskeleton developer Innophys, announced that it has reached 10,000 cumulative sold units of its Muscle Suit and subsequent variations between 2014 and March 2020.  This is a tremendous milestone not just for Innophys but for the entire exoskeleton industry.  While exoskeleton sales by private companies are rarely disclosed, it is very likely that Innophys is the first wearable robotics producer to reach this notable milestone.
What is the Muscle Suit, what is it used for, how does it differ from other exoskeleton devices and how did Innophys reach 10k units sold:
Muscle Suit and Muscle Suit Every
The Muscle Suit exoskeleton product family continues to expand, with the Muscle Suit Every being introduced just last November.  Currently, the line up includes five models: Muscle Suit Every, Muscle Suit Power, Muscle Suit, Muscle Suit Edge and Muscle Suit for Arm and Back Support.  All five are designed to be used for work and industry applications.  The first four models focus on providing back support and the last model in the list can provide physical assistance and an alternative force path to both the arms and the back.  Similar to other back-support exoskeletons, this device could be used for farming, logistics, manufacturing, and patient handling applications.
Bring Your Own Power
The Muscle Suit series is powered using pneumatics or more specifically using compressed air driven McKibben actuators.  The actuator expands when pressurized while simultaneously shrinking in length, generating a pulling force.  Depending on the model, there are two methods to maintain the supply of the pressurized air needed to run the exosuit: a handpump (30-45 pumps to energize the exo) or using an input port for an external air compressor.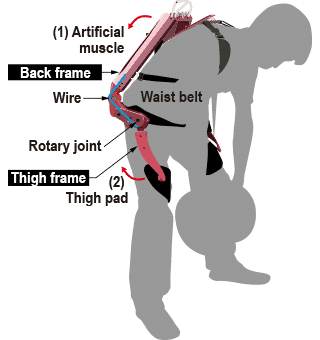 Being Experimental
Innophys has been active in capturing its progress in the exoskeleton industry for the last half-decade.  The company was one of the first to introduce custom sleeves for the Muscle Suit in order to keep it isolated from the environment, provide water and dust resistance, and minimize any chance for snagging.  As a developer, they have not hesitated to throw away ideas that were less than ideal, like an activation switch below the user's chin or an activation tube that a person would have to blow into.
Standards:
Innophys has been an active force in the world of standards, mostly working with other Japanese exoskeleton developers.  The Muscle Suit Every was awarded ISO 13482 certification in February of this year (ExR did an article on that subject just a few weeks ago).  While it is impossible to say if being involved with standards development and certification propelled Innophys to reach 10,000 exoskeletons sold it is hard to imagine how it could have hurt.
Selling Exoskeletons in Japan
As often discussed, being a wearable robotics developer in Japan is a unique experience.  As a country, Japan is at a triple intersection point between an aging population, younger people not interested in filling physically demanding positions ranging from farming and warehouse work to mail delivery, and the country's pride in being a leader in robotics development.  The company states that it has created a vast sales network in Japan that includes Bic Camera.  Innophys have also done a few things differently to help leverage their position to translate into sales:
1. One Price & Online Availability
Unlike the majority of the exoskeleton developers, the manufacturer suggested retail price of each exo variant is listed on Innophy's website.  As of writing this article, the entry-level Muscle Suit could be purchased for 143,550 JPY (less than $1,400) on the Japanese shard of Amazon.com (link).  This, of course, should not be interpreted as the total cost of ownership or creating an exoskeleton program at a worksite.  Still, this is a different approach to exoskeletons.
2. Selling Exoskeletons with Humor
Innophys teamed up with comedian Masatoshi Hamada to create what is easily the single funniest exoskeleton commercial to date:
In this 30 seconds commercial, our protagonist is flipping through a body-builder magazine and gets inspired to buy the Muscle Suit, unboxes his delivered exo and proceeds to help little kids, move stage props, help out with crates of fruit at the zoo, fight a mega-monster and then pull everything back into reality and assist an elderly person get out of bed.
Going forward, Innophys is planning to expand beyond the Japanese market but the company has not announced a specific timeline.
Referenced Material: