The Ekso GT by Ekso Bionics has finally been cleared by the FDA for clinical use.  The company received clearance to market its exoskeleton for use in rehabilitation centers for the treatment of individuals with hemiplegia due to stroke, individuals with spinal cord injuries at levels T4 to L5, and individuals with spinal cord injuries at levels T3 to C7 (ASIA D).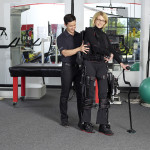 This is great news for Ekso Bionics which has been working on receiving FDA clearance for many years.  The Ekso GT is now cleared for spinal cord injury patients with a lower level of injury than previously approved for rehabilitation exoskeletons.  Furthermore, the Ekso GT is now the first exoskeleton to be approved in the US for hemiplegia (paralysis of one side of the body) due to stroke.  This is a huge step forward for Ekso Bionics and all medical exoskeletons.  Opening exoskeleton rehabilitation to stroke patients will be an order of magnitude leap in the number of people that can now benefit from this technology.  The number of patients with paralysis due to stroke far outnumbers those with partial spinal cord injury.  If you think about your family and your friends' families chances are is that you know someone who has had to go through stroke rehabilitation (at least I do).  In February, ExR covered the Stroke Recovery Clinical Trials With Ekso GT conducted by the Kessler Foundation.  Without a doubt, these thorough trials were instrumental in swaying the FDA.
The Ekso GT by Ekso Bionics now joins the ranks of ReWalk by ReWalk Robotics and Indego by Parker Hannifin in having their rehabilitation exoskeleton approved for clinical use:
While Ekso Bionics is the first company to receive FDA approval for use with patients that have hemiplegia due to stroke it is also the first company not to receive approval for personal use.  This is really not too surprising, as the Ekso GT is a rehabilitation device that purposely does not take full control over balancing while walking.  In order for rehabilitation and retraining to happen, the patient must be responsible for shifting their weight and maintaining accurate body posture.  If the rehabilitation exoskeleton did everything, then the patient will just be along for the ride and will not get any benefit of using it.  ReWalk robotics was founded with the intention of creating a wearable robot that can replace the wheelchair.  Its original intent was to be used for customers who will never improve and recover their walking capabilities.  Over the years, the ReWalk became a rehabilitation device, but the goal of the company is still to make exoskeletons that can replace wheelchairs for at least some users.  Therefore it makes sense that it was very important for ReWalk to acquire FDA approval for home use.  Ekso Bionics on the other hand has always strived to create augmentative exoskeletons for able bodied users and rehabilitation devices.   Creating a wheelchair replacing device has never been Ekso's top priority and it makes sense that they have concentrated in other areas and have not received FDA approval for home use yet.
Reception:
Reception of the news of the FDA approval was surprisingly low energy.  The company stock had only a modest initial increase.  Equally, Google News and Twitter also showed low activity.  This was most likely because we just had Parker Hannifin announce their FDA approval for their Indego exoskeleton.  In addition, Ekso Bionics has been working for a long time to get here, and most people were expecting it.  Finally, it's doubtful many investors understand the importance of gaining FDA clearance for stroke rehabilitation, which opens a much larger market to the Ekso GT.
Impact:
Will the FDA approval change anything for the Ekso GT in the short and long term?  I think yes.  Last year a manager at Project Walk for example sited the Ekso GT not having FDA approval for clinical use as the primary reason for going with a trial run with the ReWalk instead.  Now the Ekso GT is on equal footing and the entire industry is starting to look more and more respectable in the US with not one but now three FDA approved devices on the market.
Who is next?
Expect CYBERDYNE, Rex Bionics, B-Temia, Bionik Laboratories, Gogoa and Hocoma (in no particular order) to eventually get FDA approval, but probably not this year.  In the meantime, Ekso Bionics have posted a lightly edited video that does a great job at showing the Ekso GT in action:
You can read the full announcement by Ekso Bionics on Global Newswire:
http://www.globenewswire.com/news-release/2016/04/04/825424/0/en/Ekso-GT-Robotic-Exoskeleton-Cleared-by-FDA-for-Use-With-Stroke-and-Spinal-Cord-Injury-Patients.html
Amendments to Form 8-K:
https://biz.yahoo.com/e/160407/ekso8-k.html