AnyBody Technology, maker of the AnyBody human muscular-skeleton model, re-released a short video of their simulation software in action.  In this video, the simulated human goes from a sitting to standing position while using a basic powered exoskeleton.  The exoskeleton shown was drawn and imported from a 3D parametric modeling program, in this case SolidWorks.  The design of the device is basic and is used for demonstration purposes only.  It can in theory, be significantly more complex.  The parametric 3D model is then imported into the AnyBody modeling software.  Anchor points are defined between the exoskeleton model and the AnyBody digital human.  The anchor points can be rigid, as shown in the clip below, have limited degrees of freedom, or can even simulate flexible connections (such as soft tissue bound to an exoskeleton strap).
In the above clip, the modeled human is standing up while the exoskeleton motors (invisible in the video) are applying torque to help complete the motion.  Each red line on the AnyBody skeleton is a separate muscle group that experiences different loads during the sit-to-stand cycle depending on the applied force by the exoskeleton.  Furthermore, each of the muscle groups can be diminished or completely removed in order to simulate a human that has suffered an injury or is hindered by a disability.
The re-released video is only 2 seconds long, but was originally a part of a 30 minute webinar on how the AnyBody simulation model can be applied to exoskeleton research and development:

The AnyBody exoskeleton webinar starts off with a 7 minute quick overview of the simulator.  The webinar then shows some of the research and academia projects that the AnyBody simulator has been used for: passive shoulder/elbow exoskeleton, full body exoskeleton, powered knee, passive lifting assist exoskeleton, etc.
Human body simulators can significantly reduce design time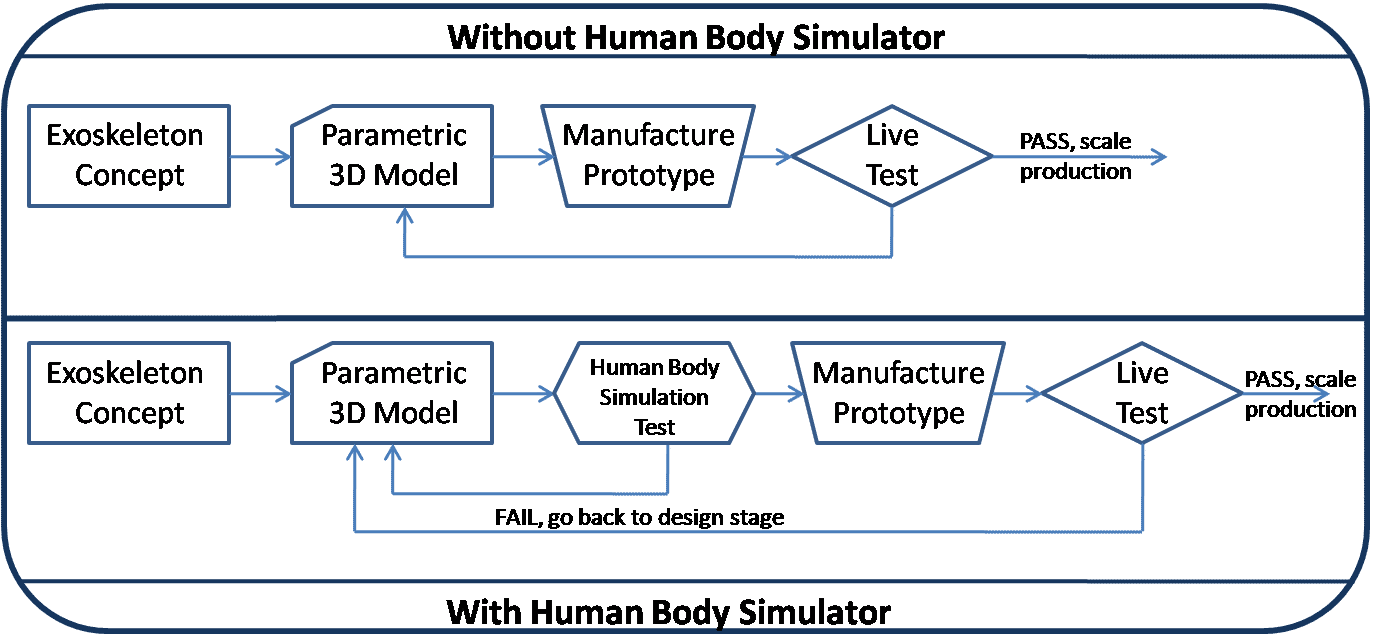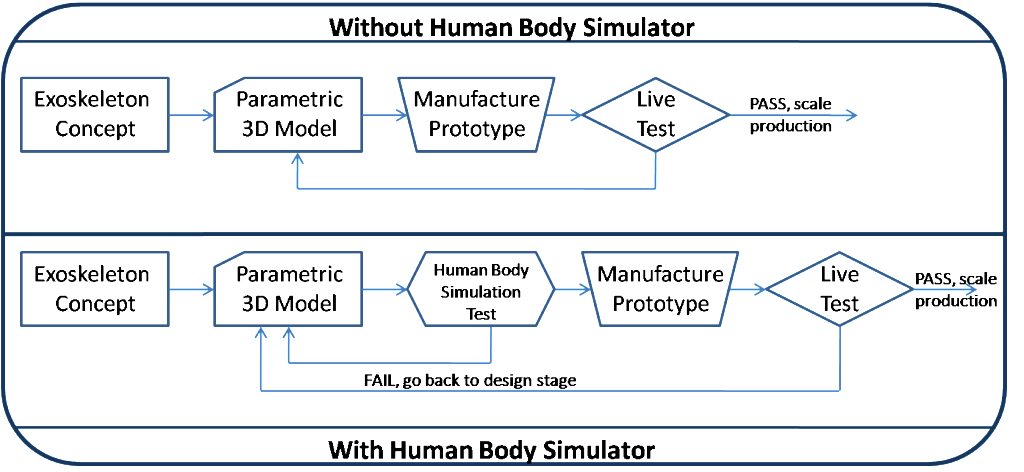 Human body simulators like AnyBody, will be instrumental in reducing exoskeleton development costs in the future.  Rather than building prototypes and working with human subjects for every design iteration step, a virtual simulated tester can provide precise numerical feedback.  Once the initial purchase cost and setup time is covered, the virtual human tester and exoskeleton can be subjected to vigorous tests for free!
The AnyBody human body simulator appears to be a great tool for testing exoskeletons.  In addition, we should expect more advanced simulators to be completed in the coming 3-5 years.  Looking even further ahead, this technology may become affordable enough so that exoskeleton entrepreneurs can test their designs on countless virtual subjects.
For more information, visit the the AnyBody Technology website.