Webinar: Ottobock: #ExoMeet Logistics
February 25, 2021 @ 6:00 am

-

7:30 am

PST

Free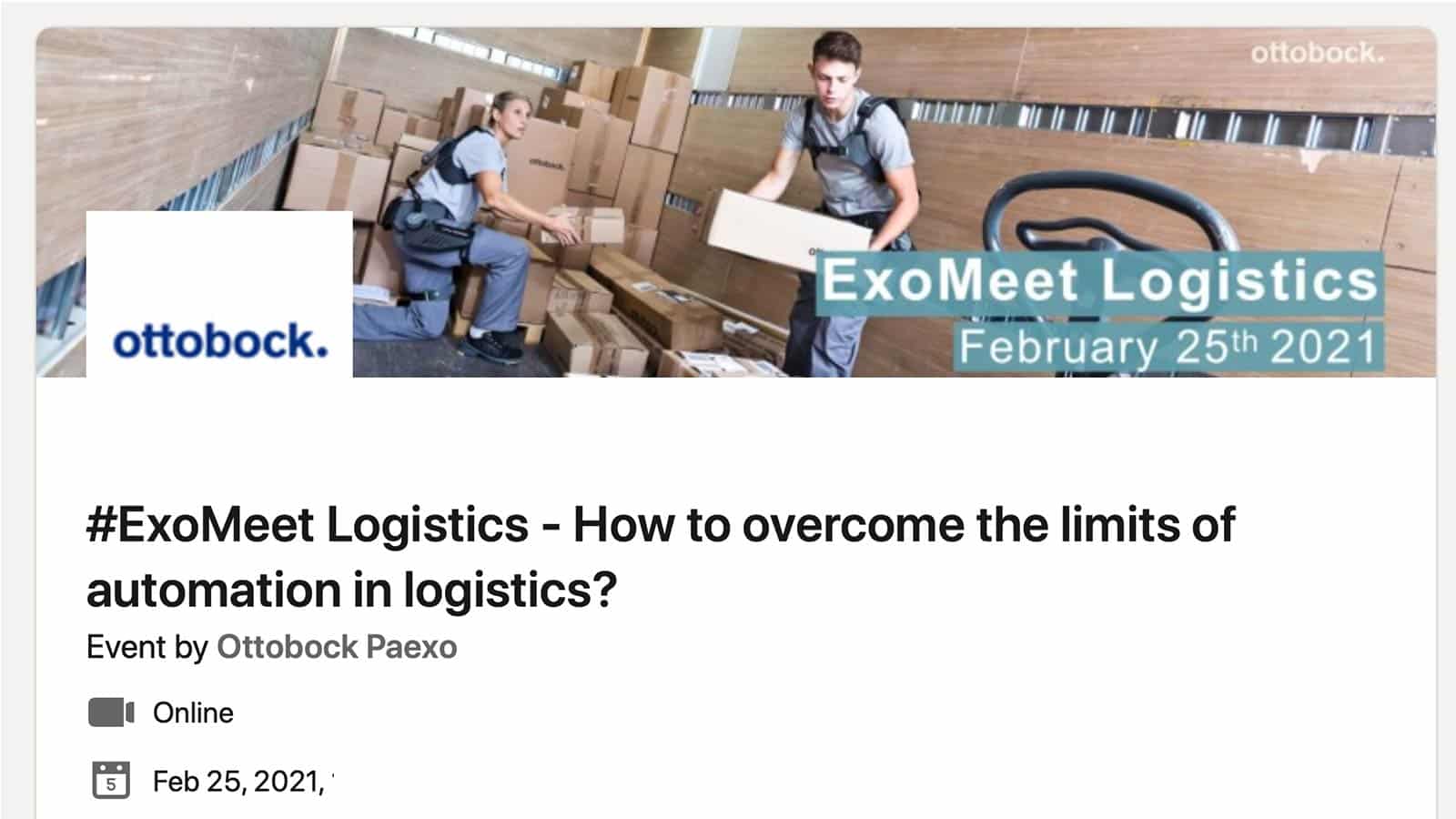 Ottobock is hosting a webinar on occupational exoskeletons for work and industry titled "ExoMeet Logistics – How to overcome the limits of automation in logistics?"
Over the past two decades, tasks that have been easy to automate have been automated. Even with the progression of robotics technology, many sub-assemblies or products are awkwardly shaped or lack repetition to make automation feasible. This webinar will be an opportunity to learn how to overcome the limits of automation of load handling in logistics:
– Presentation of the latest study results on back exoskeletons
– Why do we need exoskeletons in logistics?
– What are the user experiences with exoskeletons?
– What are the challenges in logistics 2021?
– How exoskeletons work in logistics?
– What will drive exoskeleton adoption?
– Paexo Back Product Presentation
There will be three opportunities to see this webinar:
09:00 – 10:30 CET German Program
15:00 – 16:30 CET English Program
9am – 10.30am EST English Program (6am – 7:30am PST)
Registration: https://www.linkedin.com/events/exomeetlogistics-allaboutexoske6757297354946187264/
In the past, Ottobock has followed the trend to keep exoskeleton presentations as more than just an infomercial for their products. Expect to see educational material on upper body exoskeletons in general. Overall, all exoskeleton developers have done a good job at emphasizing not only what their technology can do for their customers, but how this technology can revolutionize work and construction.
If you are not familiar with the Paexo line of exoskeleton for work and industry, take a brief look at our catalog for a birds-eye view of the three dozen devices in this category that are becoming available on the market.