Webinar: Buy America for Exoskeletons by ASTM International
March 15 @ 9:30 am

-

10:30 am

PDT

Free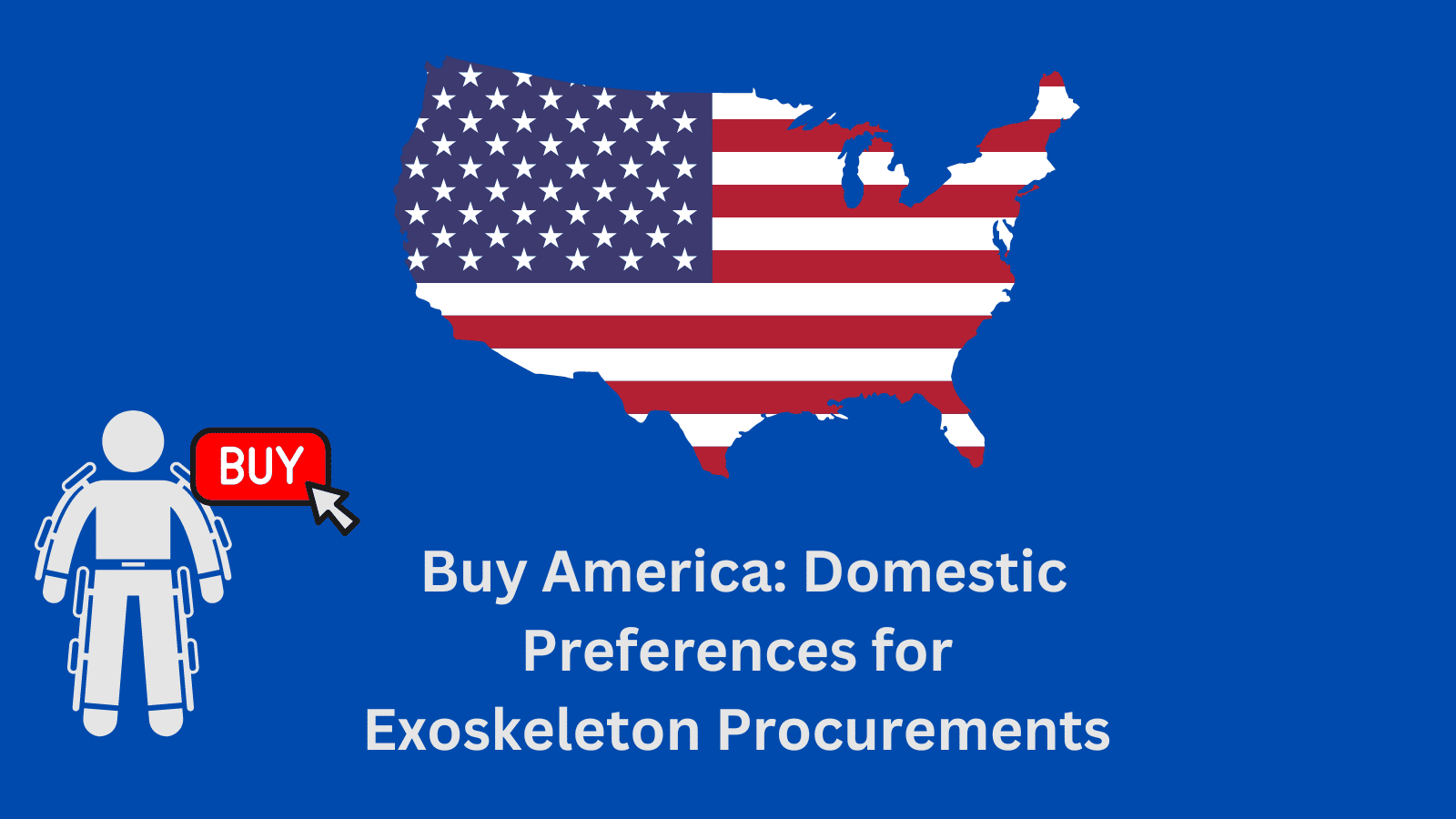 ASTM International is proud to host the webinar titled Buy America: Domestic Preferences for Exoskeleton Procurements.
This webinar could be vital and informative for exoskeleton producers, suppliers, and investors if they have any aspirations to sell wearables to the US government. It is cumbersome, but those wishing to engage in sales with US government agencies may be required to explain where their exoskeletons were made and sourced. Just like dealing with the FDA for medical exoskeletons, it is better to know in advance what requirements may be placed on exoskeleton developers and their products. ASTM International is providing this webinar free of charge, but registration is required.
"During this webinar, you're going to be able to understand how sourcing and manufacturing components for your exoskeletons can potentially exclude you from prospective customers. As you know, the [US] government spends a lot of money buying things and often sets numerous requirements for the things that it buys, and that includes exo technology. They focus not only on safety and environmental sustainability but also things like 'where did materials come from' and 'where were these materials transformed and manufactured into the final product?' The ASTM International Buy America: Domestic Preferences for Exoskeleton Procurements webinar will go over these types of requirements, how they could be applied to you in your industry, as well as what they could mean for you as an exoskeleton developer. We hope you join the webinar." – Nora Nimmerichter, Technical Committee Operations Manager at ASTM International via LinkedIn.
About the Presenter:
"Paul Hurst serves as the chair of Steptoe's Government Contracts Group. He's ranked in Chambers USA, and their recent client feedback said he 'is extremely knowledgeable about all of the complex government regulations that deal with contracting and matters related to small business association contracts.' Legal 500 US noted Paul attracts praise for his 'deep knowledge' and 'keen analysis of the issues.' He has significant experience in complex civil litigation and regularly represents government contractors in the defense, construction, and healthcare industry. He litigates bid protests at the General Accountability Office, the Court of Federal Claims, the Small Business Administration, and state and local forums, as well as disputes involving contracts, fraud, construction-related claims, RICO, and intellectual property pending in federal courts and state courts across the nation. Paul also has substantial experience with other government contracts-related litigation, ADR, and proceedings, including claims, internal investigations, government audits and investigations, reverse FOIA matters, and civil False Claims Act and qui tam actions. He also counsels clients on matters relating to federal procurement statutes and regulations, including compliance, contract changes, the False Claims Act, the Anti-Assignment Act, Small Business contracting, federal procurement, procurement integrity, and corporate counseling for mergers and acquisitions involving government contractors. Paul previously participated in the firm's Legal Aid Loaned Associate Program. As a loaned associate, he gained a tremendous amount of trial experience representing indigent clients in matters pending before the Superior Court for the District of Columbia."
About Buy America:
Not to be confused with "Buy American," the Buy America Act was established in 1982 mainly to regulate steel and transportation supplies. Over time, however, it has expanded to include some fabric materials, and its requirements have seeped to touch wearables and exoskeleton products. For those looking to make and sell exoskeletons for US government agencies, such as the Army, it is vital to know in advance what expectations might be placed upon them.
Registration link:
You can register for ASTM International Buy America: Domestic Preferences for Exoskeleton Procurements Webinar here: link
Time: Wed, Mar 15, 9:30 AM – 10:30 AM PDT