WearRAcon Europe 2023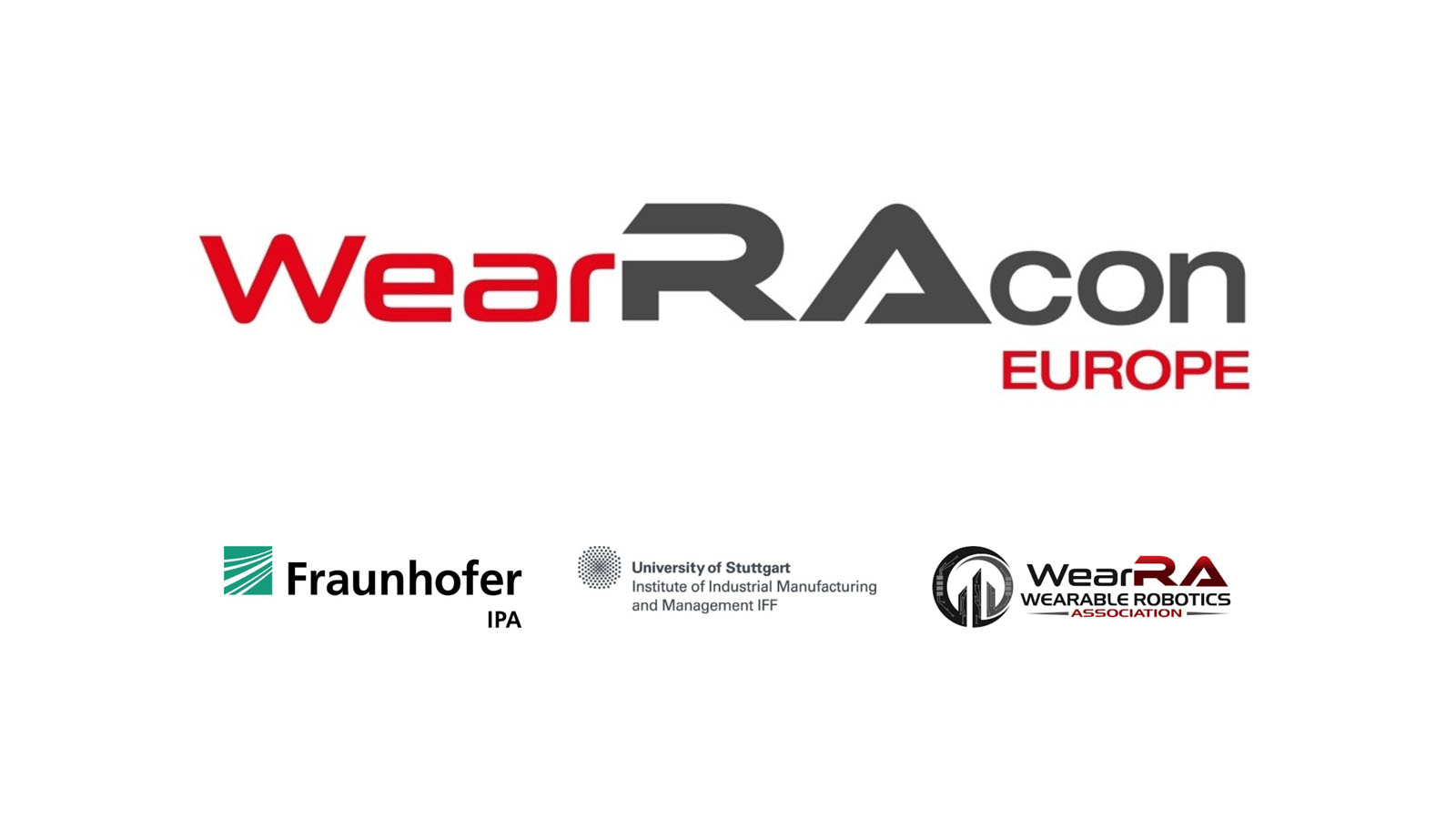 The Wearable Robotics Association Conference European Edition 2023 will take place this year in conjunction with the A+A Trade Fair, Tuesday through Friday, October 24- 27, 2023, in Düsseldorf, Germany.
The conference will be held with the support of Dr. Urs Schneider, Director of the Health Technology Division at Fraunhofer IPA in Stuttgart, famous for the ExoWorkAthlon (link) multi-person live demonstration of occupational exoskeleton testing. Additional information on WearRAcon Europe 23 will be upcoming.
Schedule and Speakers:
WearRAcon Europe (or Exo Park) will be a two-day conference on October 25-26 (Wed – Thu). The tentative schedule (link) includes over 30 separate speaker sessions to choose from, putting on par with any of the WearRA US events.
About WearRAcon Europe
WearRAcon Europe is an annual event organized by the Fraunhofer Institute for Manufacturing Engineering and Automation (IPA) and the University of Stuttgart's Institute of Industrial Manufacturing and Management (IFF), in close collaboration with the global exoskeleton interest group, the Wearable Robotics Association (WearRA). "It aims to present European aspects of the latest innovations in wearable robotics, with a particular focus on occupational exoskeletons, and foster interactions between wearable robotics professionals, end-users from the industry, experts from the academia, and representatives from governmental agencies."
About A+A
WearRAcon Europe 2023 will take place at the same time as the prestigious A+A trade fair on personal protection, occupational safety, and health at work. The organizers of A+A believe that "improving productivity and business success is unavoidably connected with work safety."
Product groups: anti-slip mats, ear protectors, fire protection, flooring, hand trucks, helmets, marking products, protective clothing, respirators, safety gloves, safety shoes, vehicles, and working clothes…
Industry sectors: Environment, Fire protection, Industrial Safety, Safety at work, …
Similar to other large trade fairs, the A+A conference will be spread around multiple presentation halls. As of the time of writing, it is unknown in which presentation hall WearRAcon Europe 2023 will be located.
Previous WearRAcon Europe Events:
2021: WearRAcon Europe 2021 took place as a virtual event. International representatives of various industrial exoskeleton application sectors reported on their experiences in developing, implementing, and evaluating exoskeleton systems. Further exoskeleton research topics, such as exosuits, digital biomechanics, as well as human factors influencing acceptance, were discussed extensively. Notably, the Laevo Flex was introduced to the public for the first time at the event (link).The 2021 edition also saw the first iteration of the EXOWORKATHLON®, a physical live experiment putting commercial exoskeletons to the test, which was held in conjunction with the conference.
2020: WeRob and WearRAcon Europe joined forces together to create a four-day virtual conference on exoskeletons, wearable robotics, rehabilitation devices, orthotics, and neuro-rehabilitation held in parallel with the 2020 International Conference on Neurorehabilitation. Keynote speakers include Matt Marino from HeroWear, Prof. Arun Jayaraman, hailing from the Shirley Ryan AbilityLab, and Prof. Roger Gassert, ETH Zurich.
2019: WearRAcon Europe 19 was held November 19-20, 2019, in collaboration with WearRAcon, Fraunhofer IPA, and the University of Stuttgart. WearRAcon Europe was seen as a regional event that enabled the European community to participate, exchange ideas, and collaborate in this growing wearable robotics field. Attendees heard from renowned exoskeleton pioneers like Thomas Sugar, ASU ,and Robert Riener, ETH Zurich.