Summer Webinar Series: Standardization and Benchmarking
September 28, 2021 @ 1:00 am

-

2:30 am

PDT

Free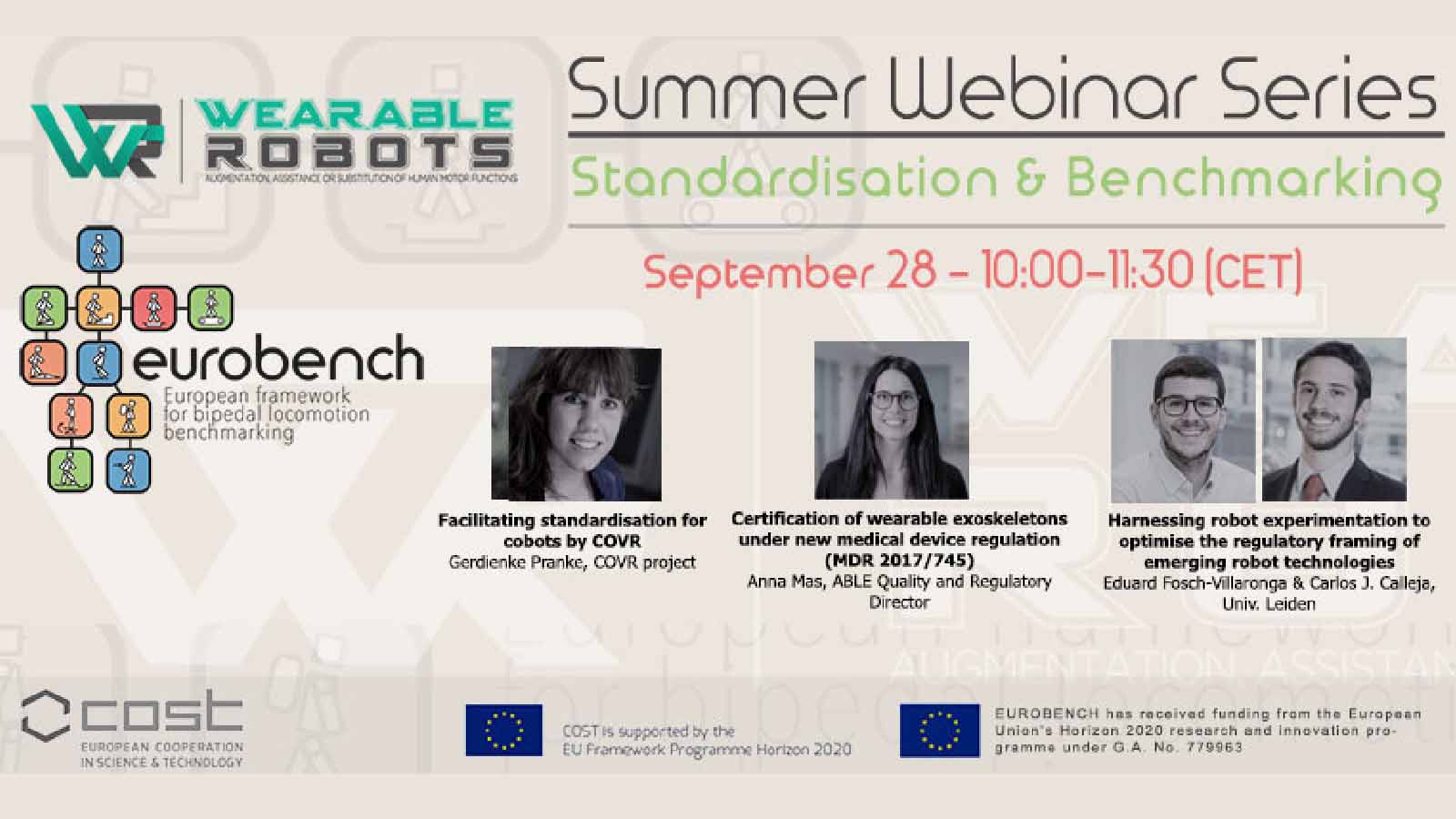 The EUROBENCH Project and COST – Action Wearable Robots (CA 16116) will host their fourth and final webinar on exoskeletons and wearable robotics for 2021. The final webinar will be held on September 28 from 10:00 – 11:30 CET. For those residing in North or South America, the webinars are usually recorded and the links can be found here: https://eurobench2020.eu/summer-webinar-series/.
Agenda:
Facilitating standardisation for cobots by COVR – Gerdienke Pranke, COVR project (20')
Certification of wearable exoskeletons under new medical device regulation (MDR 2017/745) – Anna Mas, ABLE Quality and Regulatory Director (20')
Harnessing robot experimentation to optimize the regulatory framing of emerging robot technologies – Eduard Fosch-Villaronga and Carlos J. Calleja, eLaw Center for Law and Digital Technologies at Leiden University (20')
Round Table (30')
Registration:
Anna Mas Vinyals, Ph.D. is the Head of Quality Assurance and Regulatory Affairs at ABLE Human Motion S.L. She received her Ph.D. in Bioengineering from IQS – URL (Barcelona) in 2018, for the development of a tissue-engineered implant for knee osteoarthritis.
Gerdienke Pranke, Ph.D.  With maximizing patients' performance in daily life at heart, I coordinate the research line Active Therapeutic Devices. With my ATD-colleagues and Ph.D. students, I focus on clinical application and evaluation of rehabilitation technology to support the functional performance of people with movement limitations. Rehabilitation robots, soft exoskeletons, and serious games are the main focus points nowadays. My main research interests lie in understanding the impact of rehabilitation technology on neurophysiological, biomechanical, and clinical levels (including the safety of human-robot interaction), and supporting its application in clinical practice.
Dr. Fosch-Villaronga is an Assistant Professor at the eLaw Center for Law and Digital Technologies at Leiden University (NL) where he investigates legal and regulatory aspects of robot and AI technologies, with a special focus on healthcare. Eduard recently published the book 'Robots, Healthcare, and the Law. Regulating Automation in Personal Care' with Routledge and is interested in human-robot interaction, responsible innovation, and the future of law.
Carlos J. Calleja is a Research Assistant at the eLaw Center for Law and Digital Technologies at Leiden University (NL). Carlos is currently working within PROPELLING, which stands for "Pushing Robot Development for Policymaking" and is an FSTP (financial support to third parties) from the Horizon 2020 Eurobench project. Carlos investigates the potential for using robot testbeds as data generators for speeding the creation, revision, or discontinuation of standards for lower-limb exoskeletons.
Standards and certification is an important topic for the growth of the exoskeleton industry. Potential buyers shouldn't be the ones that are downselecting devices and solutions based purely on marketing material. For example, imagine having to purchase a car without an independent safety rating. This webinar could be a window into the efforts by EUROBENCH and how they compare and contrast to those of ASTM International and other organizations.