In 2016, the famous building block company LEGO released its first minifigure-scale wheelchair in the set 60134 Fun in the Park – City People Pack. In the subsequent seven years, LEGO has continued to release sets with wheelchairs. The company has added color variety and a sports variant and even redesigned the mold to be more practical and fit through standard doors (usually three studs wide).
The Exoskeleton Report team was overjoyed at the introduction of the LEGO wheelchair in 2016 that we even designed and 3D printed a single unofficial LEGO Minifigure scale powered exoskeleton based on the Ekso GT by Ekso Bionics (see: First Official LEGO Minifigure Wheelchair and Unofficial Exoskeleton, 2016).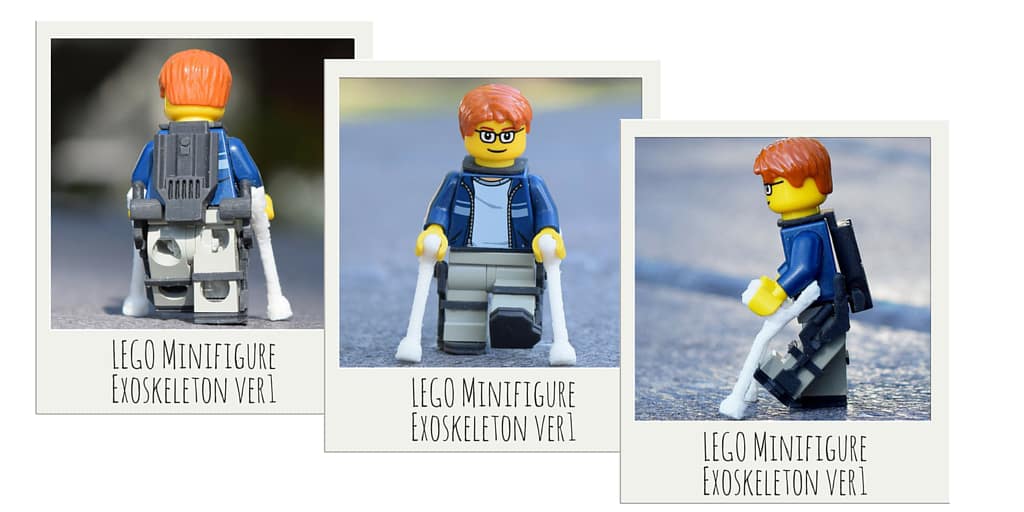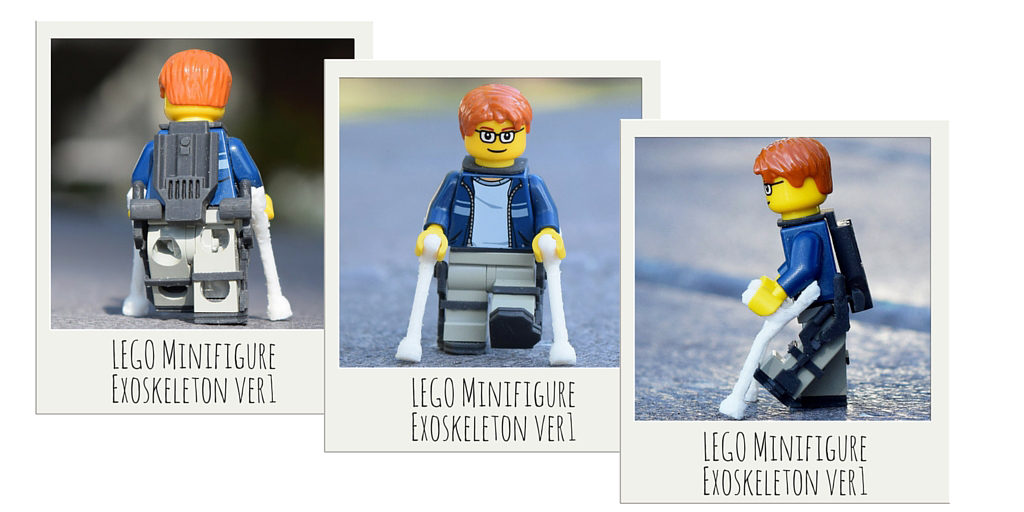 While ExR's LEGO exoskeleton did not start a revolution, it is not the only one. We ran into a Minifigure with a Laevo back support exoskeleton at WearRAcon 17. LEGO has produced Minifigures since 1978, and its line of LEGO City construction sets has always been a huge hit with children. How much of a stretch would it be to have them include occupational exoskeletons for repetitive heavy work or a physical rehabilitation center with rehabilitation robotics in the next LEGO hospital set?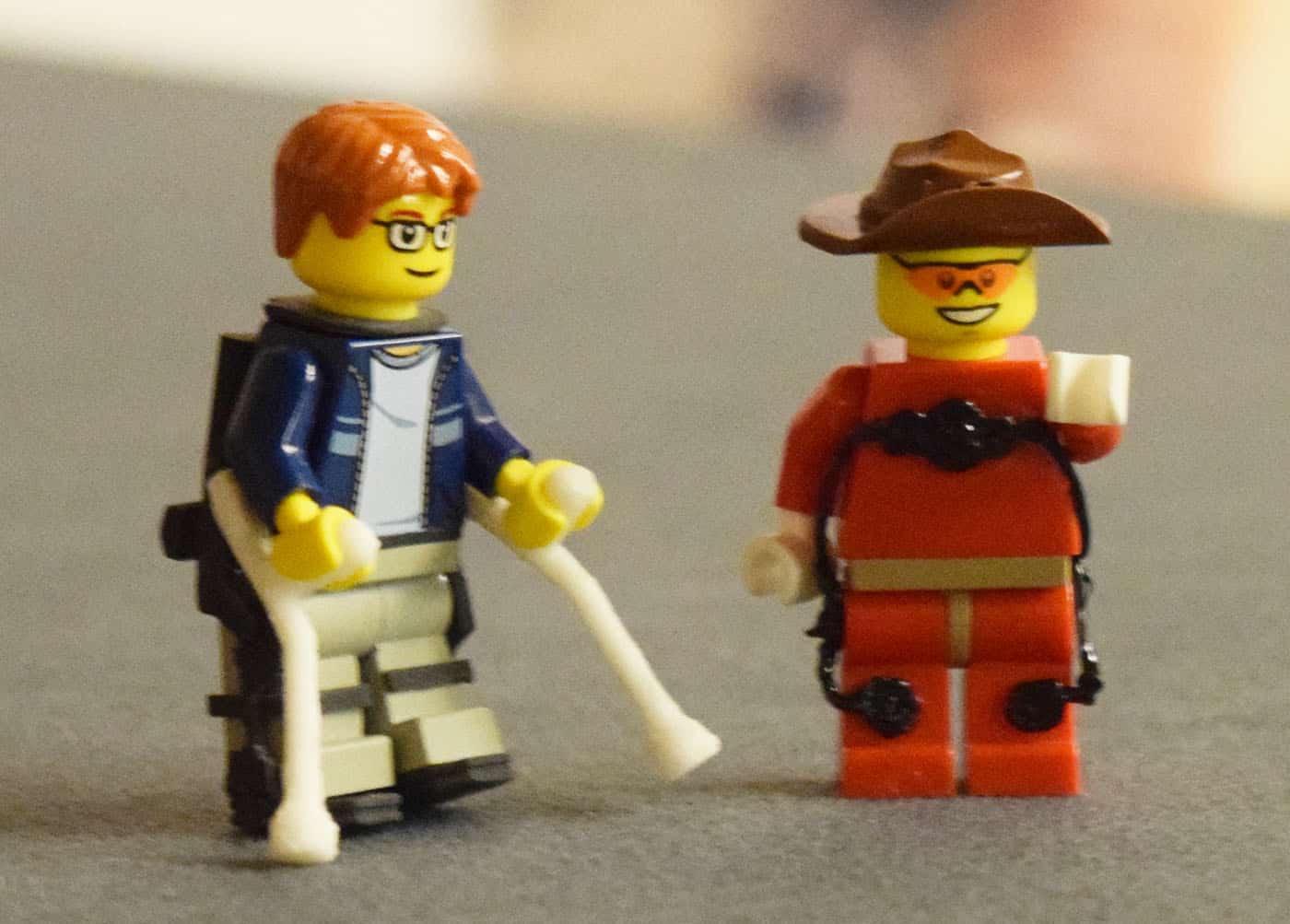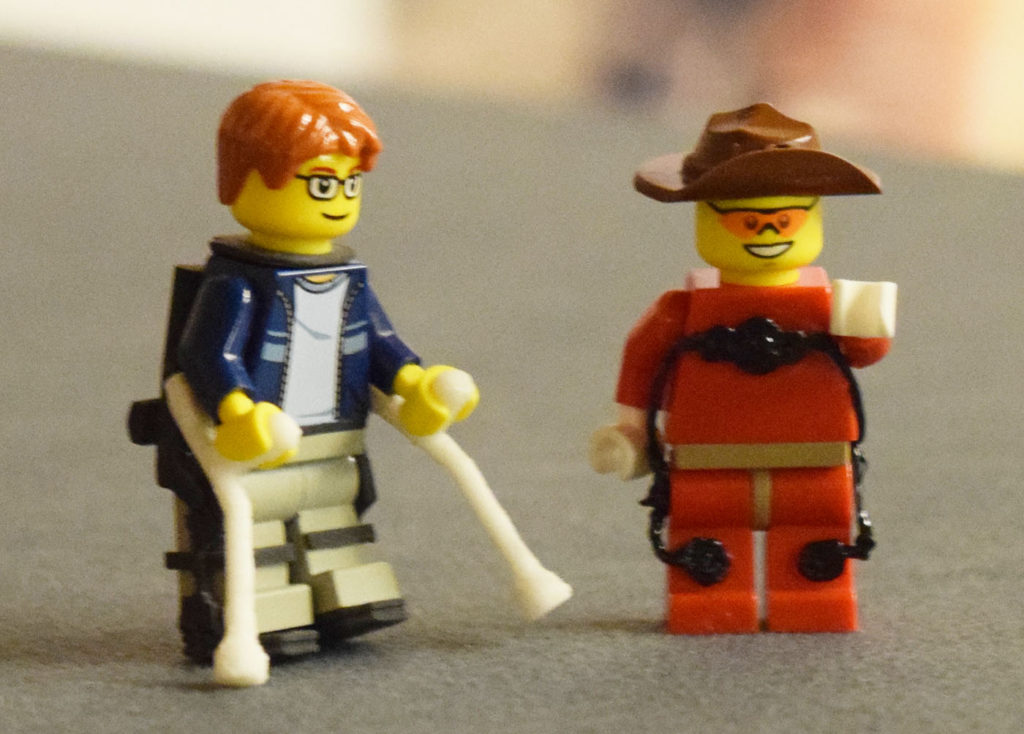 Lego Wheelchairs 2016 – 2022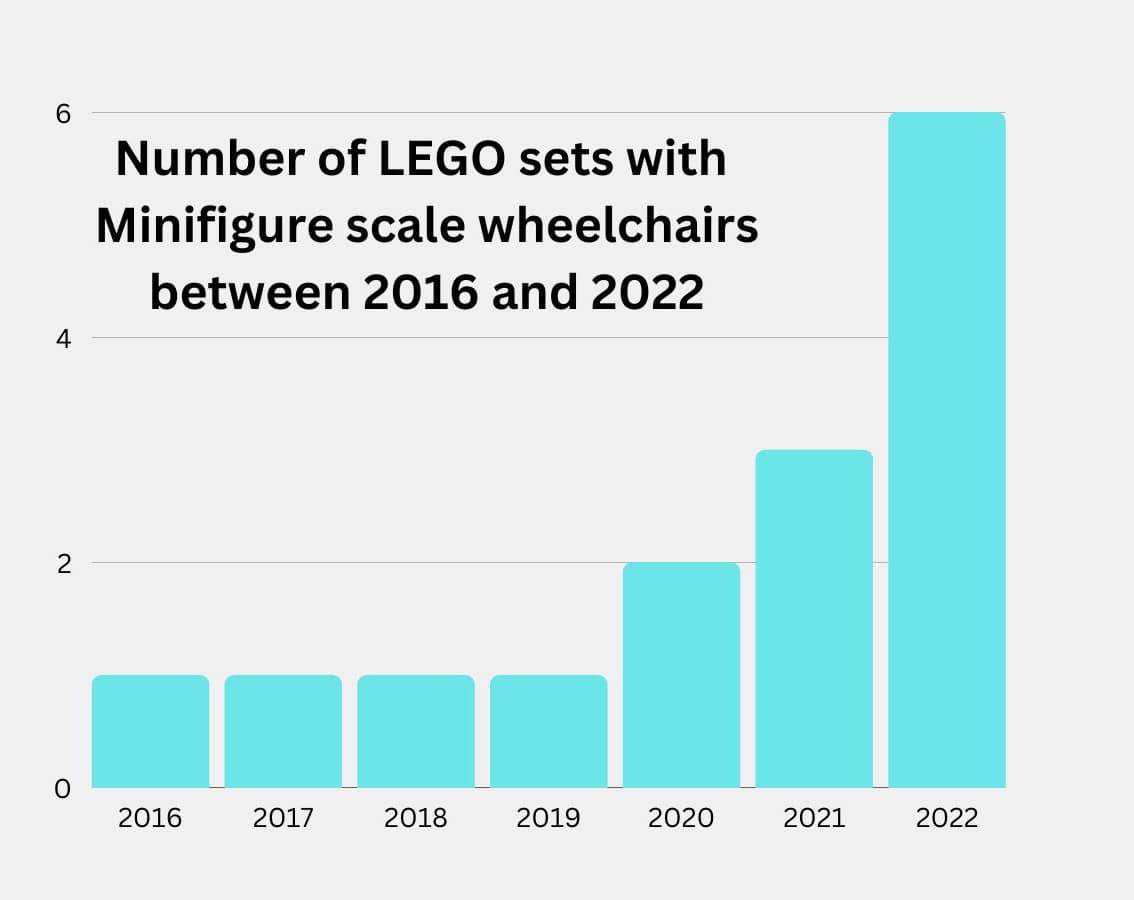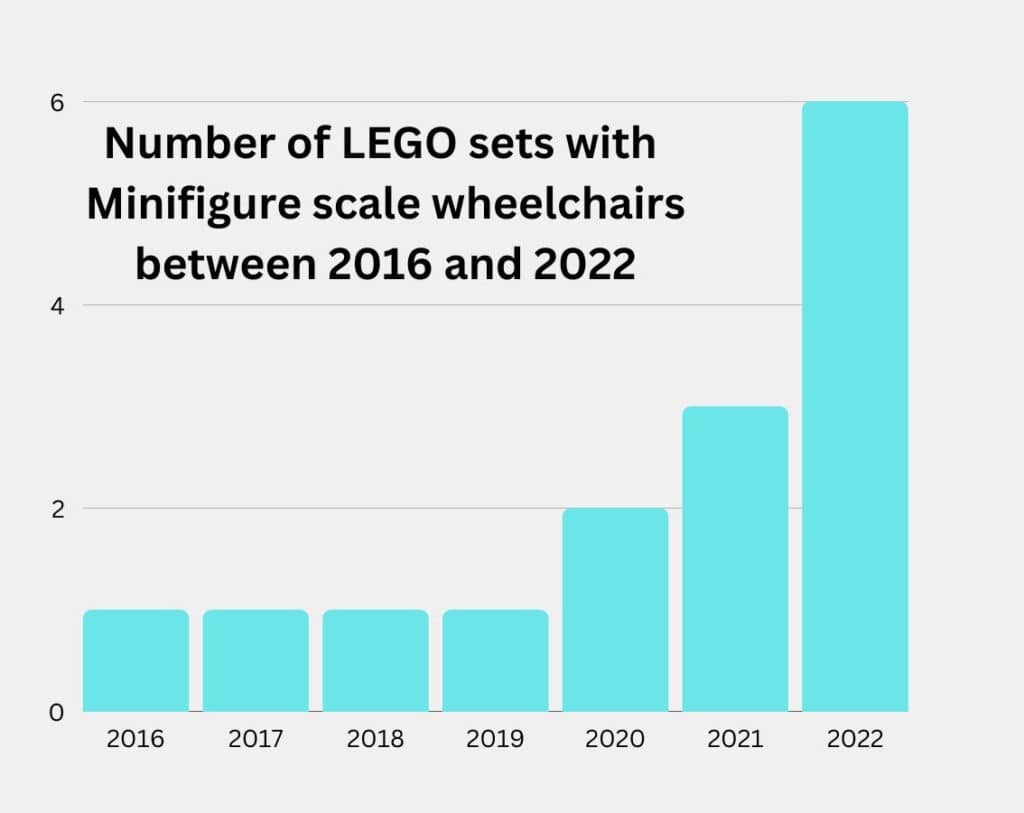 Rather than creating a unique piece never to be seen again, LEGO has continued to include wheelchairs for its Minifigures (see graph on left). Minifigure wheelchairs have been used in sets with themes centered around passenger trains, skate parks, collectible Minifigure bags, Avatar building sets (based on the movie), bus stations, city hospitals, promotional sets, educational sets, and even a haunted house set. Note that this represents only LEGO SYSTEM Minifigure wheelchairs. The company has also released ones in different scales and sizes, which are not included here (information from BrickLink.com).
Are your Minifigures working hard to maintain the street and crossing lights in your made-of-plastic utopia? The imaginary person in the now discontinued LEGO set 60054: Light Repair Truck could be a good candidate for a shoulder support exoskeleton. The LEGO Group could one day release both medical and industrial exoskeletons in its CITY line. Picture (right) from Brickset.com ©LEGO Group.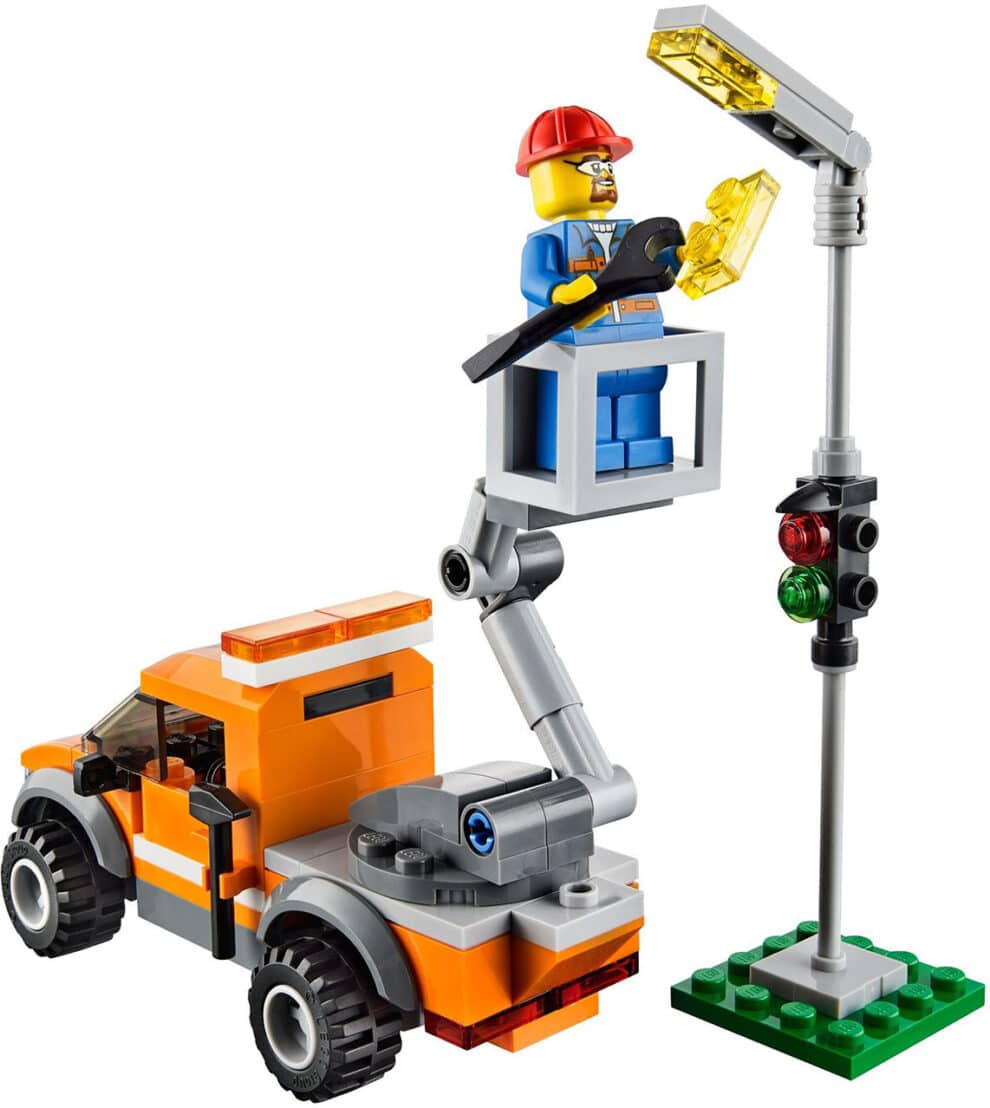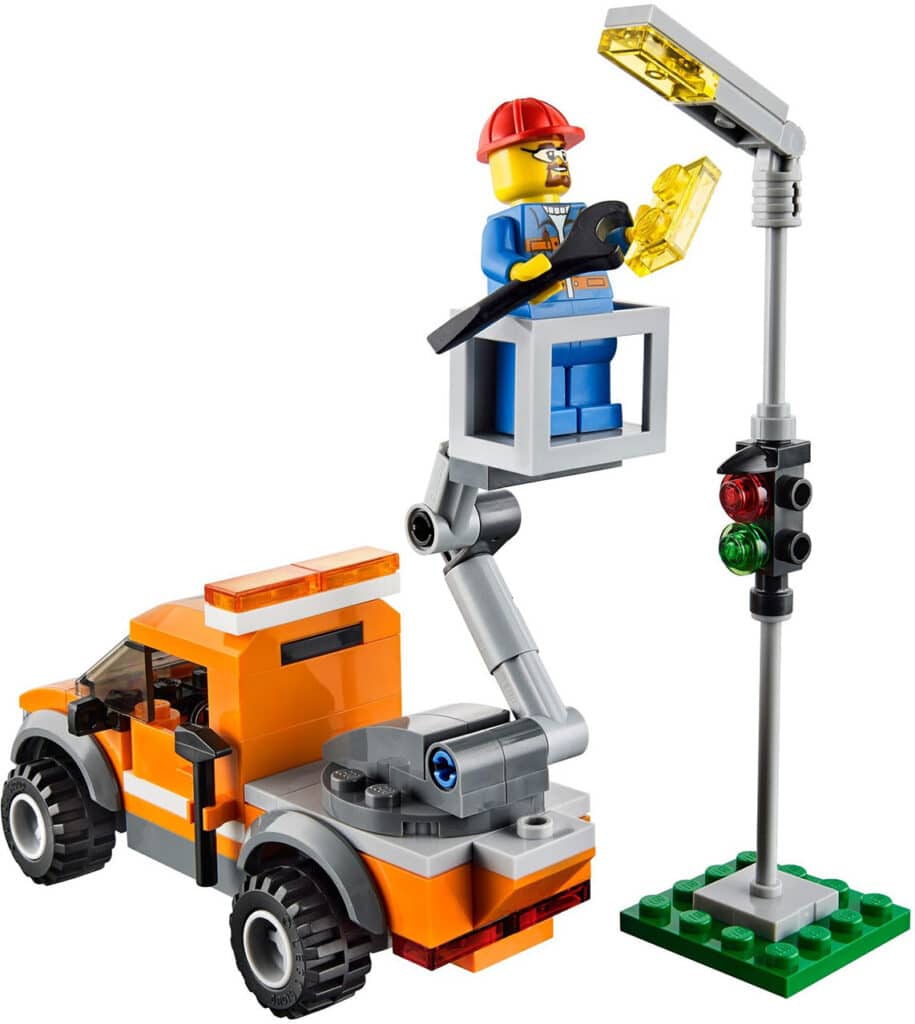 Expanding the representation of wheelchair users in the public domain, especially a toy line as popular as this one, can only be a good thing. Six years in, the LEGO group has added new colors and styles and even redesigned the mold to make the newest Minifigure wheelchair more usable by shrinking its width so it can fit through standard door frames. Making new injection molds costs money, and it hints that the company intends to continue to include these mobility aids in its sets in the future. It is not outrageous to believe that one day either a gait assist medical exoskeleton or an industrial one can make its way into an official set. LEGO City hospital sets, camera crews, post office parcel workers, car maintenance shops with car lifts, farm sets, and airport sets (luggage handlers & plain maintenance) have all been released in the past and would be a good fit.
---
Featured image (top), images of the red and the redesigned yellow LEGO Minifigure scale wheelchairs and a wheelchair racer, images via Brickset.com and Lego.com. This is an independent site not authorized or sponsored by the LEGO Group. All copyrights are owned by the LEGO Group.