The Exoskeleton Report (ExR) has published an updated directory of exoskeleton companies (link) with 118 current developers. This is a significant uptick from the 80 companies that were engaged in developing exoskeletons, exosuits, and wearable robots that were captured at the start of 2020. The directory is the most complete list of the major commercial players working on creating wearable devices that can alleviate work, assist people, and help with physical rehabilitation. The update to the directory is also an opportunity to run some statistical analysis on the exoskeleton industry such as the start date and the geographical location of the companies, number of announced products, and their applications.
Location:
There are currently 118 exoskeleton developers which are mostly located in Asia, Europe, and North America. For simplicity, only the company or the parent company's headquarters is considered when recording the location of each developer. Some exoskeleton companies have multiple offices, which are not captured in the table below (and the featured image above):
| | |
| --- | --- |
| Location of Exoskeleton Developer (HQ only) | Number |
| Asia | 30 |
| Europe | 56 |
| North America | 29 |
| Oceania | 1 |
| South America | 2 |
The old continent has the most exoskeleton businesses. This is likely due to the large number of university labs that are focused on this technology. Also a contributing factor, the EU has also led and sponsored several initiatives on the application of wearables and cobots.
Year Founded:
The exoskeleton industry is dominated by new startups, complimented by some well-established companies that have taken an interest in the technology. The time between 2016 and 2017 had the highest number of new company foundings. It is also possible that some new companies are still running under "stealth" mode and do not have a footprint in the public domain, so expect the numbers to be revised in time:
The numbers above also correlate to the rise and dips of financial markets and enthusiasm for this new technology field. It shouldn't come as a surprise that no new companies were created (that are still in business) during the great recession between 2008 and 2009.
Applications:
This field is roughly divided into four areas of focus: industrial, also known as occupational; medical, which unifies physical rehabilitation and functional compensation wearables; military; and consumer and recreational devices. In addition, a fifth application for first responders is beginning to gain traction in 2021 but is not captured below. Most developers focus on only one application field. Overall, the distribution of applications leans heavily towards industrial and medical uses.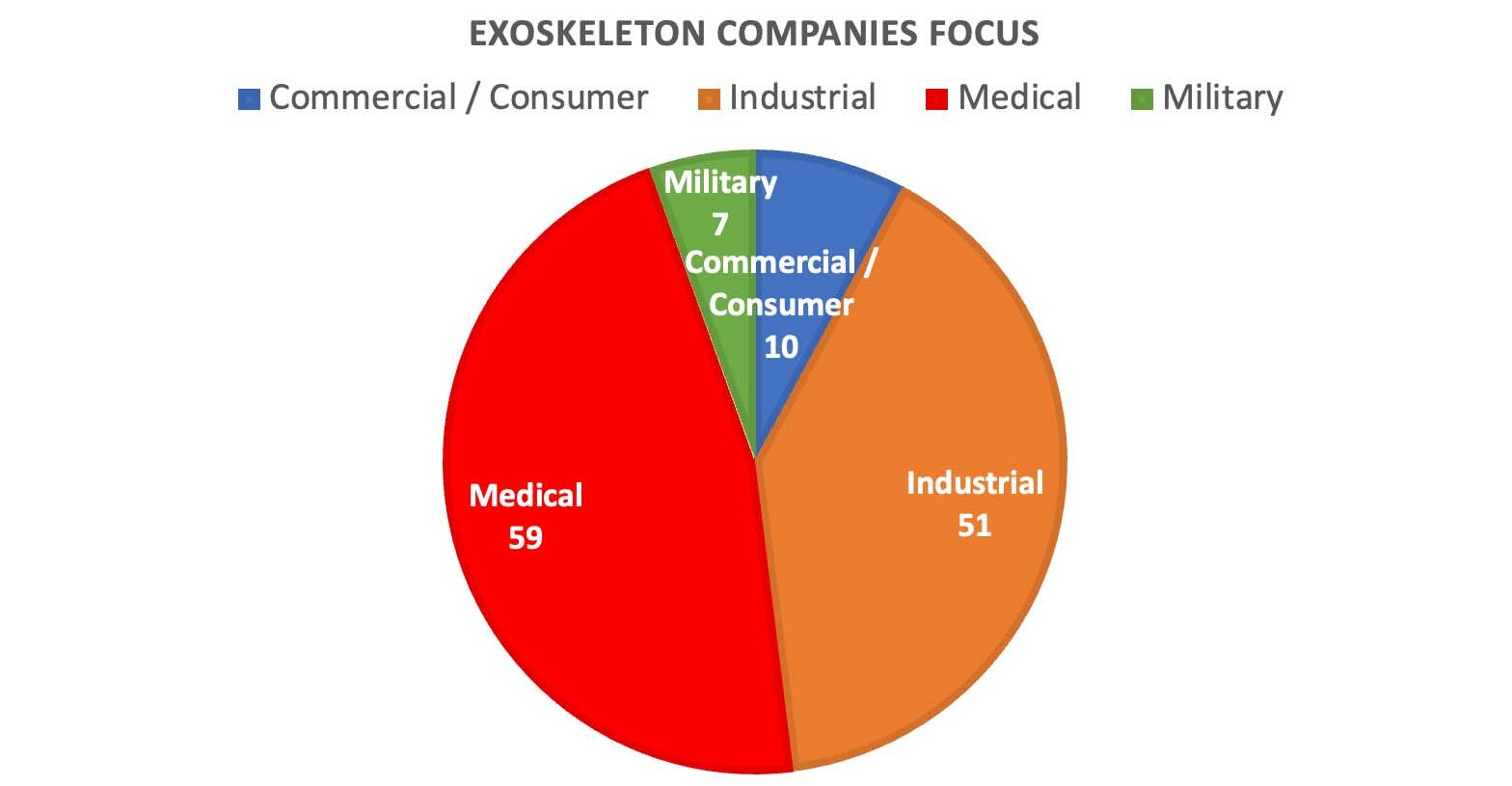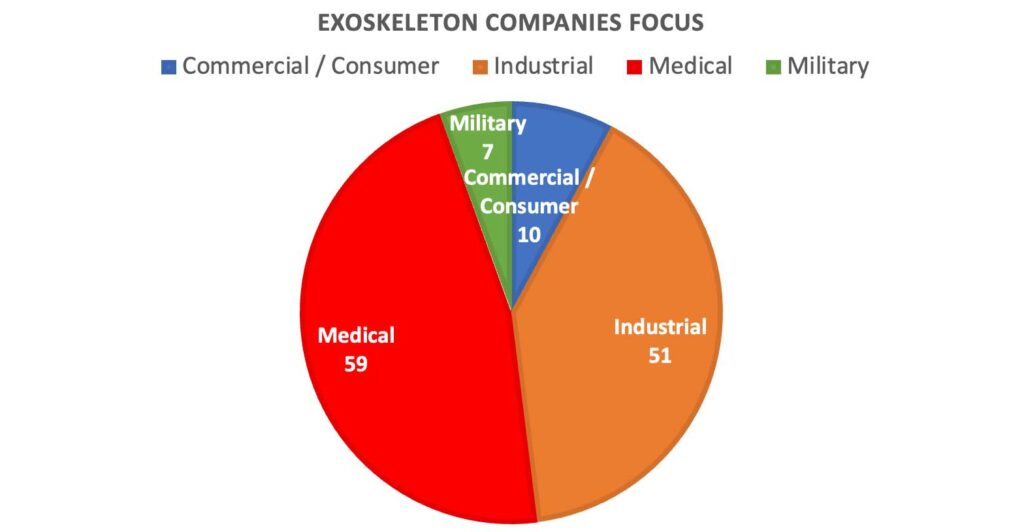 Number of Products:
At this time, the majority of exoskeleton developers have only one publically announced project in their portfolios. There are roughly 172 exoskeleton devices that are either already being sold or close to being commercialized.
| | |
| --- | --- |
| Number of Announced Products | # of Companies |
| One | 78 |
| Two | 21 |
| Three | 9 |
| Four | 5 |
| Five | 1 |
The above list intentionally excludes prototypes or retired models. Otherwise, there would be multiple companies with 15+ exoskeleton devices.
Acknowledgments:
Special thanks to Tri Dao, Rita Vazquez-Torres, Matt Marino, and Stefano Carisi for their continuing help and support in updating the Directory of Exoskeleton Companies.