Applied Ergonomics 2022 has published a webinar from Nov 2021 by Matt Marino on exoskeleton technology. Matt is a Director of Ergonomics at HeroWear, CEO of Prime Perfomance LLC, and a member of ASTM F48 since its inception. Matt has 13 years of ergonomics practice experience and, in parallel, more than 15 years of physical therapist experience and even longer in strength, conditioning, and human performance. Matt has also written several articles for the Exoskeleton Report and has more than nine years of exoskeleton experience. During the webinar, Matt does an excellent job of staying device-agnostic, while taking the audience on a journey through exoskeletons' past, present, and future. The webinar can be found on IISE.org's Webinar archive (link) and you can find highlights of the presentation below.
Past
Exoskeletons are older than they may appear to be. N. Yagn's 1890 patent of an Apparatus for Facilitated Motion is commonly considered to be the first serious attempt at an exoskeleton. While this may be true for ambulation, there are multiple patents for wearables that targeted lower-back pain that are even older. These earlier examples are passive back assist exosuits that were geared for picking cotton, gardening, material handling, and working on a railroad. Between 1890 and 1930 there were more than a dozen patents for back support exoskeletons and exosuits that closely resemble many modern-day equivalents. "People needed this type of relief and we have been inventing these types of products now for over 120 years," says Matt Marino, "and we are still trying to address these same problems that people have had today."
Present
Now with modern design and manufacturing, we really have an opportunity to put these products to work, and help the people and solve the problems that they have been designed to. Exoskeletons are still not a part of comprehensive ergonomic programs. "Ergonomics and exoskeletons really have the same goals," states the presenter, "they are geared towards preventing injuries and lost time, improving people's quality of life, towards retaining valuable employees keeping them in the workplace… and improving work quality and performance."
Future
Implementation is going to be the key: The four P: The product must match the problem, the people must be willing to use the product and there must be an implementation plan. The product, people, and the plan must come together to solve a problem. There needs to be a good playbook on how to match the exoskeleton to the problem and how to maintain that match. Training, responsibility, troubleshooting, maintenance, documentation, and communication will all be critical.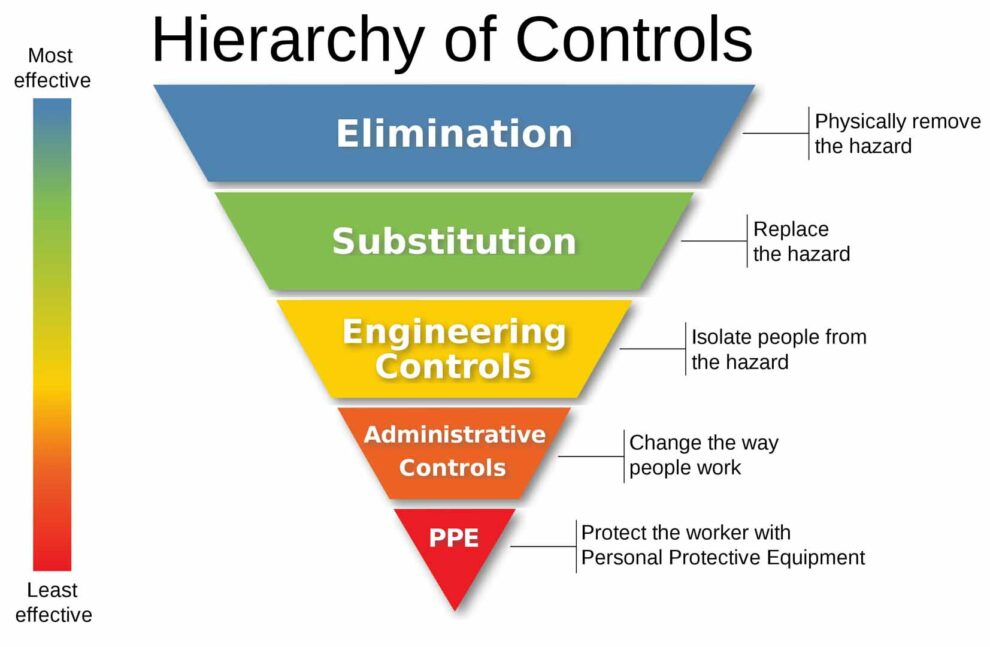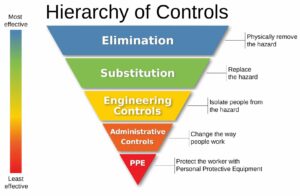 Longitudinal effects and ROI calculation will be available in time, but this leads back to implementation. The more exoskeleton devices that are successfully implemented, the easier it will be to collect this data. A greater number of implemented wearables will also help dispel some of the myths and misconceptions about exoskeletons that can scare people.
In conclusion, laborers have needed lower back relief for over 100 years. The hierarchy of controls should always be followed and in many cases, there are better solutions than exoskeletons. But there are work task challenges where there aren't better solutions available. Occupational (industrial) exos can act as a new type of ergonomic intervention.
Reference:
Applied Ergonomics Webinar Archive: https://www.iise.org/Ergo/Conference/Details.aspx?id=23044
Hierarchy of Controls, NIOSH, https://www.cdc.gov/niosh/topics/hierarchy/default.html