It would appear Panasonic's marketing team was able to maintain a sense of humor through 2020. The online publication SankeiBiz (article) reports that Panasonic has won the 59th Business Advertising Awards sponsored by Fuji Sankei Business, originally to be held at Sankei Plaza in Tokyo, Japan. Panasonic's work, which features the Atoun back support exoskeleton is a play on The Gleaners (Des glaneuses) which is an oil painting by Jean-François Millet completed in 1857. The modified work roughly translates to Robots to Wear, Lightening the Hero of Workers. The work depicts hunched over women tending to a field with the help of the Atoun Model Y powered exoskeleton for work and industry.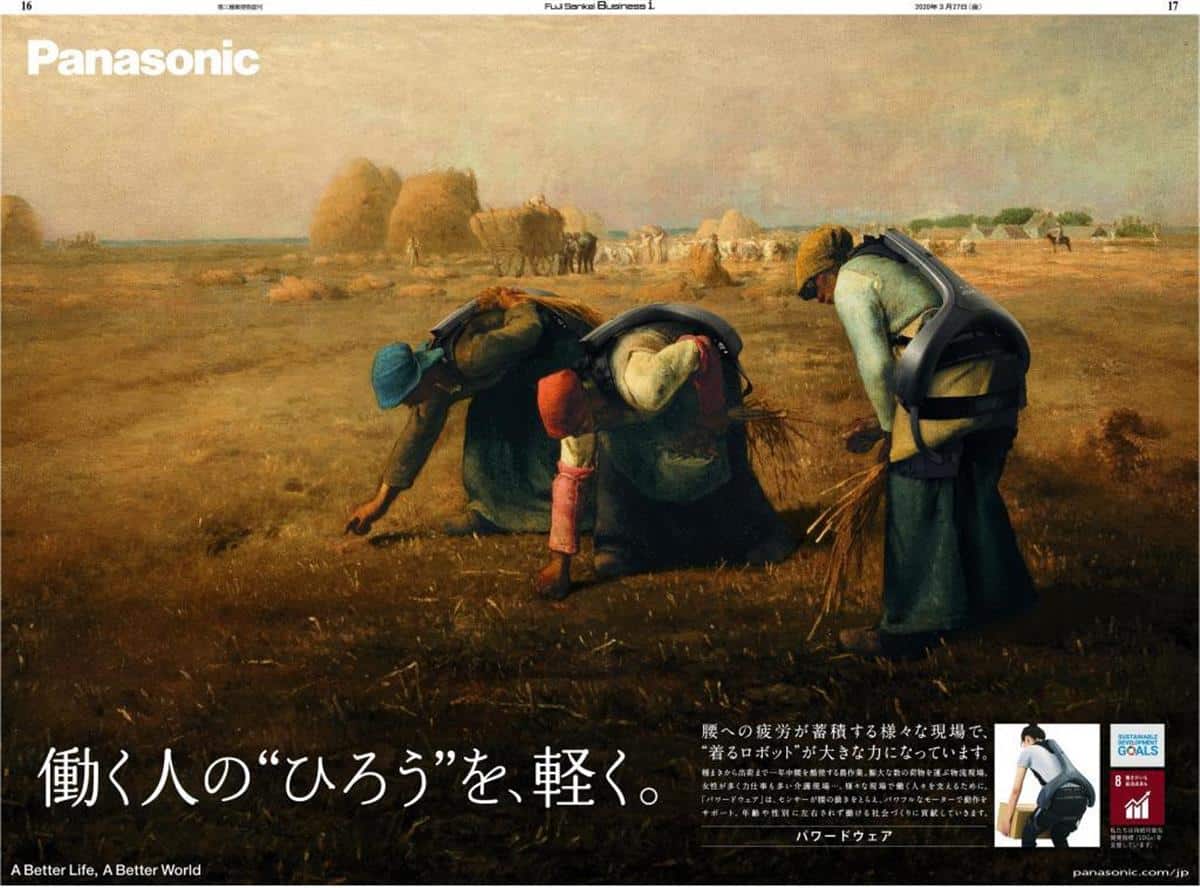 The image artfully combines the mundane with the modern. Traditional farming by hand is performed using top of the line wearable robots. This begs the question of how would we treat exoskeletons if we considered them to be a common tool? A world in which exoskeletons are not unknown or unique, but a common site amongst workers.
"Hiroshi Kanano, General Manager of the Creative Promotion Office, Advertising Department, Panasonic Brand Strategy Headquarters, said, 'A better world where no one is left behind is the world that Panasonic has been aiming for since its founding. It is one of the SDGs (Sustainable Development Goals).' He appealed that he contributed to 'promotion of job satisfaction and economic growth' and supported the creation of a society where people can work regardless of age or gender." – Google Translate, SankeiBiz, Oct 30, 2020
Reportedly, the award ceremony was canceled due to safety considerations. The Panasonic team deserves to be recognized for making exoskeletons just that much more homey and relatable. Marketing, education, and demystification of exo technology continue to be major hurdles for this field which limit both adoption and investments. The humorous and whimsical nature of this work deserves to be noted.
Reference:
Reduced workload Panasonic is an easy-to-understand business advertising award [google translate], SankeiBiz, October  30th, 2020, https://www.sankeibiz.jp/business/news/201030/bsc2010300500008-n1.htm
The Gleaners, Wikipedia, https://en.wikipedia.org/wiki/The_Gleaners