Exoskeleton inventions made their first appearance around 2000, and have since developed into a distinct and growing area of human assistive technology, with consumer, medical, industrial, and military applications. To really grasp the scope and who's who of the exoskeleton technology space, it can be helpful to look past fiction, puff, and press releases, and focus instead on data that reports actual patenting activity.
Using "AcclaimIP," a patent search and analytics service (http://www.acclaimip.com/), I have developed an overview of the exoskeleton space. The main search was made using the term "exoskeleton" in the "abstract" field. Some exoskeleton-relevant patents, however, may not actually use the term "exoskeleton." I searched separately on Yoshiyuki Sankai of Tsukuba University (Japan) to capture his patent applications, which refer instead to "motion assistive devices." I also searched separately on "exosuit" to capture relevant references from Harvard College and SRI.
To streamline the search, I focused on US patents and published applications. The vast majority of foreign cases (i.e., non-US patent applications, such as those filed under the Patent Cooperation Treaty) have counterpart US applications. Thus their elimination does not affect the broad perspective provided by a US-based overview. Starting with the references accumulated by way of various search approaches, I deleted irrelevant references (e.g., references related to crustaceans, which actually pioneered exoskeleton technology). I also deleted published US patent applications that were later issued as patents. The end result was a set of 223 US patents and published applications, which I then used for graphical analytics, as provided by AcclaimIP.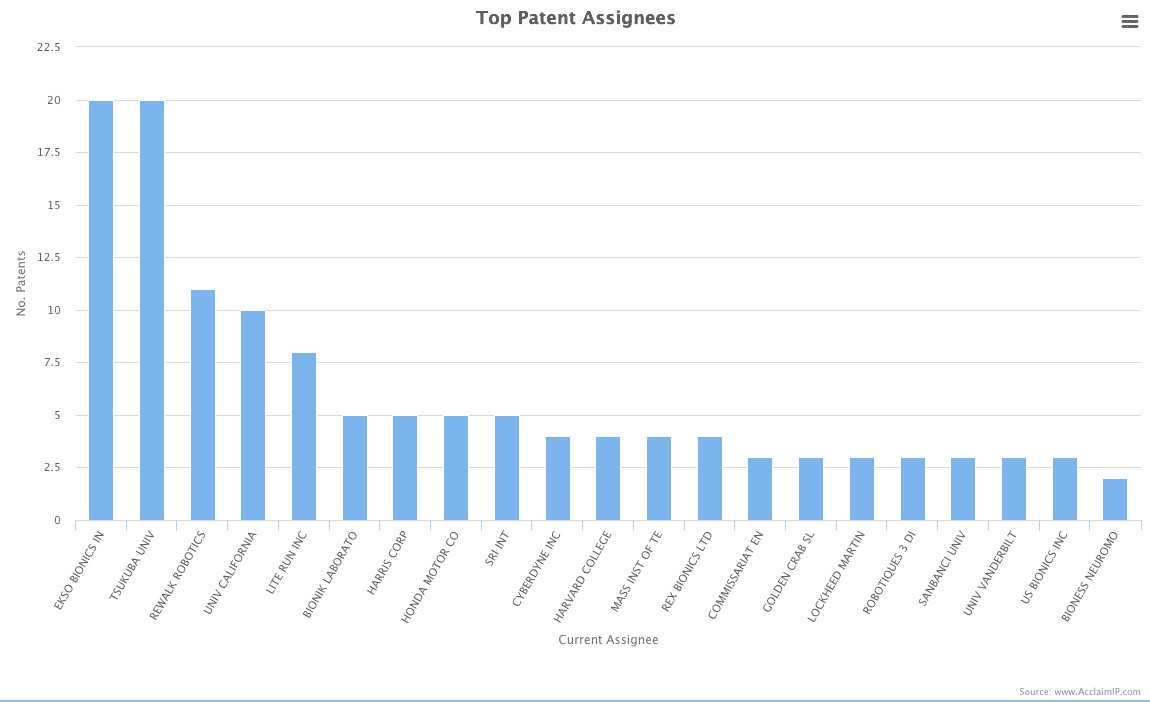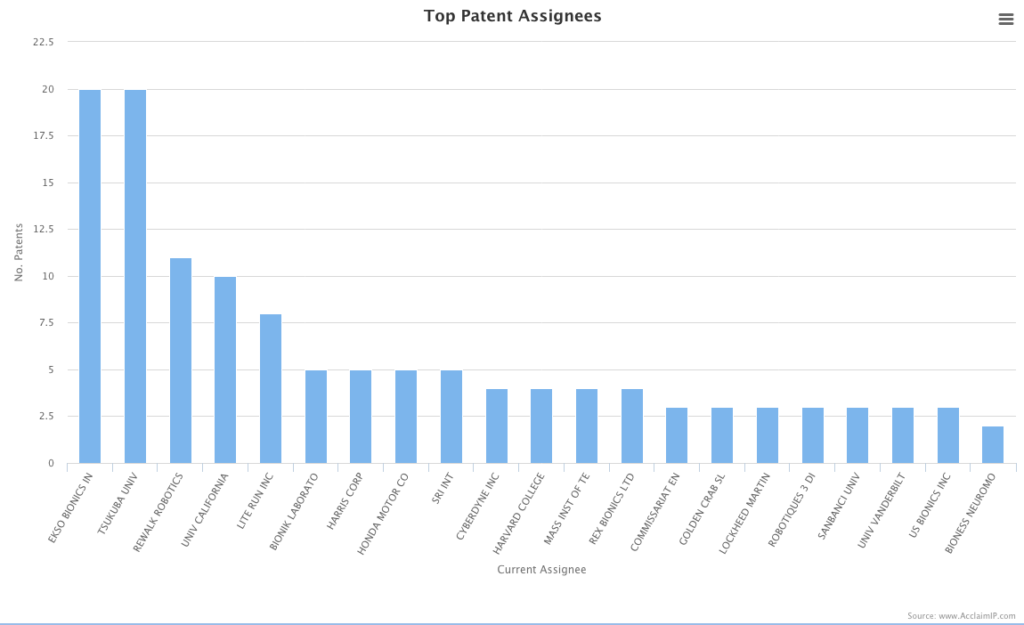 Charts 1 and 2 show respectively the top assignees and the most prolific inventors in the exoskeleton space. These two charts complement each other. For example, Homayoon Kazerooni (the most prolific inventor) has patents that are assigned variously to the University of California, Ekso Bionics, and US Bionics/SuitX (seen on the assignee chart). In time, exoskeleton patent applications will appear that are assigned to suitX, Kazerooni's current company. Yoshiyuki Sankai (the second most prolific inventor) has patents that are assigned to both Tsukuba University and Cyberdyne (seen on the assignee chart).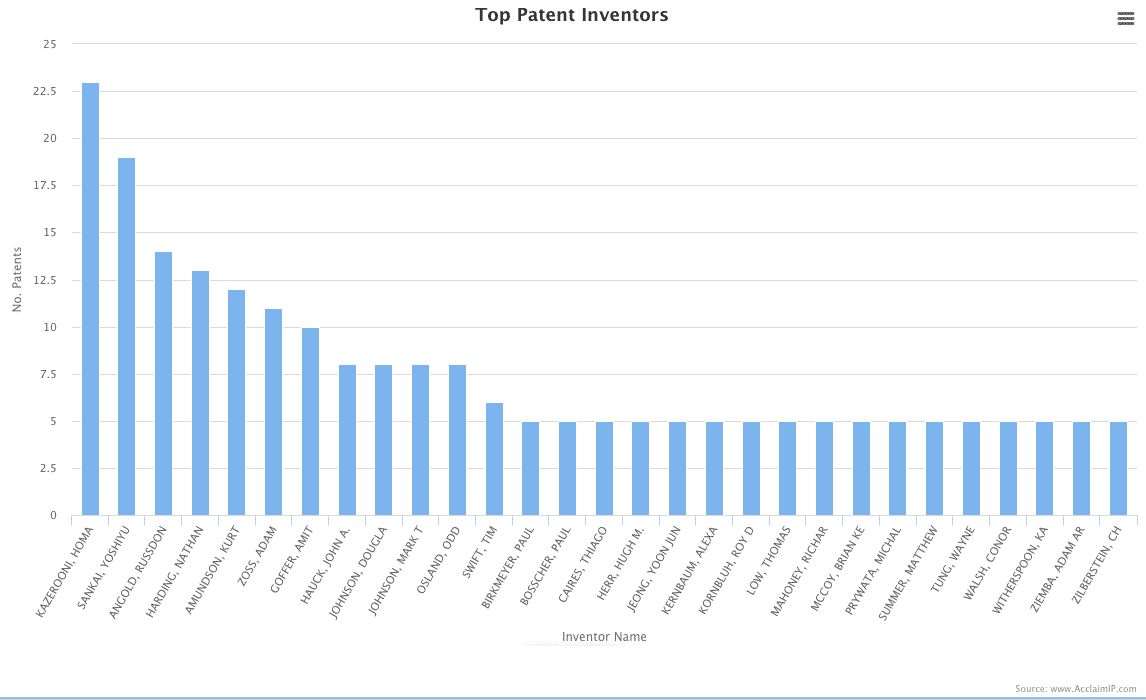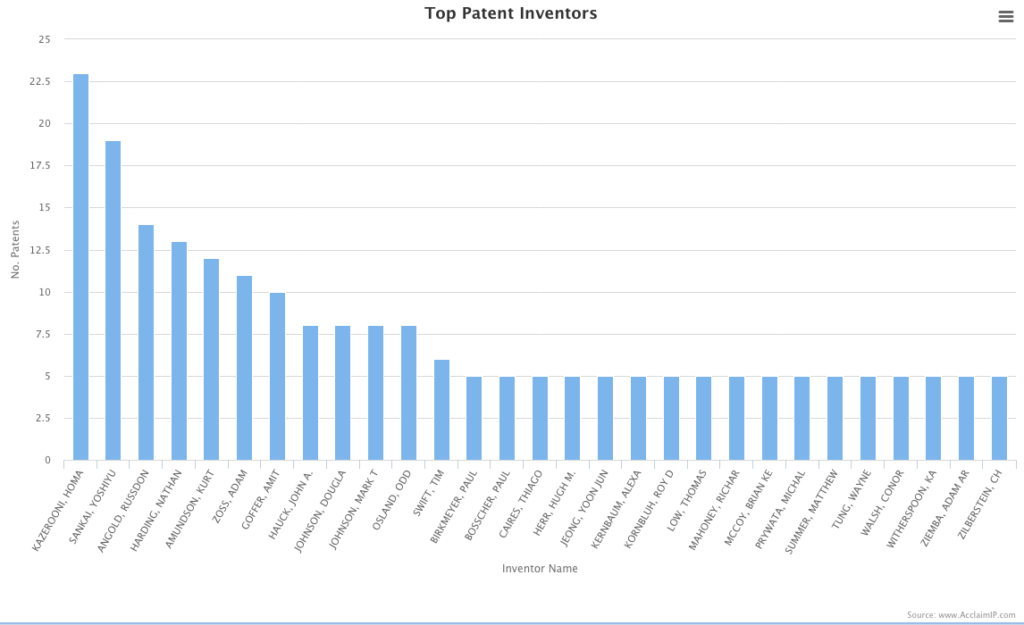 University and research institute representation are well represented on the full list of assignees; they own nearly 40% of the patents in the data list of 223 references. This makes sense in a field that is young and had its start in a research setting.
Chart 3 shows the number of patent applications filed in this space from 1997 to now (February 2017), with a steady growth phase beginning in about 2008. Applications take between 12 to 18 months to become publicly available; thus the 2016 patent filing data are incomplete, and will likely surpass the total for 2015. Another consequence of this delay in public availability is that the data shown in these charts lag behind the present actuality.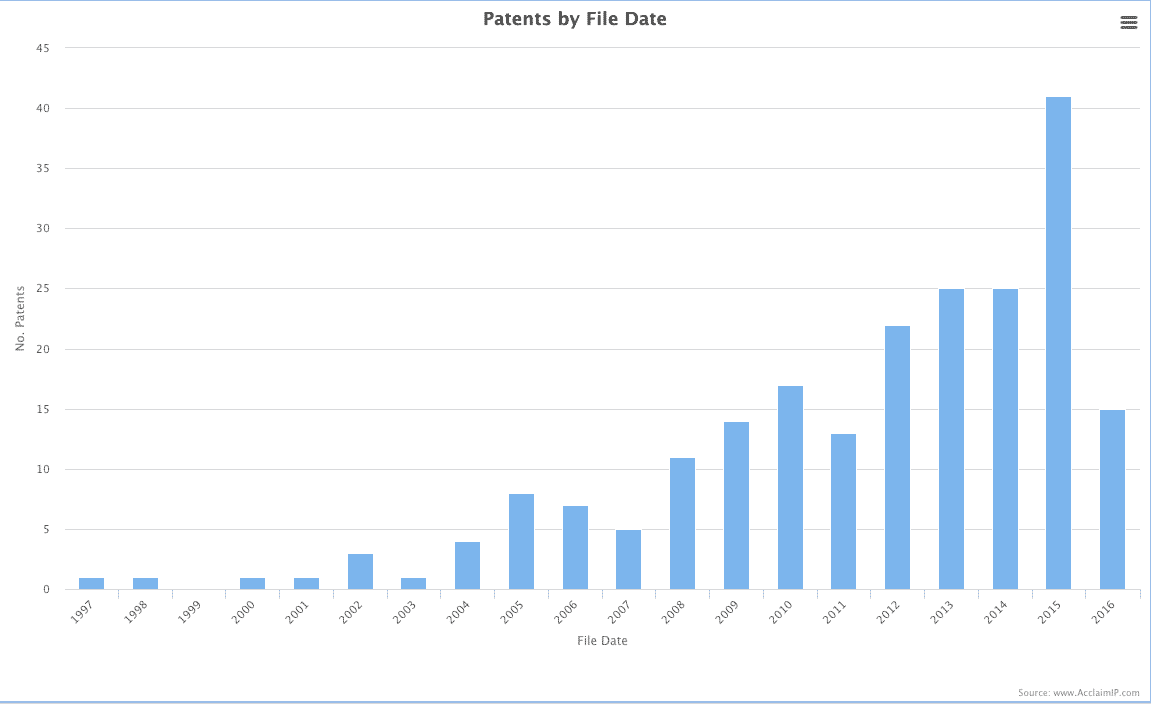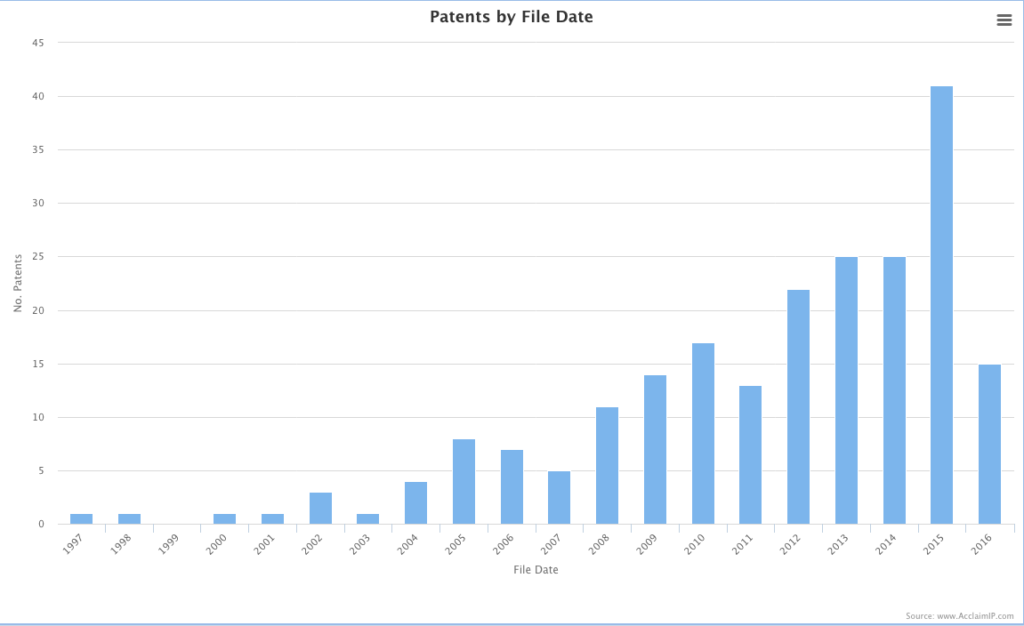 As noted above, exosuit devices are included in the reported data (11 references). Assignees include Harvard College and SRI International (as seen on the Assignee chart), and OtherLab. Harvard inventor, Conor Walsh, and SRI inventors Roy Kornbluh and Alexander Steele, can be seen on the inventor chart. The first exosuit patent was filed in 2013; this technology space will clearly be growing and may deserve its own set of charts within a few years.
---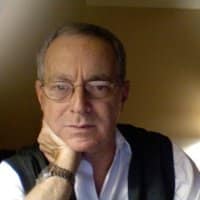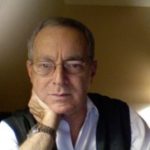 David Cohen is a registered patent agent in Oakland CA. He has a Ph.D. from UCSF, industrial experience in fermentation process development, and now focuses his patent practice in the medical device field.