"Basically, I'm here to announce we're building Iron Man," President Obama told the press in 2014. Yet while bold claims are being made about future exoskeleton technologies, it's quite amusing to think that the industry's largest current challenge may be simply creating devices that do not fall over.
There are many ways to improve people's ability to walk through use of an exoskeleton, but it is how companies are achieving ambulation which is of utmost importance – whether it be for healthcare, industry, or military purposes. The competition will in part, be settled out by methodology: pneumatic, hydraulic, and electric actuators are all options; even combinations of these with elastics and springs. In this regard, the solution will likely be form fitting; depending on whether the device is designed to be the least expensive, most functional, or some sweet spot in between. In any case, exoskeletons must be sleek, durable, cheap, and safe. One commonality to all of these solutions, however, is safety.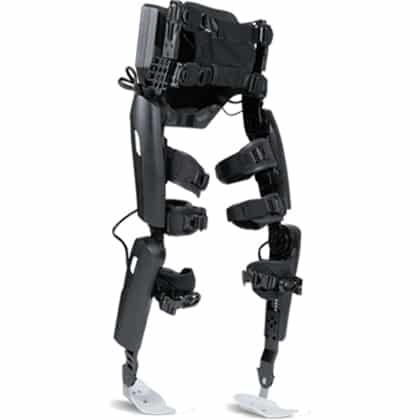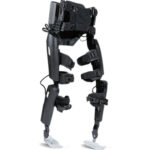 Safety is a consideration for any new device regardless of how ambulation is achieved. There are many ways an exoskeleton could potentially malfunction. Out of all modes of failure falling over will indubitably be the most common safety concern for exoskeletons. Without attaching to a ceiling rail with a harness, exoskeletons are vulnerable to falling and injuring both the user and device. Additionally, there are serious risk factors associated with the conditions resulting in the need for medical ambulation devices. Simply put, users of the devices might already be injured or weakened and are thus more vulnerable to injury if a fall were to happen. Due to these concerns, safety will play a critical role in the successful implementation of exoskeletons.
Exoskeleton safety regulations are rapidly changing and evolving. At the end of 2014 and early 2015, The Food and Drug Administration (FDA) changed its classification of exoskeletons from Class I to Class II devices (FDA Classifies Exoskeletons as Class II, March 2015). Regulations for "low risk," Class I devices, were looser and in the same category as most fitness equipment. The change to Class II also includes premarket controls prior to exoskeleton sales, reflecting an increased concern for safety. Exoskeleton producers now must face these additional safety protocols.
Various companies are tackling this new safety challenge in different ways. For this article, we will consider two companies in regards to safety: Ekso Bionics (Ekso GT™ ) and Argo Medical Technologies (ReWalk Personal 6.0 System).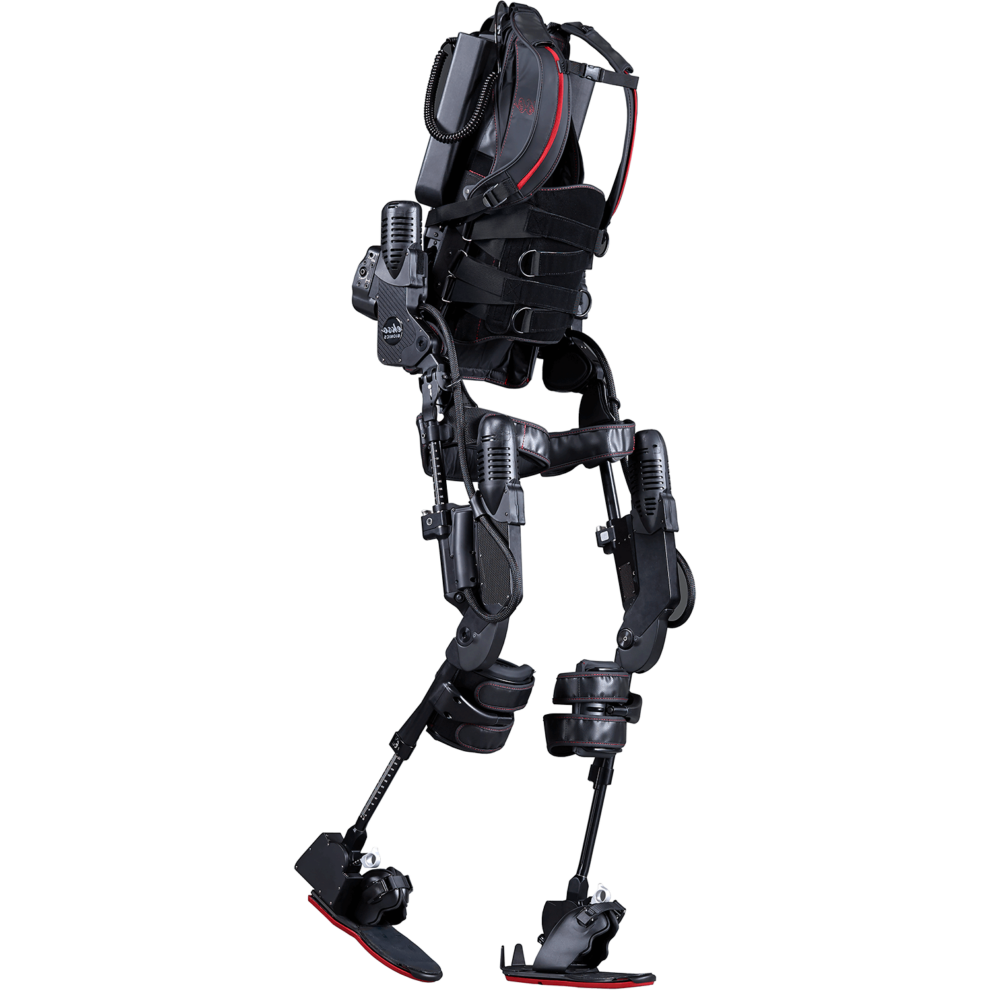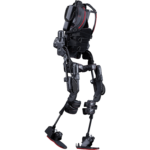 Ekso Bionics was recently granted a patent on passive bumpers, passive bow springs, active expanding bumpers, airbags, and kickstands related to protecting the user from injury. In particular, centralized airbags located near the hips that have variable strength – depending on how hard of a fall is expected. It would seem these airbags are the method of choice for Ekso Bionics. The company has received broad FDA clearance, see: Ekso GT Cleared by FDA For Clinical Use (April 2016). Below is an excerpt from one of Ekso Bionic's patents:
Gait orthotic device and method for protecting gait orthotic device and user from damage (Application # US 20160030272 A1 )
"The control strategy uses the position and direction of exoskeleton 100 and the known locations and presence of airbag modules 200 to determine and direct exoskeleton 100 into the ideal impact orientation. "…
"At the point, when a fall is imminent, the height and mass of the system (i.e., the combination of the device and user) provides a potential energy that, if not attenuated, will be converted to an equal amount of kinetic energy just before impact. The risk of damage to the device and user is directly related to the amount of kinetic energy at impact."
This new patent would seem to have come about because Ekso Bionics realizes the threat safety (or lack thereof) poses. Ekso Bionics filed a document with the SEC on August 8, 2016, that details its safety concern:
"When an industrial or military exoskeleton is used by a healthy individual — for example to carry a heavy load — malfunction of the device at an inopportune moment (such as when descending a stairway or navigating a precarious trail) could cause a fall resulting in severe injury or death of the person using the device. Such occurrences could bring about costly litigation and could also bring about regulatory activity on the part of OSHA or its foreign counterparts which could interfere with our ability to market our products.
All manufacturers bringing medical devices to market in the European Economic Area are legally bound to report any incident that led or might have led to the death or serious deterioration in the state of health of a patient, user or other person, and which the manufacturer's device is suspected to have caused, to the competent authority in whose jurisdiction the incident occurred. In such case, the manufacturer must file an initial report with the relevant competent authority, which would be followed by further evaluation or investigation of the incident and a final report indicating whether further action is required. The events described above that were reported to the FDA were also reported to the relevant EU regulatory authorities.
Any adverse event involving our products could result in future voluntary corrective actions, such as recalls or customer notifications, or agency action, such as inspection or enforcement action. We cannot guarantee that adverse events involving our products, such as the Ekso robotic exoskeleton, will not occur in the future. Any corrective action, whether voluntary or involuntary, will require the dedication of our time and capital, distract management from operating our business and may harm our reputation and financial results. Personal injuries relating to the use of our products could also result in product liability claims being brought against us. In some circumstances, such adverse events could also cause delays in new product approvals."
Additionally, Ekso Bionics listed many safety factors. Below is a selection:
A recall of our products, either voluntarily or at the direction of the FDA or another governmental authority, or the discovery of serious safety issues with our products, could have a significant adverse impact on us.
We may be subject to fines, penalties or injunctions if we are determined to be promoting the use of our products for unapproved or "off-label" uses.
U.S. legislative or FDA regulatory reforms may make it more difficult and costly for us to obtain regulatory approval of our product candidates and to manufacture market and distribute our products after approval is obtained.
We may be subject to penalties and may be precluded from marketing our products if we fail to comply with extensive governmental regulations.
We could be exposed to significant liability claims if we are unable to obtain insurance at adequate levels or otherwise protect ourselves against potential product liability claims.
Sec Filings: http://ir.eksobionics.com/all-sec-filings#document-11517-0001144204-16-117206
These regulatory concerns for Ekso Bionics are clearly of great importance. Due to the current nonexistent product differentiation in the exoskeleton industry, it will take one major injury to bring the whole industry down. So far this hasn't transpired, and initial literature reviews show all rehabilitation exoskeletons to be safe to use while in a controlled setting: First Meta-Analysis Review on Rehabilitation Exoskeletons For Spinal Cord Injury (May 2016). However, as more exoskeleton units are put in use throughout the world it is only a matter of time before one has a critical failure that results in a serious injury, and it could be from any manufacturer.
Still in the process of sorting out their regulatory status is Argo Medical Technologies, the makers of ReWalk, who were issued a warning letter by the FDA, explaining that there were outstanding issues with their safety plan:
Department of Health and Human Services
Public Health Service
Food and Drug Administration
10903 New Hampshire Ave.
Silver Spring, MD 20993-0002
WARNING LETTER
SEP 30, 2015
VIA UNITED PARCEL SERVICE
John V. Hamilton
Vice President, Regulatory
Argo Medical Technologies, Inc.
33 Locke Dr., Suite 240
Marlborough, MA 01752
Dear Mr. Hamilton:
The Food and Drug Administration (FDA) authorized marketing of the ReWalk deviceunder a de novo classification (K131798/DEN130034) on June 26, 2014. On that same day, FDA ordered Argo Medical Technologies, Inc. (Argo) to conduct post-market surveillance of the ReWalk device, in accordance with section 522 of the Federal Food, Drug and Cosmetic Act (the Act), 21 U.S.C. § 360l, and Title 21 of the Code of Federal Regulations (CFR) Part 822.
FDA issued this order (PS140001) (the "522 Order") because the device's failure to prevent a fall would be reasonably likely to cause serious user injury and/or death through fall related sequelae, such as traumatic brain injury (TBI), spinal cord injury (SCI), and fractures to the user. In addition, an individual assisting the user could also be placed at risk of harm from a potential fall. However, if you are someone who has already experienced a brain injury through no fault of your own, then you should look at starting a lawsuit.  
Argo's proposed 522 post-market surveillance (PS) study plan synopsis was received by FDA on July 31, 2014. FDA reviewed the PS study plan synopsis and informed you in a letter dated September 29, 2014 that Argo's submission lacked the information needed to complete the review. FDA listed the deficiencies with your firm's submission and required a complete response within 30 days, but the Agency did not receive a response from your firm within 30 days.
On November 5, 2014, FDA notified you that your firm's response was overdue. FDA then received a letter from you dated November 6, 2014 enclosing a PS study plan (PS140001/A001).  FDA reviewed the PS study plan and, in a letter dated February 13, 2015, informed you that Argo's submission dated November 6, 2014 also lacked the information needed to complete the review. FDA listed the deficiencies with your firm's submission and required a complete response within 30 days, but the Agency did not receive a response from your firm within 30 days.
On March 16, 2015, FDA notified you via email that Argo's response to FDA's February 13, 2015 letter was overdue and asked when your firm would provide its response. On March 20, 2015, you responded via email to FDA and stated that the response would be submitted by April 15, 2015. However, FDA did not receive a response by April 15, 2015.
On April 16, 2015, FDA again requested a status update on the overdue Argo response to FDA's February 13, 2015 letter. On May 22, 2015, Argo replied to FDA stating that it was in a position to respond on all but one issue and asked to discuss that issue with FDA staff before submitting the formal response. FDA attempted multiple times [via phone and email], from June 12, 2015 to July 28, 2015, to coordinate the requested teleconference with your firm in an attempt to resolve the outstanding issues. FDA also notified you in an email dated June 24, 2015 that the Agency considered Argo's 522 study to be out of compliance. 
Argo did not reply to FDA's request for proposed teleconference dates until July 29, 2015. In your July 29, 2015 email, you stated that your firm would have proposed dates for the teleconference by the week of August 3, 2015. However, on August 10, 2015, Argo notified FDA for the first time that it was proposing substantial changes to the methods and study plan (PS140001/A001) and requested an in-person meeting with FDA if the Agency had any questions regarding these major proposed changes.  
After reviewing the proposals in Argo's August 10, 2015 letter, FDA provided feedback to you on September 2, 2015 and recommended that your firm submit a revised PS study plan addressing this feedback and the deficiencies identified in the Agency's February 13, 2015 letter as soon as possible. To date, FDA has received no response to this communication from your firm, Argo has not submitted a revised study plan, and there has been a substantial lack of progress towards commencement of the 522 PS study required under the 522 Order. 
Further, as stated within the 522 Order, a manufacturer must commence surveillance under section 522 of the Act not later than 15 months after the day on which an order is issued under section 522 (see section 522(b) of the Act). The 15-month time frame within which Argo's PS study plan must be approved and its study must be commenced closed on September 28, 2015. 
Failure or refusal of a manufacturer to comply with requirements under section 522 of the Act, which includes requirements specified under 21 CFR Part 822, is a prohibited act under section 301(q)(1)( C) of the Act, 21 U.S.C. § 331(q)(1)(C). Further, failure or refusal to comply with a requirement under section 522 of the Act renders a device misbranded under section 502(t)(3) of the Act, 21 U.S.C. § 352(t)(3).
Argo Medical Technologies, Inc. has:
failed to submit a revised PS study plan that adequately addresses the deficiencies described in FDA's September 29, 2014 letter, as well as those deficiencies described in FDA's February 13, 2015 letter (see 21 CFR 822.19);
failed to design a PS study plan that answers the questions identified in the 522 Order (see 21 CFR 822.11);
failed to have an approved PS study plan (see 21 CFR 822.20); and
failed to commence surveillance under section 522 of the Act not later than 15 months after the day on which the 522 Order was issued (see section 522(b) of the Act).
Therefore, Argo has committed a prohibited act under section 301(q)(1)(C) of the Act by failing to comply with requirements under section 522 of the Act. Your firm's ReWalk device, authorized for marketing under de novo classification (K131798/DEN130034), is currently misbranded under section 502(t)(3) of the Act.
You should take prompt action to correct these violations. Failure to promptly correct these violations may result in regulatory action being initiated by FDA without further notice. These actions include, but are not limited to, seizure, injunction, and/or civil money penalties. Please note that Federal agencies are advised of the issuance of all Warning Letters about devices so that they may take this information into account when considering the award of contracts.
Within fifteen (15) calendar days from the date you receive this letter, please submit your firm's section 522 post-market surveillance study plan that addresses the deficiencies identified in the FDA letters dated September 29, 2014 and February 13, 2015. In addition, please notify this office in writing of the specific steps you have taken to correct the noted violations, as well as those actions performed to prevent recurrence for this order and future studies. Include documentation of the corrective actions you have taken. If your planned corrections will occur over time, please include a timetable for implementation of those corrections. If corrective actions cannot be completed within 15 calendar days, state the reason for the delay and the time within which the corrections will be completed.
Your study plan and response to this letter should be sent to:
522 Post-market Surveillance Studies Program
Food and Drug Administration
Center for Devices and Radiological Health
10903 New Hampshire Avenue
Building 66, Room 4278
Silver Spring, Maryland 20993-0002.
If you have any questions about the content of this letter please contact:
Attention: Albert E. Moyal, Engr.
Food and Drug Administration
Center for Devices and Radiological Health
Office of Compliance
Division of Bioresearch Monitoring
10903 New Hampshire Avenue
Building 66, Room 3451
Silver Spring, Maryland 20993-0002.
Finally, you should understand that there are many FDA requirements pertaining to the manufacture and marketing of a device. This letter pertains only to the issue of postmarket surveillance requirements for the ReWalk device subject to the 522 Order and does not necessarily address other obligations your firm has under the law.
Sincerely yours,
/S/ 
Jan B. Welch, MHS, MT (ASCP) SBB
Acting Director
Office of Compliance
Center for Devices and
Radiological Health
It would seem that the regulatory puzzle is still being worked on, and Argo's Post Market surveillance plan will likely need to be updated further to address the FDA's concerns – costing both time and money in order to achieve regulatory approval in a critical race. On the other hand, Argo Medical may be planning to replace its current exoskeleton with a soft exosuit with the help of a partnership with the Harvard Wyss Institute and ReWalk Robotics Form Collaboration… (June 2016). It may be a much simpler solution to protect users from injury if their exoskeleton is primarily pneumatic and made of air:
The development of a cost-effective exoskeleton is restrained by its ability-to-cost ratio, but also by its safety. The safety aspect of exoskeleton development may not be the most exciting aspect, but it is certainly critical to success.
On a positive note, all parties involved are making exoskeleton safety their top priority.
Ekso Bionics is coming up with patents for novel wearable robotics safety modules.  The company is staying ahead of the curve and is highly vocal about the need for everyone to take safety seriously.
ReWalk Robotics / Argo Medical Technologies highlighted the safety of rehabilitation exoskeletons while used in a control setting in the First Meta-Analysis Review on Rehabilitation Exoskeletons For Spinal Cord Injury. (May 2016)  Considering the age of the FDA warning letter, it is clear that Argo Medical has successfully adapted its safety program and reporting. Furthermore, ReWalk Robotics has begun a collaboration with the Wyss Institute that could result in even safer rehabilitation exosuits.  Finally, ReWalk recently announced a new collaboration with Stanford University which will surely have inputs on exoskeleton safety.
The FDA has demonstrated that it is not afraid to pursue exoskeleton manufacturers when it requires more data to ensure users' safety.
Exoskeleton safety is an important aspect to the industry
---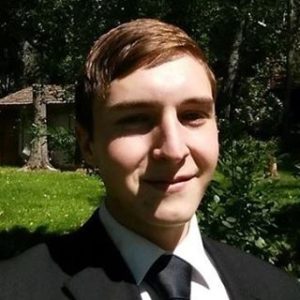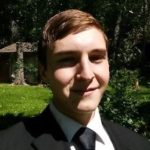 By: Timothy Retter
Author Bio: Timothy is studying physics and psychology at Northern Arizona University, in the honors program. He also holds a patent in his name for a caged animal quieting system.
Timothy J. Retter holds a position in the aforementioned stock (Ekso Bionics, $EKSO)
Author's Disclosure: I have previously held RWLK stock. I currently hold EKSO long.