Ekso Bionics CEO Thomas Looby had the honor of ringing the August 30th NASDAQ closing bell. Tom was joined by nearly the entire management team, as well as many other employees and exoskeleton ambassadors. Ekso Bionics is not the first exoskeleton company to ring the NASDAQ bell. Nearly two years ago, ReWalk Robotics rang the opening bell in celebration of their successful IPO.
This was a long journey for Ekso Bionics, which became listed on the NASDAQ just three weeks ago: Ekso Bionics Now Trading on NASDAQ. While this is a great recognition, both Ekso Bionics and ReWalk Robotics have a long way to go before becoming financially successful. This week, three out of the four publicly traded wearable robotics companies are trading at or near their all-time lows. However, it is too easy to focus on only what still needs to be accomplished and forget about what has already been achieved!
It is easy to look at the exoskeleton industry as a near failure. None of the exo companies are turning a profit. There are still less than 1000 powered rehabilitation wearable robots in operation worldwide. In comparison, the US government is expecting 600,000 drones to take to the sky on its territory alone. But to focus on only what is yet to be achieved would be to ignore what has already been done. The entire exoskeleton industry is moving forward at an increasingly growing rate.
Compare how much things have changed since ReWalk Robotics rang the nasdaq bell in September 2014 vs. two years later when Ekso Bionics had the same honor:
In 2014 the overall population, investors and insurance companies had no idea what is an exoskeleton and how it is different from Iron Man or a Power Loader from the movie Aliens. Fast forward two years and the overall population still has no idea what is the difference between a real wearable robot and a science-fiction one. OK, maybe not the best example.
In 2014 only the US military was known for testing exoskeletons. In 2016, there are almost a dozen agencies and workgroups that are actively preparing for exoskeletons entering the realms of medicine and industry
Two years ago, there was only one dedicated wearable robotics event (WeRob2014). In 2016 there will be three.
In 2014 there weren't enough news on the subject to fill a website. Two years later, it is impossible to keep up with the news in this industry without the support of a dedicated team.
Until recently, most exoskeleton projects were in early phases and were kept secret. Now companies and labs are becoming more open than ever and are sharing their projects with the rest of the world.
Before, hydraulic and servo motor actuation were kings. Now companies are exploring brushless motors, pneumatics, electrostatic forces and everything in between to power their suits. Many companies are forgoing power altogether for passive devices.
In 2014 insurance companies found the idea of granting a claim for an exoskeleton preposterous. Now they still balk at it, but more and more cases are being ruled in favor of the claimants.
Two years ago medical exoskeletons were beginning trials and studies. In 2016 the data from these studies has started trickling in. It is now not a question "if" medical robotics can be useful but who stands to benefit the most.
Think about when you first encountered exoskeleton technology. How much do you feel things have changed over the last two years? Surely you can add many more points to this list.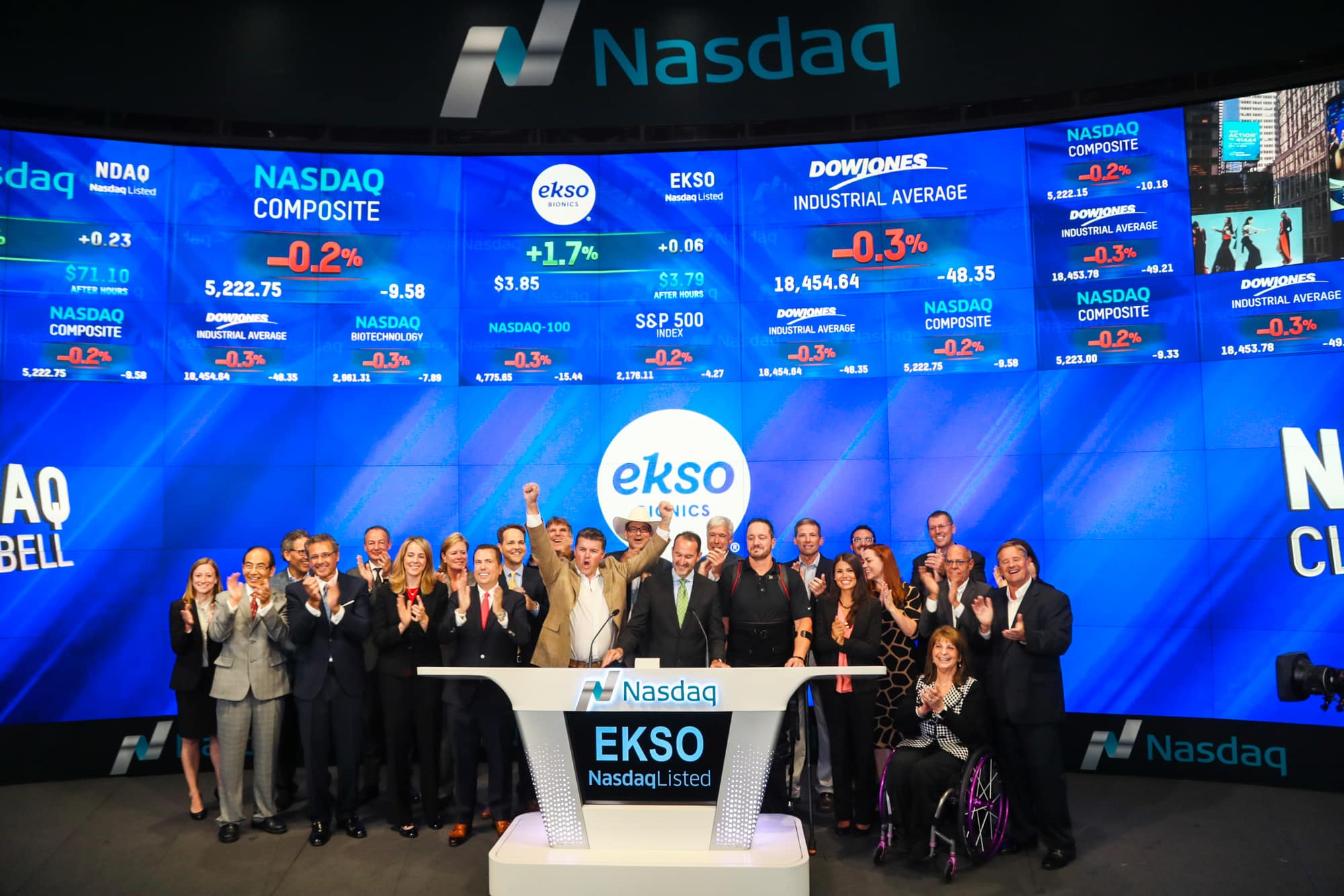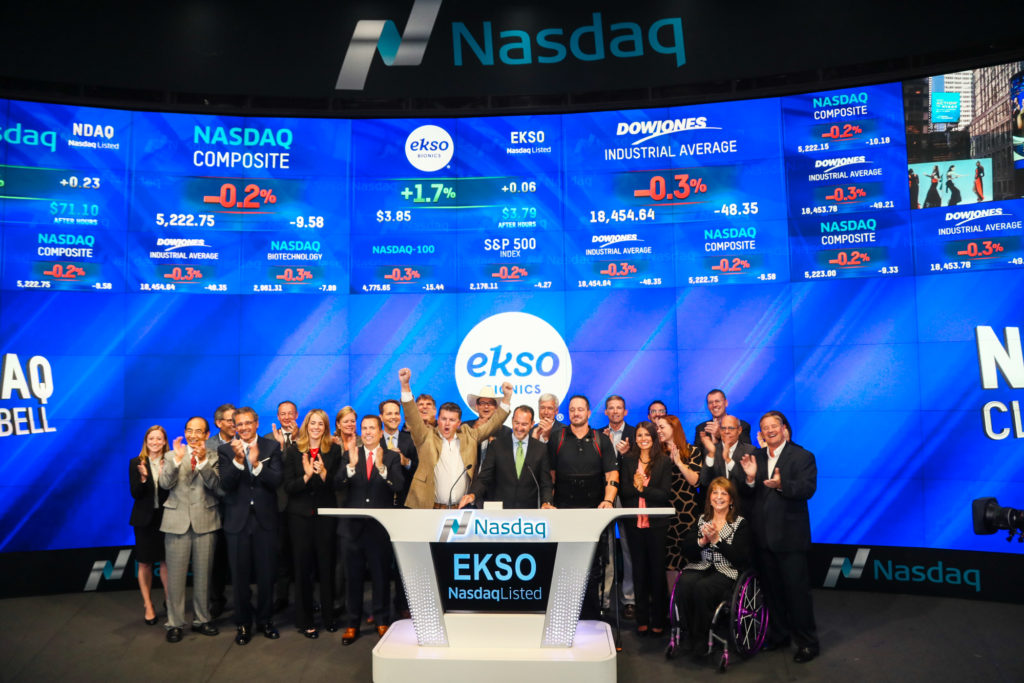 There is still a long journey ahead for the exoskeleton industry before it reaches maturity. Much work remains to be done. But that shouldn't take away from its achievements. Congratulations to the Ekso Bionics team! We hope that everyone that spends countless hours working for their passions can one day also be recognized.
Sources:
REWALK ROBOTICS (NASDAQ: RWLK) TO RING THE NASDAQ STOCK MARKET OPENING BELL link: ir.Nasdaq.com
EKSO BIONICS HOLDINGS, INC. RINGS THE NASDAQ STOCK MARKET CLOSING BELL link: business.nasdaq.com