The upcoming robotics exhibition Innorobo 2016 held May 24-26 in Paris, France, is going to feature multiple exoskeleton and wearable robotics companies.  Currently scheduled to attend are: RB3D, ExoAtlet, Gobio Robot, 2 Labs, Open Bionics and Kleiber Hand Bionics.  Here is a rundown on the exoskeleton presenters that you can expect to see at Innorobo 2016:
RB3D to Unveil "Exo Push"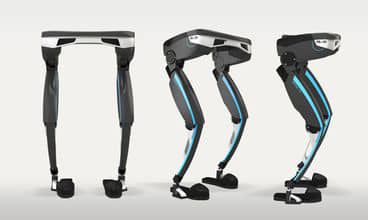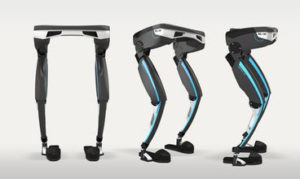 RB3D is the premiere commercial exoskeleton company for all of France.  The research company has worked on lower body exoskeletons that attach to the waist and feet of the human operator but do not necessarily follow the contours of the legs.  RB3D also has a large variety of mobile cranes work and industry that are fixed at one end and resemble a much larger version of the zeroG spring loaded arm by Equipois.  RB3D is in a good position to enter the market of exoskeletons for work and industry but they haven't released a new prototype for over a year now.  In fact, RB3D will unveil a new exoskeleton, the Exo Push exclusively at Innorobo 2016!
For more information on RB3D, their exoskeletons and industrial tools please visit their website: http://www.rb3d.com/en/
ExoAtlet
ExoAtlet is the premier company for exoskeleton development in Russia.  It is part of the Skolkovo Robotics and has won multiple competitions and awards for promising startup companies.  We covered ExoAtlet last year: ExoAtlet Candidates For New Funding.  Since then, things have been going well for the company and they are getting ready to ship their first 10 units for home use.
Gobio Robot
Formed in 2012, Gobio Robot partners with robotics developers and clients to provide comprehensive solutions.  "The team responds to customer needs based on the latest emerging technologies of robotics and adapting them to their uses." – http://www.gobio-robot.com  In the exoskeleton market, Gobio Robot has partnered with Laevo, maker of the Laevo exoskeleton for back support (presented at WearRAcon16) and Robo-Mate an EU sponsored research project.
Prosthetics Manufacturers
In addition to the exoskeletons, Innorobo 2016 will also feature several manufacturers of prosthetics, such as Open Bionics and Kleiber Hand Bionics.
Tickets and Registrations
Visit the main website for Innorobo 2016 for more information on this robotics exhibition: https://innorobo.com/en/home/
For information on tickets, registration and early bird specials click here.
More Exoskeleton Events
For more exoskeleton events please follow our events category.