HAL for Medical Use Exoskeleton To Be Sold As Medical Device In Japan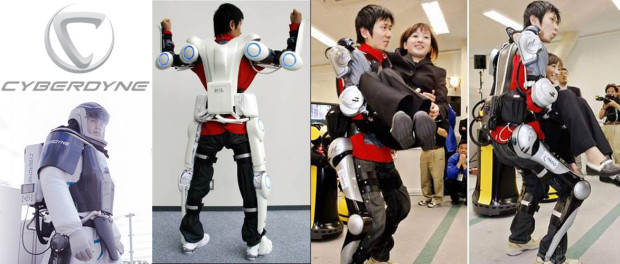 The HAL lower limb rehabilitation exoskeleton for medical use (HAL® for Medical Use) has been approved to be manufactured and sold as a Medical Device by the Japanese Ministry of Health, Labour and Welfare.  This is a great success for the Japanese company CYBERDYNE which is one of the oldest commercial entities to specialize exclusively with powered exoskeletons in the world.
CYBERDYNE stands to benefit greatly financially from this regulatory approval and classification.  The HAL was already approved in the EU, but the company can now attempt to convince local Japanese insurance companies, and possibly even public health insurance, to cover the cost of the device.  CYBERDYNE's stock is trading near its all time highs and is doing significantly better than its main competitors, Ekso Bionics (company profile) and ReWalk Robotics which are currently trading near their all time lows.
At the same time, this decision couldn't have come sooner for CYBERDYNE!  The company has been founded in 2004 but it has been recognized as a medical device manufacturer only now.  This comes on the heels of the Japanese government announcing earlier this year that they will revitalize the Japanese robotics industry by reducing bureaucracy and regulations.  Reportedly, it was easier to prove the effectiveness of imported medical devices than homegrown Japanese ones.  As an example, ReWalk is already approved for sale in Japan and ReWalk Robotics has a distributor just one and a half hour train ride from CYBERDYNE's headquarters.
The HAL® for Medical Use comes with some interesting features and specifications.  CYBERDYNE is known for their use of electromyogram (EMG) sensors attached on the legs of their exoskeleton users.  The EMG sensors detect the electrical signal being sent to the leg muscles and capture the intended motion of the person before it happens.  The HAL® for Medical Use comes equipped with this system but it also comes packaged with a pre-programmed movements system and an impedance control system that minimizes discomfort.  CYBERDYNE reports that each individual motor can be controlled with any of the three methods or a hybrid combination.
Still much work ahead:
CYBERDYNE still has a lot of work to do convincing Japanese regulators of the worth of their exoskeleton products.  The HAL® for Medical Use is now only approved for slowly progressive neuromuscular diseases (taken from the CYBERDYNE press release):
spinal muscular atrophy
spinal and bulbar muscular atrophy
amyotrophic lateral sclerosis
Charcot-Marie-Tooth disease
distal myopathy
inclusion body myositis
congenital myopathy
muscular dystrophy
CYBERDYNE is yet to prove the advantages of the HAL for neuromuscular and spinal cord diseases.  The company is conducting additional clinical trials and hopes to sway the government regulators soon.
From the engineering side, the HAL® for Medical Use can be used by a wide range of users: body weight from 40 to 100kg and height of 150 to 190cm (This is weight 88 to 220pounds and height 59 to 75inches).  The maximum hip width, however, historically has been a problem with Japanese exoskeletons.  The battery supply is adequate for at least one hour, but usually the EMG sensor placed on the skin will produce more and more noise after the first 30 minutes of application to the skin.
The decision by the Japanese government to approve CYBERDYNE as a medical device manufacturer could cause a major shift in exoskeleton development on the Asian continent which currently concentrates on wearable robots for industry and able-bodied users.