Historically, companies that specialize exclusively in exoskeleton technology have had difficulty acquiring venture capital.  This October, Able Bionics founder Mitch Brogan went on the Canadian Broadcasting Corporation, a popular Canadian television network, and did exactly that!  Mitch Brogan went up in front of the Dragons, five Canadian business moguls on the CBC show Dragons' Den.  On the show, entrepreneurs pitch their business idea and ask for guidance and financial investment in return for a stake in their company.
In Season 10, Episode 3 of the Dragon's Den, Mitch Brogan asked and received $250,000 from the Dragons in order to continue to operate his private, exoskeleton enabled rehabilitation gym: Able Bionics.  Able Bionics is part of a growing trend of privately owned and professionally staffed centers for rehabilitation, most commonly post-spinal cord injury or stroke.  What makes Able Bionics unique is that it focuses primarily on exoskeleton equipment.  The Able Bionics facility is equipped with ceiling rails that are connected with harnesses to users training on exoskeletons, allowing them to focus on learning to walk without fear of falling down wearing the heavy machine.
Able Bionics' major source of income is its exoskeleton bootcamps that provide 4-5 hour daily exoskeleton rehabilitation with trained supervision.  The participants stay the night in the same building and it costs $250 per person a night.  In addition, Able Bionics also provides a link between companies and exoskeleton buyers.
The Vision of Able Bionics: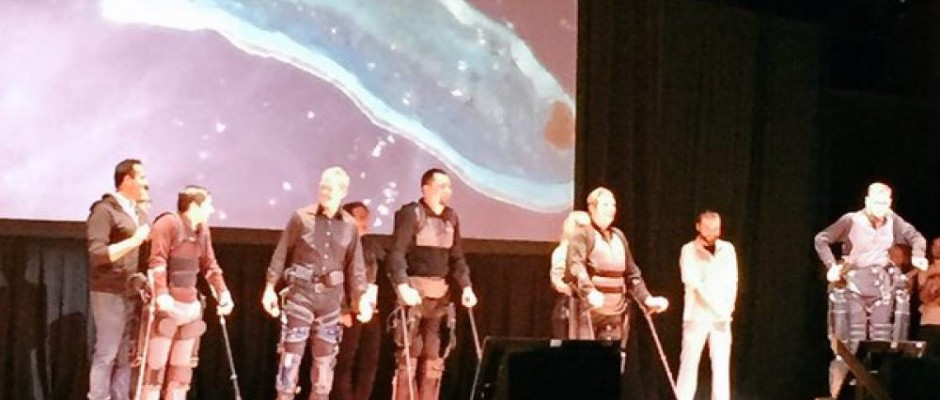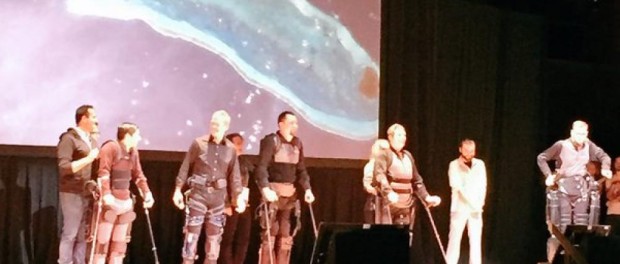 Able Bionics is the first rehabilitation gym that captures the vision of exoskeleton technology.  In the image above, five people are wearing exoskeletons based on their needs.  Left to right the exoskeletons are: ARKE by Bionik Laboratories, KEEGO by B-Temia, Ekso by Ekso Bionics, ReWalk by ReWalk Robotics, and REX by Rex Bionics.  As cliché as it may sound, Mitch Brogan clearly envisions a future where the wheelchair has no place!
A Bittersweet Victory
While the Dragons did grant the $250,000 for 15% equity requested it came with a catch.  The investors just couldn't see the revenue to justify an equity investment and instead provided a convertible debenture.  A convertible debenture is a loan at a lower interest rate with the option to convert to equity.
Exoskeleton businesses have struggled to acquire private funding.  Only recently has there been some light at the end of the tunnel.  StrongArm Technologies, maker of the V-22 posture correction vest for heavy  lifting received a minor equity investment by 3M in September 2015.  The Canadian based Bionik Laboratories has also had some success raising capital with the help of exposure from companies such as IBM, but their ARKE Gen2 exoskeleton has just entered in pre-clinical verification testing.
Able Bionics is located in London, Ontario, Canada in the middle between Detroit and Toronto.  For more information, please visit their website.
For more on Dragons' Den Season 10 Episode 3 please go to the CBC site.