Sometimes there are exoskeleton videos that manage to completely fly under the radar.  The Otherlab Orthotics Show and Tell is exactly one of those videos (below)!  In it, presenter Tim Swift addresses the main issue with wearable robotics: Reducing The Cost Of Exoskeleton Devices.  Tim Swift's solution is to go with soft exoskeletons and exosuits.  Swift is one of the original designers of the Ekso and worked at Ekso Bionics from 2008 to 2013.  Swift left Ekso Bionics to co-found Otherlab Orthotics in a quest to create a light and inexpensive inflatable exoskeleton that can be used in multiple environments.

Tim Swift offers a unique perspective, from inside one of the oldest exoskeleton companies.  He has acknowledged that current exoskeleton technology isn't making much progress.  Current full body and lower extremities exoskeletons are very heavy and expensive and it will take decades of optimization of materials, motors and batteries to reduce their cost.  Swift and Otherlab Orthotics are attempting to reduce the weight, complexity and price of exoskeletons by developing air powered soft exosuits.  This approach may not necessarily succeed: traditional air compressors are large, bulky and power hungry.  The compressed air needs to be controlled using gauges and valves which are heavy, loud and sometimes sluggish.
Does Tim Have A Point!?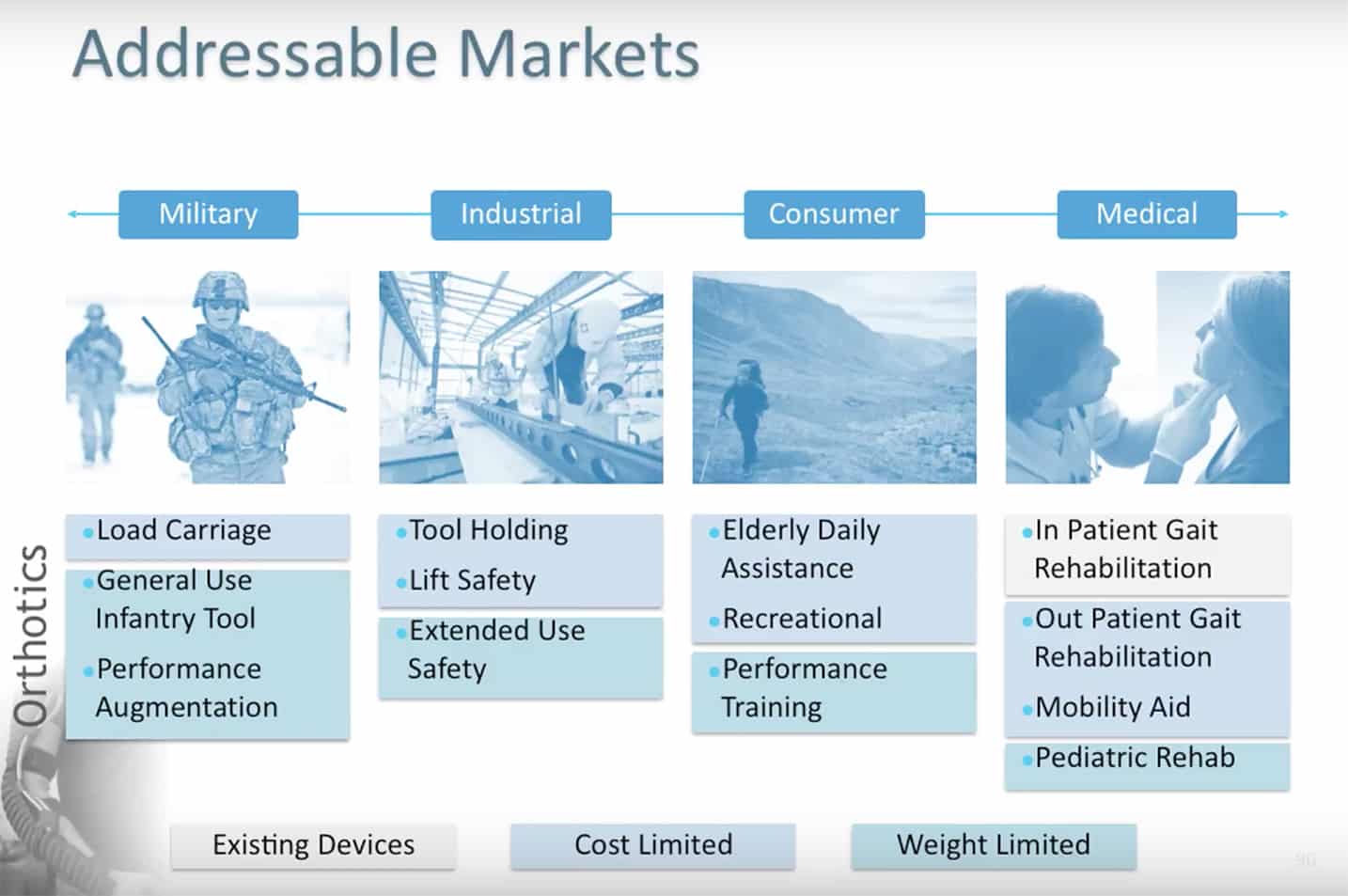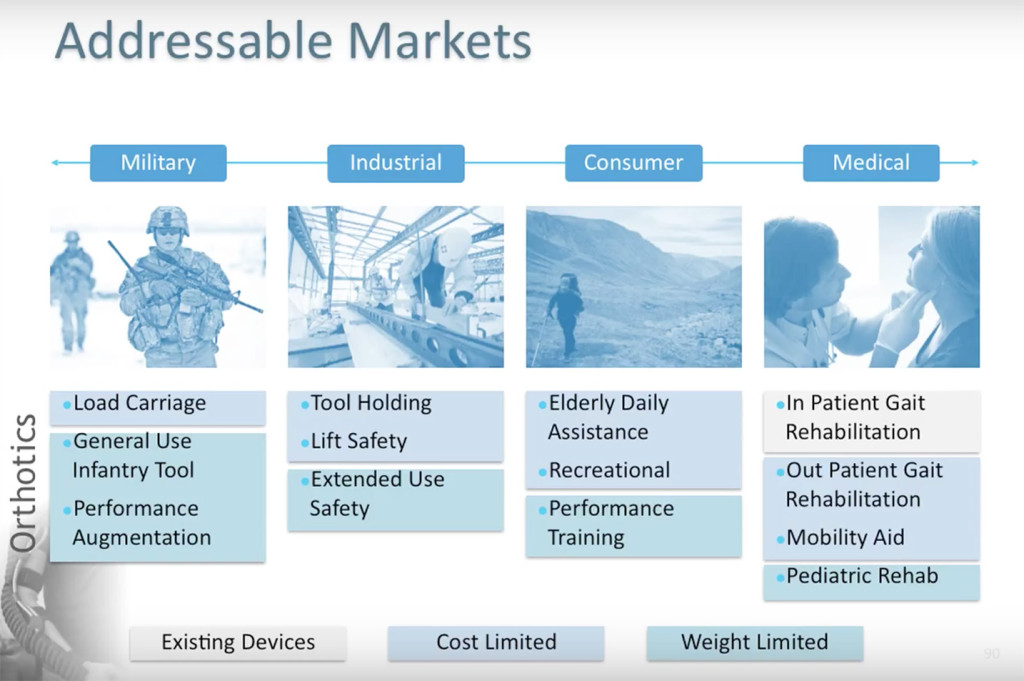 In his presentation, Tim Swift claims that exoskeleton technology needs to go through a profound change.  Is he just a disgruntled Ekso Bionics employee or does he have a point?  If you consider the first modern exoskeleton to be the Active Suit made in 1978 by Mihailo Pupin Institute then exoskeletons really haven't conquered much ground in nearly 37 years.  Tim Swift appears to be a visionary who sees exoskeletons becoming a staple of every household, much like a bicycle or TV.  Looking at the slide from his presentation (above) we can see that powered suits have made inroads into only one subsection of the medical field.  This is a very slow progress considering the dozens of companies and universities that have spent decades working on solid frame powered suits.
Otherlab Orthotics is not the only startup working on soft exoskeletons.  Prestigious universities such as Harvard have been researching soft exoskeletons, as has DARPA.  One of the most successful exoskeleton products, in terms of units sold, is the Ski Mojo which also deviates from the classical hard frame exoskeletons.  In recent news, Strong Arm Tech's V22 which is a motorized posture control vest, caught the attention of the very large company 3M.  Not everyone though agrees that the future of exoskeleton technology lies in a fundamental change (in this case, removing the solid mechanical frame).  For example, Homayoon Kazerooni, co-founder of Ekso Bionics who has also left to start his own company, US Bionics  is betting that exoskeletons can be made cheaper by using more readily available components and removing unnecessary functions.
What air muscles is Otherlab Orthotics using?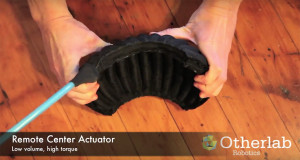 The air muscles featured in this video are called pneumatics. This groundbreaking technology was developed under DARPA's Maximum Mobility and Manipulation program during an $800k effort (taken from Orthotics' sister company: Pneubotics).  Pneumatics can be driven using either a liquid or compressed gas and are an air tight "bladder" covered by a harder nylon material similar to backpack fabric.  The main advantage of pneumatics is the elimination of drive trains, bearings, axels, belts and sliders resulting in a significantly simpler device.
What is Otherlab?
Otherlab is a privately held research incubator located in the Mission District of San Francisco, CA.   This makes Otherlab Orthotics the third exoskeleton company with a headquarters in the SF Bay Area.
Tim Swift and Otherlab Orthotics could be onto something big and hopefully will be releasing more information on their research soon!  In the mean time, there is an interview with Tim Swift from 2014 on slashdot.org website that offers a bit more insight on the exosuit.