The Global Innovation Challenge Executive Committee held an award ceremony for four exoskeleton teams that assisted individuals with accomplishing tasks of everyday living. The total prize pool amounted to approximately $600,000. Due to the global pandemic, the award ceremony which would have been held at the headquarters in Minatoku, Tokyo by Executive Committee Chairman: Tatsufumi Kamimura, was held remotely. Indeed, even the competition itself was held remotely, with teams submitting videos from their respective countries.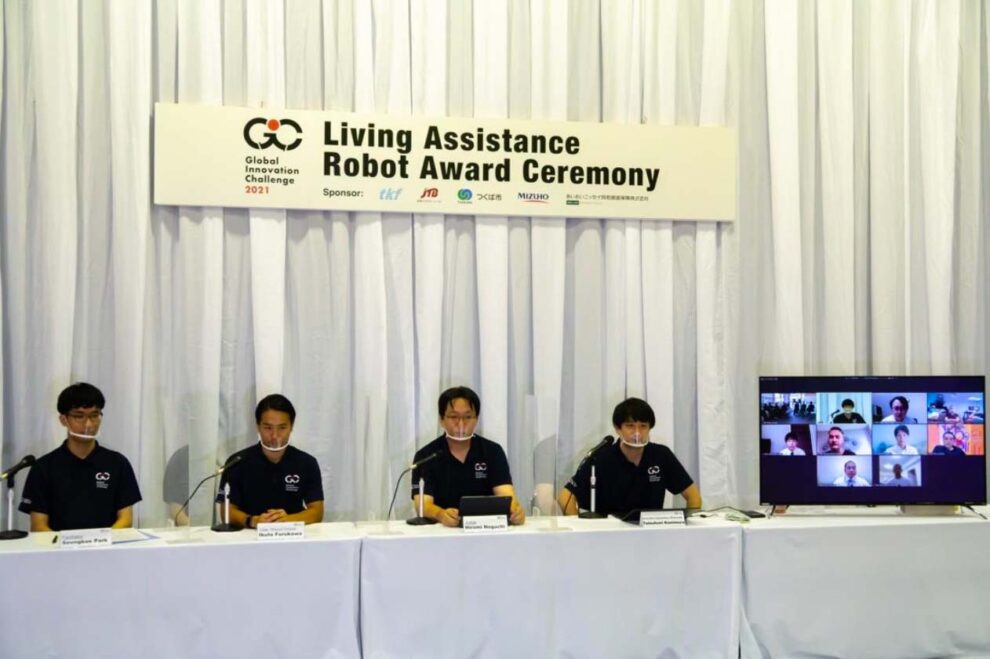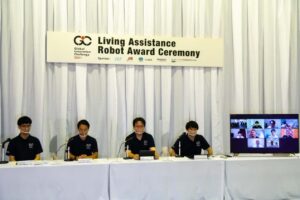 The Global Innovation Challenge 2021: Living Assistance Robot Award, was conducted on the theme of robots that assist persons with disabilities in their daily lives, with the aim of creating a society where people do not have to be aware of their disabilities. Three teams from Japan and six teams from outside Japan applied for entry, and several teams were considered to participate. The final four were exoskeleton developers Wandercraft, TWIICE, FREE Bionics, and WPAL. All four teams accomplished four or more of the assigned tasks.
The award ceremony was held at GIC Tsukuba Innovation Center on September 12, 2021. The winning teams were scheduled to give a demonstration at the venue, but due to the spread of COVID-19, the teams participated online. After introducing each team's robot and pilot(s) with digest videos, the winning team was acknowledged and each team was asked questions to share their thoughts on the award and future development plans.
Overview of the Global Innovation Challenge 2021: Living Assistance Robot Award
Seven activities of daily life were chosen as the tasks for the competition. They had to be completed in a livable apartment (in other words, in a realistic, non-lab setting) by users with disabilities. The seven tasks chosen are: moving and sitting on a toilet, washing the face, preparing and moving a meal to a dining table, working with laundry, receiving a packing at the front door, vacuuming, taking out the trash (cleaning), and going to a bathtub (none of the teams completed the last one). All tasks had to be performed with the help of a wearable robot. All teams recorded and sent videos to the competition. A short digest was compiled by the challenge organizers (video above), and five hours of the competitor's footage can be found on the Global Innovation Challenge YouTube channel.
Team WPAL Fujita Health University (Japan) ▶︎ Tasks accomplished: 1, 2, 3, and 4
Robot name: WPAL | Weight: 13 kg (powered hip-knee-ankle in a single plane) | Max speed: 1.3 km/h
Walking assist robot for paraplegics to wear. Six motors are attached to a long leg brace with joints between the thighs. By moving each motor at the right time, it reproduces a walking pattern similar to that of an able-bodied person. WPAL is used in combination with a dedicated walker. Users can operate WPAL alone through levers and
buttons attached to the walker.
Wandercraft (France) ▶︎ Tasks accomplished: 2, 3, 4, 5, and 6
Robot name:  Atalante |  Weight: 80kg (with 12 degrees of freedom) | Max speed: 1.1 km/h
An exoskeleton robot that does not require canes or a walker. It is designed to enable people with motor disabilities to walk autonomously. With powered hip, knee, and ankle joints, a variety of movements is possible. It is designed with dynamic gait control in addition to static self-balancing. With dynamic walking, it allows for a more natural gait.
FREE Bionics Japan Inc. (Taiwan) ▶︎ Tasks accomplished: 1, 2, 3, 4, 5, and 6
Robot name: FREE Walk | Weight: 20kg | Max speed: 2km/h
The robot is usable by people with C5 to L1 spinal cord damage or stroke with maintained upper limb function. It has motors in the hip and knee joints, allowing users to stand, sit, and walk. The robot is moved with a controller attached to a cane. Because the pilot controls the
balance when walking, canes or a walker are used.
TWIICE (Switzerland) ▶︎ Tasks accomplished: 1, 2, 3, 4, 5, and 6
Robot name: TWIICE | Weight: 15 kg | Max speed: 1.6 km/h
The robot can be moved with a controller attached to a cane. Because the pilot controls the balance when walking, canes are used as a walking aid. Its technical design is based on a commitment to simplicity that ensures the tool's robustness, reliability, and lightness.
Discussion – Cup Half Empty vs Cup Half Full
It is easy to see the videos of the wabbly and slow exoskeletons and think "this will never replace the wheelchair." But before writing off exoskeleton technology it is important to note two observations. First, the wheelchair hasn't been fundamentally changed in thousands of years. It is mindboggling that this is a time and place where we have the will and technology to even attempt to do so. Second, and arguably, more importantly, is the amount of progress observed between the first and second Cybathlon competitions (the only other exoskeleton event with simulated challenges of everyday living). In just four years, the Cybathlon exoskeleton teams were able to cut their times roughly in half. Invention won't happen without hard work and financial support and the Global Innovation Challenge of 2021 serves as a timestamp on just how far wearable technology has progressed.
About the Global Innovation Challenge and future plans:
Planning for the Global Innovation Challenge started in 2017 with the intention to invite participants to Japan in 2020, but due to the COVID-19 pandemic, the executive committee decided to hold the contest in 2021 with a remote judging format. The latest plan is to have the participants come to Japan and engage in a live contest during the spring of 2023 at a venue in Tsukuba, Ibaraki Prefecture, Japan (about one hour away from downtown Tokyo). In addition to activities of everyday living at home, the organizers could also add outdoor tasks such as shopping, traveling using public transportation, sports, and hiking. Stay tuned for more information as the future event details and agenda become finalized.
For much more on the Global Innovation Challenge 2021: Living Assistance Robot Award visit:
---
Special thanks to Isao Maruyama from the Global Innovation Challenge Executive Committee for highlighting this event and providing ExR with a detailed recap of the event. This article wouldn't have happened without their time and support.