The Human Factors and Ergonomics Society (HFES) will once again hold the ErgoX Symposium as an online event this November 8 through the 10th, 2021. As in previous years, ErgoX will be divided into three separate tracks, with a full day dedicated to exoskeleton technology on November 9th, 2021. Two additional tracks scheduled to be presented are on Cybersecurity on the 8th and Robotics on the 10th. This will be the last full-day exoskeleton event for the 2021 calendar year.
The theme for the ErgoX 2021 Virtual Symposium will be the intersection of Artificial Intelligence and human factors and ergonomics for the design of safe, user-centered technology and equipment. The theme will be applied to cybersecurity, exoskeletons, and robotics.
"ErgoX explores the latest in new technology and research, and its applications in human factors and ergonomics. This virtual meeting promotes multi-disciplinary and cross-market collaboration through three tracks: cybersecurity, exoskeletons, and robotics. ErgoX 2021 is co-sponsored by ASTM International and the Machine Safety Section of the International Social Security Association."
Keynote Lecture: Neuroengineering Pediatric Medical Exoskeletons with Diagnostic, Assistive, and Therapeutical Functions
Jose 'Pepe' Contreras-Vidal, National Science Foundation Industry-University Cooperative Research Centers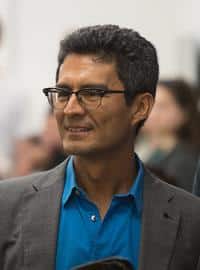 Powered exoskeletons promise to improve the quality of life and independence of people with lower-limb disabilities. These complex human-machine systems have now reached clinical populations with spinal cord injury and stroke. In 2014, the FDA classified powered exoskeletons as Class 2 devices with special controls and several devices are currently marketed in the US and abroad. On the other hand, the regulatory science of powered exoskeletons is still developing. The type and extent of probable risks of these devices are yet to be understood, industry standards are yet to be developed, and shared control algorithms based on automated intent detection and fall prevention approaches are under-developed. Moreover, these systems are yet to reach pediatric populations. In this talk, I will review the challenges and opportunities for user-centered design of smart, AI-enabled, wearable powered exoskeletons with assist-as-needed and shared control capabilities via noninvasive brain-machine interfaces. I will conclude my talk with an outlook for the next generation of smart powered exoskeletons for medical and nonmedical applications.
The ErgoX 2021 Exoskeleton Track will also include topics on research to standards, AI & exoskeletons, and emerging topics on research methods with speakers including but not limited to:
William Billotte, ASTM International and Exo Technology Center of Excellence,
Dr. HeeSun Choi, assistant professor in the Department of Psychological Sciences at Texas Tech University.
Pei-Chun Kao, assistant professor in Physical Therapy & Kinesiology at the University of Massachusetts Lowell.
Brokoslaw Laschowski, PhD candidate at the University of Waterloo and the Waterloo Artificial Intelligence Institute in Canada.
Luke Mooney, PhD, Cofounder and CEO of Dephy.
Dr. Chris Reid, Human Factors & Ergonomics (HFE) Associate Technical Fellow for Boeing's Environment, Health & Safety (EHS) organization in Charleston, SC.
Karl Zelik, an engineering professor at Vanderbilt University and Cofounder and Chief Scientific Officer of HeroWear
The full agenda for ErgoX 2021 Exoskeleton Track, as well as additional information on the presenters, can be found on the ErgoX website: https://www.ergox2021.com/exoskeletons
ErgoX Proceedings
One of the many factors that separate past ErgoX Symposium is the access to full conference proceedings: Proceeding of the 2018 ErgoX Symposium Made Available by NIOSH and ErgoX Symposium Proceedings Posted Online for 2020. The proceedings provide a perfect example of what you can expect from an ErgoX event. If you are not familiar with the exoskeleton-related presentations from prior iterations of ErgoX you can also browse our previous ErgoX coverage from 2019 and 2020.
"ErgoX is designed to showcase and apply the latest ergonomics science to workplace health, safety, wellness, and injury-prevention issues across a variety of domains and settings."
Registration is open at: https://www.ergox2021.com/register. The HFES team has also provided attendees with a justification toolkit with a worksheet that will help you determine the benefits to you and your organization from attending the symposium. The toolkit can also be found through the ErgoX registration portal.