You may have heard the idea of powered walking assist exoskeletons allowing for rehabilitation training to take place outside of the medical facility. Potentially, the change in scenery could result in more involved and successful walking rehabilitation programs. Indeed, there have been dozen of videos released over the years showing powered exoskeletons used in corridors, parks, homes, and wedding venues. A team from TWIICE and EPFL (Ecole Polytechnique Fédérale de Lausanne) decided to take this concept to a whole new level by creating the WIITE, an exoskeleton for ski-touring:
---
While backcountry ski racers are disappointed that they won't be starting the Patrouille des Glaciers, one disabled skier is happily strapping on the climbing skins once again. The designers of TWIICE adapted their exoskeleton so that it can be used to skin up mountains.
The idea came from Martin Loos, an avid fan of winter sports who was eager to return to the great outdoors – not "just" to walk, but also to put down his own tracks up the side of a snowy mountain. A rock-climbing accident ten years ago left him paralyzed from the waist down, but that didn't dampen his ardor for the snow-covered peaks. "With my wheelchair, I can get around town fairly simply and easily, but I wanted to go backcountry skiing again and get back to the places I used to enjoy but can't access in a wheelchair," he says.
For the past few years, Loos has found ways to participate in some winter sports. He still goes skiing using sit-skis and takes part in group backcountry outings. But he doesn't like having his friends pull him up the mountain. "I'd enjoy simply standing on the snow, even without being able to reach down and touch it like I can in my sit-skis," he says. Loos, who is studying engineering in Yverdon, contacted the REHAssist research program at EPFL after hearing about it from his father Roland, an EPFL
alumnus. The REHAssist engineers working on the TWIICE project agreed to take on the challenge of enabling Loos to "stand" again in the snow.
From project to completion in record time
The engineers adapted the TWIICE exoskeleton they'd been working on to create WIITE. People with complete spinal-cord injuries can use WIITE to stand up, walk and, above all, go backcountry skiing thanks to a mechanism that can accommodate standard backcountry ski boots. The only requirement is that "wearers must be able to use their upper bodies to operate the exoskeleton's crutches, which provide balance and control," says Mohamed Bouri, head of REHAssist. The user moves the
exoskeleton by pressing a button on the crutches – or in the case of Loos, ski poles.
"The development work was completed in record time, just one month, from the design process to the production of specialty parts," says Tristan Vouga, a member of the TWIICE and WIITE development teams. "By the third training session Loos was already able to walk around in skis with the exoskeleton," he adds. After another dozen sessions, Loos was ready to embark on a several-hour-long outing, which he did with the entire development team. "At first I was really concentrated, with each step I was afraid I'd lose my balance. But after just a few minutes I was confident – and then it was magic!" says Loos.
The TWIICE engineers are now working on adapting their exoskeleton to other activities, disabilities and body types. Projects in the works include a system for runners who have lost a leg and a device to help stroke victims.
How does it work?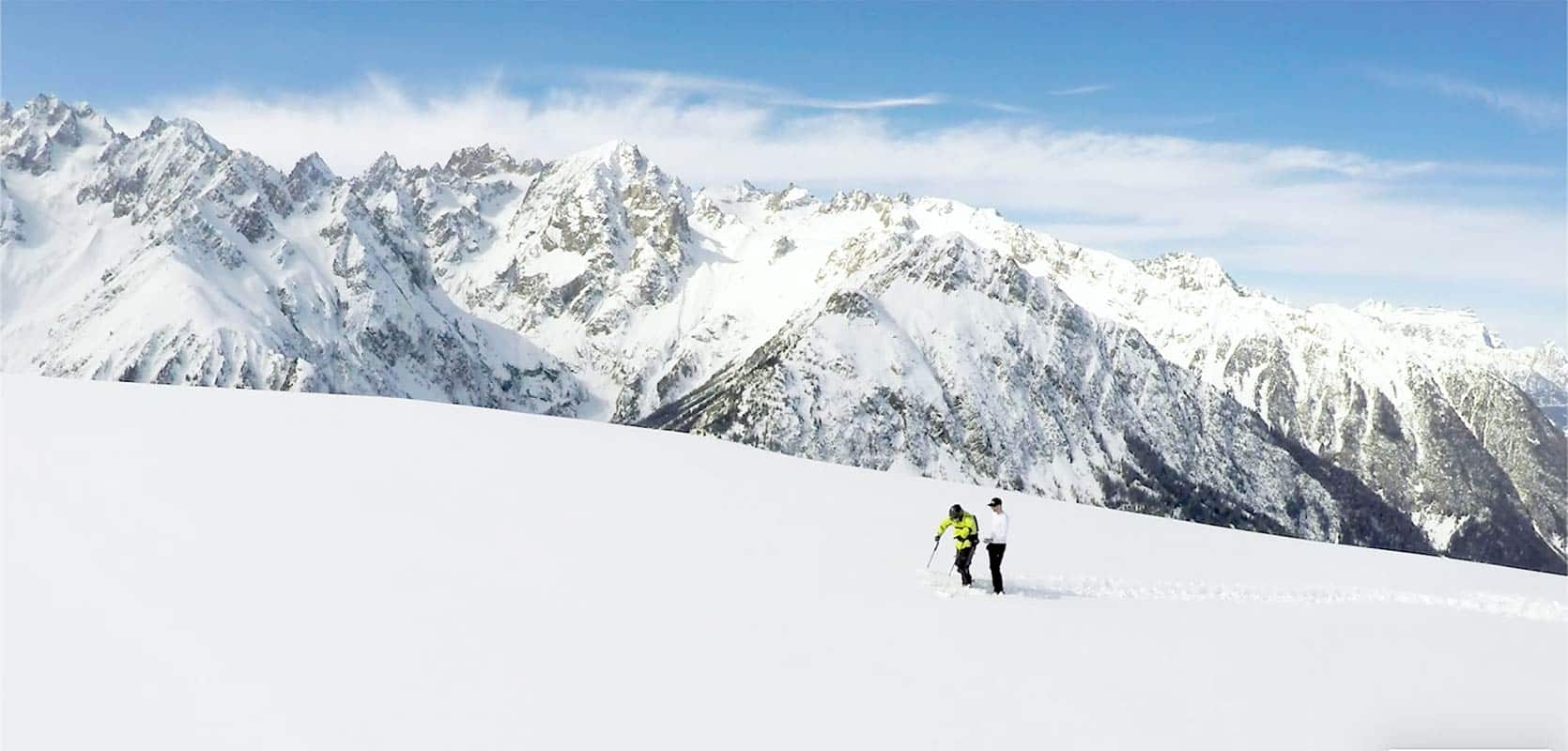 TWIICE, and by extension WIITE, is an articulated system that attaches to a patient's knees and hips and supports their legs, thighs and upper body. It contains tiny electric motors that bend and extend the knee and hip joints so as to replicate the body's natural movements during walking and backcountry skiing. It runs continuously on a two-hour battery housed in the dorsal part of the system. Patients can carry spare batteries (which weigh less than 1 kg each) in a separate backpack. The exoskeleton's
dedicated electronics execute the wearer's instructions securely and reliably.
---
"We developed a modular set of components (motors, electronics) that can be reused in multiple applications by combining them with morphological parts (segments, or dedicated feature-specific parts). The custom parts are made using rapid manufacturing techniques with long-fiber reinforced polymers, so they are both affordable in small series (<$2k per set) and high-performance (the device weighs 16kg in total for our 75kg pilot)," says Tristan Vouga of the REHAssist Group. "We are now working on proving adaptability not only to different activities and morphologies, but also to different pathologies (stroke, or above-knee amputees)."