Friendly competition is the best way to spur innovation. The first ever Applied Collegiate Exoskeleton Competition (ACE) aims to push forward exoskeleton technology at the collegiate level. Scheduled to be held on May 5, 2018, ACE intends to bring student teams from across the U.S. The teams will design and build in their respective universities and test a functioning exoskeleton in an obstacle course that simulates real-world conditions.


Load bearing walking augmentation exoskeletons will the focus of the 2018 Applied Collegiate Exoskeleton Competition. The obstacle course is inspired by the Candidate Physical Ability Test (CPAT) designed for assessing entry-level firefighters.
The ACE competition website, https://www.acecompetition.org, includes a full 10-page rules package with all goals and grading criteria. Judging the exoskeletons will be focused on:
Design

Safety
Cost
Don/doff time

Obstacle Course

Carrying 75lb (34kg) load
Completion time
Clearing obstacles:

narrow path
stairs
uneven terrain
crouch (walking under a platform)
dragging an additional 165lb (75kg) mannequin

Efficiency Test
All exoskeletons must pass a safety inspection prior to competing. All inspection parameters are listed in the ACE competition rules on the competition website.
The U.S. has a rich history of K12 school and college level robotics competitions. On a national level, thousands of teams compete in the FIRST Robotics Competition and the FIRST Lego League. In the San Francisco Bay Area, The Tech Challenge brings students and volunteers together in a multiple-day event at the San Jose Tech Museum.
The Applied Collegiate Exoskeleton Competition aims to bring the spirit of competition to wearable robotics, exoskeletons, exosuits, and ergosuits and help increase interest in this new technological field "by creating a friendly event where teams can test the actual real-world potential of their designs." Expect to see teams from the University of Michigan, University of Nebraska at Omaha, Michigan State University, Colorado School of Mines and Iowa State University.
Sponsorship Opportunities
If you are interested in exoskeleton technology or STEM education but are a bit too old to compete in a college team there are still opportunities for you to participate in other ways. Right now, what would help the most is sponsorship, from you or other individuals or companies that would be interested. See part of the ACE brochure below: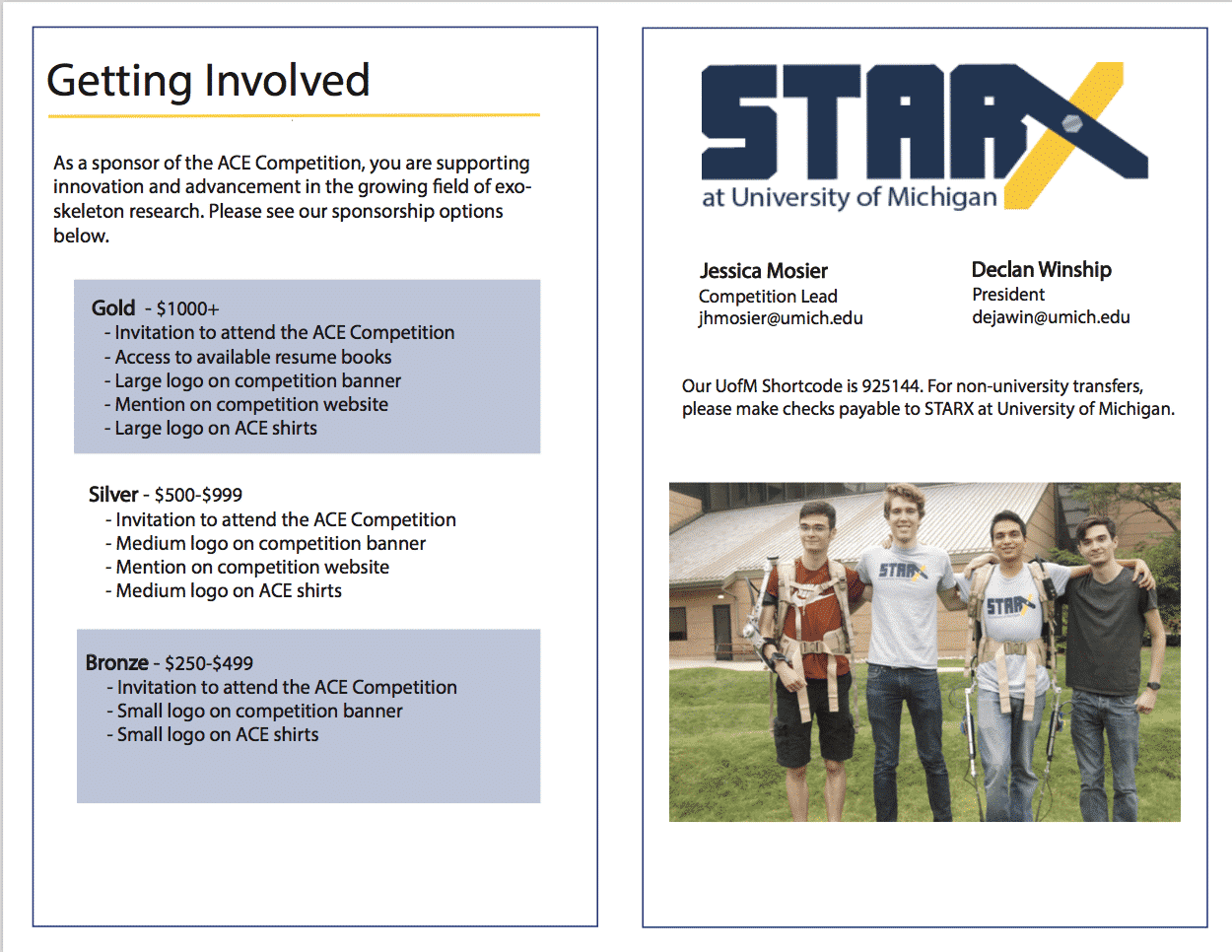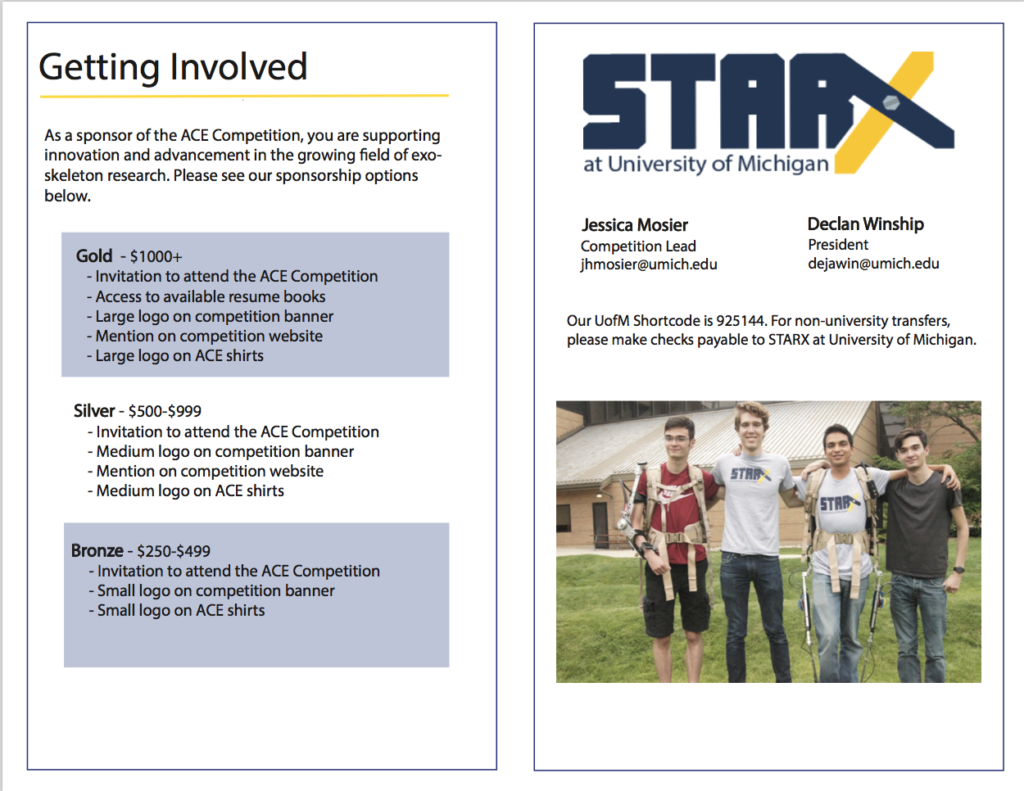 Exoskeleton Competitions
The ACE competition might sound farfetched, however, exoskeletons and wearable robotics have become sufficiently widespread to warrant such attention. In October 2016 ReWalk competed against multiple teams to win the first Cybathlon Exoskeleton Race and the third Wearable Robotics Innovation Challenge is scheduled to be held this March 21-23 at WearRAcon18.
Additional Information
APPLIED COLLEGIATE EXOSKELETON COMPETITION 2018 https://www.acecompetition.org
New Student Exoskeleton Team Launches Prototype, STARX (STrength Augmenting Robotic eXoskeletons), Electrical and Computer Engineering University of Michigan, July 2017, http://eecs.umich.edu/eecs/about/articles/2017/new-student-exoskeleton-team-launches-prototype.html