One small step for the BMW Group, one giant leap for the exoskeleton industry.  The BMW Group has decided to move ahead and add several dozen arm and shoulder support exoskeletons EksoWorks Vest by Ekso Bionics and multiple Chairless Chair by Noonee.  This is a remarkable milestone for all industrial exoskeletons.  For years, tool holding and body support exoskeletons have been tested at hundreds of sites all over the world.  This is the first time that a major manufacturer has publically announced that they want to keep their evaluation assistive exoskeletons and on top of that, acquire additional units, tripling their number.
State-of-the-art assistive systems, including exoskeletons, have been evaluated at the BMW Group Plant Spartanburg in South Carolina, U.S.  The evaluations have been ongoing for the better part of 2016 and the beginning of 2017.  The BMW Group has been investigating technologies such as integrated barcode scanners in a glove, worker friendly robotics, augmented reality and two exoskeleton devices.  Specifically, the EksoWorks Vest by Ekso Bionics and the Chairless Chair by Noonee.
BMW associates using the Ekso Bionics device on 4/20/16 via BMW Group

The EksoWorks Vest is a shoulder and arm support exoskeleton with a headrest.  It is designed to alleviate the strain of continuously working with heavy tools above waist level.

The Chairless Chair by Noonee is capable of locking into place while a worker has to crouch or stand for prolonged periods of time in the same place.  It reduces the pressure on the knee and the rest of the leg allowing for workers to stay on task longer.
There will be 44 more units of the EksoWorks Vest added to the BMW Group Plant Spartanburg in addition to the 24 already there.  Eleven Chairless Chairs will be in service at BMW Group Plants in Germany.  It should be emphasized that 68 passive shoulder and arm exoskeletons is not a large number.  At an estimated price of $5,000 each, the order comes to a paltry $340,000.  What is important here is that this marks the inflection point for industrial exoskeletons that everyone has been working towards.  It has taken a long time to get to this point, and for good reason, read our article on the subject When is the Exoskeleton Industry Inflection Point and Where Are The Orders? (Jun 2016).  The BMW Group tripling its wearables marks a shift for industrial exoskeletons from "a good idea that still needs some work" to "hey, this stuff just might be ready to put in use."
BMW and Exoskeletons?
Why would the BMW Group want to harness the potential of exoskeleton technology?  Taken directly from their press release (link below) the BMW Group believes that through modernization…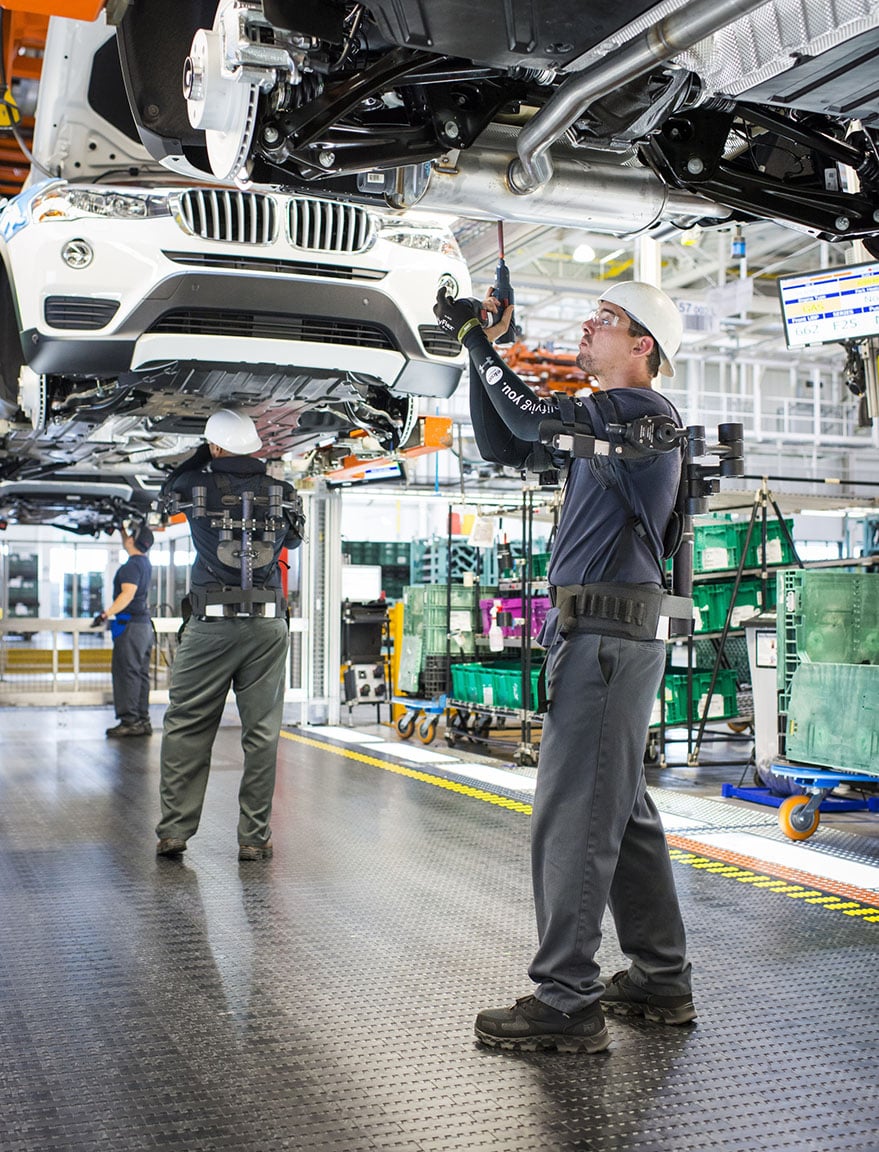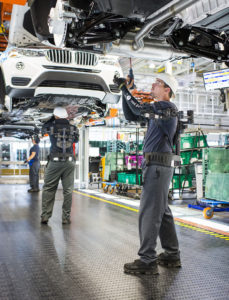 "…it will be possible to further reduce ergonomically unfavourable and strenuous tasks, giving workers an opportunity to apply their unique cognitive skills to the best effect. While in the past, man and machine worked in separated areas cordoned off by protective fences, the last few years have changed this setup: modern lightweight robots, smart devices and exoskeletons support workers as a direct part of people's work environment in production, making the production system leaner and more adaptable."
Special note should be made of: While in the past, man and machine worked in separated areas… the last few years have changed this setup.  This is a historic shift in perspective.  The idea that a robot, (wearable or not) can be a direct part of people's work environment is the change of perspective that so many exoskeleton research labs, companies, and organizations have worked so hard to bring to light.
On assistive systems and lightweight robotics, the BMW Group press release also adds "…Moreover, they can work directly with people. As a rule, the application of assistance systems is about finding reasonable solutions for the respective purpose, always with the focus on the specific benefit to be achieved."  The key statement here is: focus on the specific benefit to be achieved.  Earlier exoskeleton projects were plagued by a technology first design intent: build the exoskeleton and let the user figure out how exactly to use it.  Over the last few years, however, exoskeleton developers have taken note and corrective action.  The EksoWorks Vest and the Chairless Chairs are both examples of newer, task and application specific wearables.  Exoskeleton development has become much more focused than in previous decades and there are many more task specific exoskeletons making their way down the pipeline.
What is an Industrial Exoskeleton?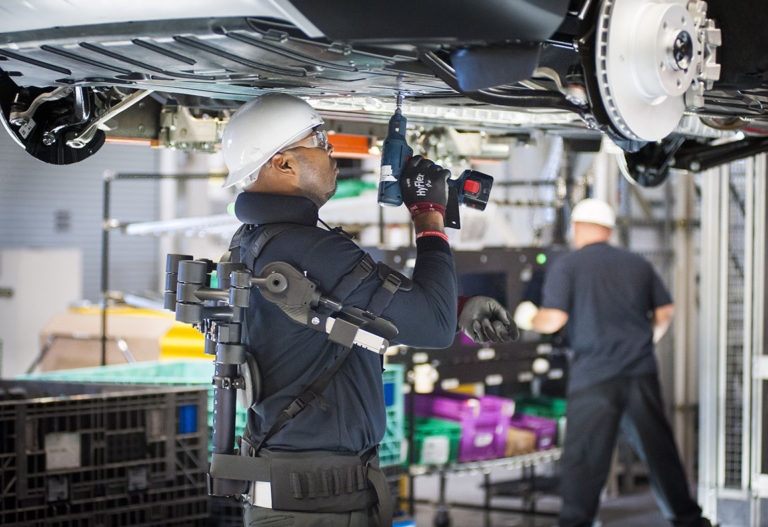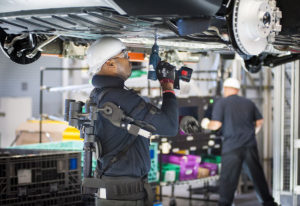 Industrial exoskeletons are wearables designed to be used for work and industry at construction sites, dry-docks, factories, warehouses, etc.  Commercial exoskeletons for work and industry can be separated into five categories: arm & shoulder support such as the EksoWorks Vest, back support, leg support such as the Chairless Chair, power gloves, and tool holding.   Research work in industrial wearables can be divided into six slightly different categories:  tool holding, chairless chairs, back support, power gloves, full body powered suits, and additional/supernumerary robotics.  For much more see: 22 Exoskeletons For Work and Industry Into 6 Categories (April 2016)
Greater numbers?
The EksoWorks Vest is not the first industrial exoskeletons to be made in larger numbers.  For example, there are over one hundred units of the powered back support exo, the Muscle Suit by the Japanese company Innophys.  In addition, there are thousands of V22 and FLx ergoskeletons by StongArm Technologies going into service worldwide.  The EksoWorks Vest, however, is the first assistive industrial exoskeleton to be placed on the production floor of a large manufacturer.
Sources & Additional Information
BMW Group Harnesses Potential of Innovative Automation and Flexible Assistance Systems in Production,  March 3rd, 2017, BMW Group Press Release, https://www.press.bmwgroup.com/global/article/detail/T0268199EN/bmw-group-harnesses-potential-of-innovative-automation-and-flexible-assistance-systems-in-production?language=en, Article and High Resolution Image Sets
Chairless Chair, Noonee.com
Ekso Bionics, EksoBionics.com, Note: As of writing this article, Ekso Bionics does not officially advertise the EksoWorks Vest on their website, but they featured it during their first Open House event.
The Ohio University Russ College of Engineering and Technology has an intriguing article on collaborating with the BMW Group to bring exoskeletons to the production floor: Russ College alum brings Iron Man innovation to BMW, Tyler Prich, March 2017, https://www.ohio.edu/engineering/news/news-story.cfm?newsItem=CD9932EC-5056-A874-1D39382EFF4B4FD4