Save the date, the Wearable Robotics Association Conference 2017 (WearRAcon17) will take place April 19th-21st, 2017.  The conference will once again be held in Phoenix, Arizona, but this time the venue is changed to the Hyatt Regency.  If WearRAcon16 is to be any indication, WearRAcon17 will be a must go to event for everyone in the exoskeleton industry.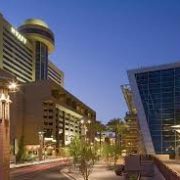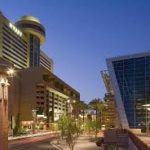 Location:
Hyatt Regency Phoenix, 122 North Second Street, Phoenix, Arizona, USA, 85004
Located less than 4 miles away from the Phoenix airport.  You can reserve rooms now starting at $199 through the WearRA website.
Keynote Presentations:
This year the keynote presentations will be Dr. Hamayoon Kazerooni (SuitX/US Bionics) and Dr. Michael Goldfarb (Indego).  It is difficult to describe how exciting these two choices are!  Combined with the keynote speakers from last year, WearRAcon17 will already feature the leaders from all but two of all major exoskeleton companies in just its first two years.
Dr. Hamyoon Kazerooni is a professor of Mechanical Engineering at UC Berkeley and has been involved with both Ekso Bionics and SuitX (US Bionics).  With military, rehabilitation and industrial exoskeletons, few people can match Dr. Kazerooni's experience and passion for the exoskeleton industry.
Dr. Michael Goldfarb runs the Center for Intelligent Mechatronics at Vanderbilt University.  He holds a Ph.D. in Mechanical Engineering from Massachusetts Institute of Technology.  Dr. Goldfarb is best known for his work on Parker Hannifin's Indego gait rehabilitation exoskeleton.  The Indego is currently one of only three medical exoskeletons approved by the FDA.
Impressions from last year:
If WearRAcon17 is anything like its predecessor, then it will be an opportunity to immerse yourself in the world of exoskeletons and wearable robotics technology.  Here are our impressions from WearRAcon16: Day 1, Day 2, Day 3, Innovation Challenge.
Want to know more?
Visit the Wearable Robotics Association website: WearableRobotics.com
For more exoskeleton related events, check our events calendar page.