Using the assistive force of her ReWalk robotic exoskeleton, Claire Lomas completed the Great North Run half marathon on foot in September 2016.  It is not every day that someone paralyzed from the waist down walks 13.1 miles to cross the finish line.  This achievement would not have been possible without an entire decade of research and development by the folks from ReWalk Robotics (formally, Agro Medical Technologies).
In more detail:
Claire Lomas was paralyzed from the waist down resulting from a riding accident.  The paralysis due to her spinal cord injury changed Claire's life completely.  Not only did she lose the ability to walk, but she soon started suffering from secondary effects of prolonged wheelchair use such as impaired bladder functionality, poor circulation, pressure sores, etc…
Rather than feeling like a victim, she had a different point of view.  Claire recognized that while she had lost control of her legs, she was still more fortunate than other spinal cord injury patients that were left completely paralyzed from the neck down.  She began actively raising money to cure paralysis.  Claire is a patron of the Nicholls Spinal Injury Foundation and to date, she has raised over half a million pounds.
Completing a Half Marathon Using ReWalk exoskeleton: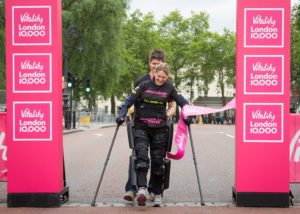 Initially, Claire had some problems entering the marathon as having a powered, motorized exoskeleton was deemed as giving her an unfair advantage.  Claire walked the 13.1 miles course starting from Newcastle over five days.  The wearable robotic, ReWalk, empowered this paralyzed athlete to walk the course over five days in three mile long intervals.  She was shadowed by her husband during the route.  Having a spotter is essential for the safe operations of any gait assistance exoskeleton (more on this topic, exoskeleton safety, will be published soon).
Claire is a veteran user of her ReWalk exoskeleton.  Even so, she describes "every step requires concentration and effort, I have to tilt my pelvis for the legs to take a step and moving the crutches is challenging as they help me stay upright! I have no sensation from the chest down so I can't even feel the ground I am walking on." (1)
The ReWalk is beginning to establish itself as the premier choice for personal and home use exoskeleton.  Its main requirements are sufficient upper body strength to operate and the ability to balance using crutches or a walker.  It hasn't been proven, but it appears that many users that own their ReWalks and use them at least twice a week seem to get better and faster over the years.  In webinars and videos by ReWalk Robotics, one can't help but notice that new owners move slowly, while people with one to three years of experience move at a regular pace.  However, they all appear sluggish compared to users with five or more years of experience operating their ReWalk exoskeleton.
ReWalk Robotics was founded on the idea that the wheelchair can be improved on.  The company was created with the dream of providing paralyzed individuals an alternative form of ambulation.  After more than ten years of work, the efforts by the ReWalk Robotics team are visibly paying off.
Sources:
JustGiving, Claire's Page, The Nicholls Spinal Injury Foundation, https://www.justgiving.com/fundraising/clairelomasGNR
'Bionic' woman Claire Lomas completes Great North Run, BBC News, September 11, 2016, link
Great North Run Marathon, http://www.greatrun.org/great-north-run
The Chaires Challenge http://www.claireschallenge.co.uk