Mitsubishi Heavy Industries and Japan Atomic Power Company have developed a prototype powered exoskeleton for nuclear disasters.  Mitsubishi labels this wearable robot as a Power Assist Suit or PAS.  It was recently exhibited at the Japanese International Robotic Exhibition (IREX 2015) in Tokyo, Japan.  This is the first entry of both Mitsubishi Heavy Industries and the Japan Atomic Power Company in the exoskeleton field.  Mitsubishi now joins the ranks of the large companies developing exoskeletons on the Asian continent: Daewoo (DSME), Honda, Hyundai, Panasonic, Samsung and Toyota (Sony no longer has a robotics division).
During the March 2011 Fukushima Daiichi nuclear disaster, Japan the nation with the most robots per capita was left embarrassed.  No autonomous or remote controlled robot was capable of navigating the debris field and perform useful work inside the damaged nuclear power plant.  In the end, employees firefighters and volunteers (sometimes referred to as the Fukushima 50) had to continue working in areas with increased radioactivity.
While research and development is continuing on semi-autonomous robots that can operate in dangerous environments there is still a need for a human presence in dangerous disaster zones.  The Mitsubishi Heavy Industries exoskeleton's primary function is to assist in holding tools and radiation shielding for users working in a radioactive zone.  The PAS is a Hip-Knee-Ankle powered exoskeleton, which is a rarely seen configuration.    The design goals and specification for the PAS are: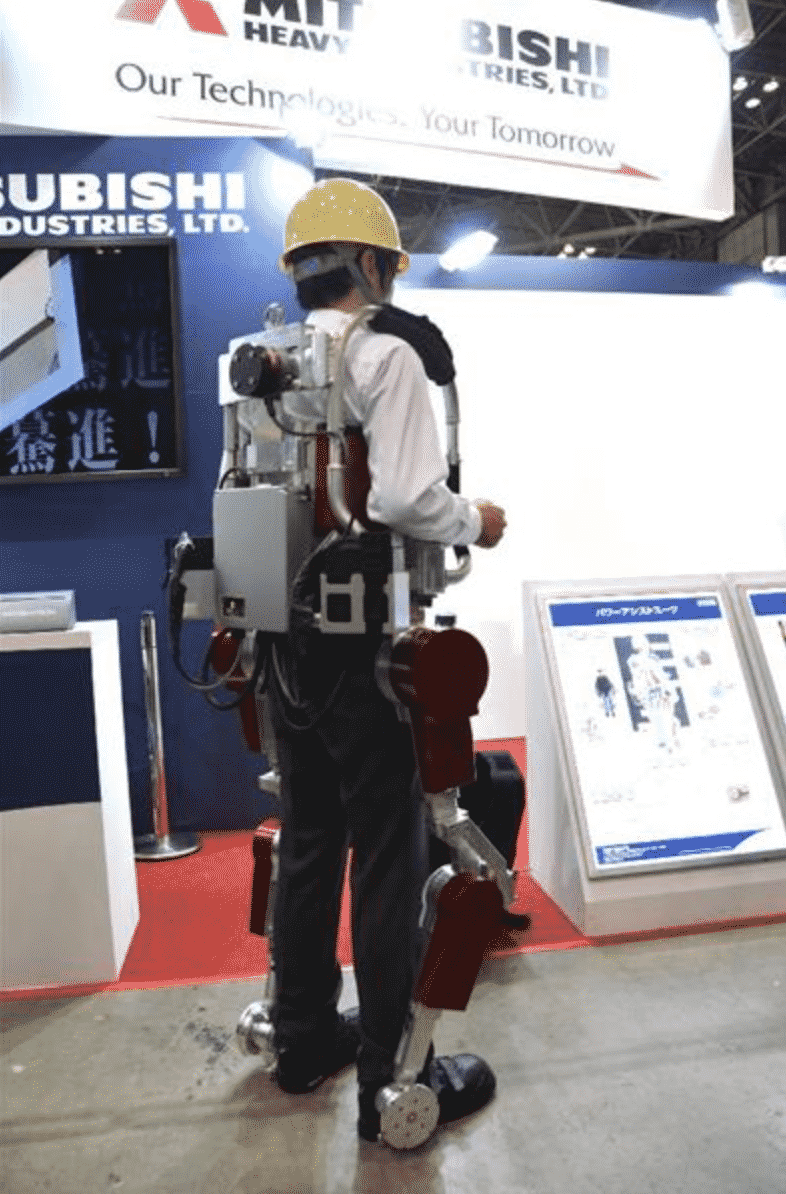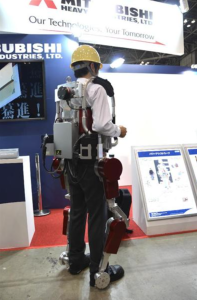 Provide 400N of power assist (excluding the suit)
Use lithium-ion batteries for 2h of continuous operation
Walking speed of 3.0km/h when loaded (this is a relatively high speed)
Unit mass of 39kg (86 pounds)
Use of small, high power motors and miniaturized controllers
Foot sole "power" sensors
Mitsubishi isn't the first time an exoskeleton company has tried to make an exoskeleton with radioactive shielding.  That honor goes to CYBERDYE which featured a HAL power exoskeleton loaded with a lead vest.  Unlike the HAL, the Mitsubishi PAS does not use any sensors to monitor the users bio-electrical signals to the leg muscles.  Instead, the PAS relies on imbedded pressure sensors in the exoskeleton's foot plates.
The PAS is currently going through feasibility testing with the help of the Panasonic subsidiary Activelink.  Mitsubishi hopes that their powered exoskeleton will prove itself and future iterations could be applied to a wider range of applications.
You can view the original press release here and there is also an article in Japanese by Sankei that includes the Mitsubishi PAS here.