The Cyberlegs website has released several full research papers concerning exoskeleton research that can be read and downloaded for free.  One journal article is a particularly good introduction to research and development exoskeletons up to and including 2014:
Review of Assistive Strategies in Powered Lower-Limb Orthoses and Exoskeletons,  Tingfang Yana (1), Marco Cempinia (1), Calogero Maria Oddoa (1), Nicola Vitiello (1,2), 2014, 1.The BioRobotics Institute, Scuola Superiore Sant'Anna, viale Rinaldo Piaggio 34, 56025 Pontedera (PI), Italy. 2.UO Riabilitazione Cardiaca, Fondazione Don Carlo Gnocchi, Via di Scandicci, 50143 Florence, Italy. pdf: cyberlegs.eu 
If you are relatively new to the field of exoskeletons and wearable robotics or if you are familiar with only 20-30 exoskeleton projects, then the above article will definitely be a worthy read for you!  The paper gives an overview of several dozen exoskeleton devices, their control strategies and reported experimental results.
A Mechatronic System For Robot-Mediated Hand Telerehabilitation, Mario Cortese, Marco Cempini, Member, IEEE, Azzurra Chiri, Paulo Rogério de Almeida Ribeiro, Surjo R. Soekadar, Maria Chiara Carrozza1, Member, IEEE, Nicola Vitiello, Member, IEEE, 2014, Italy, pdf: cyberlegs.eu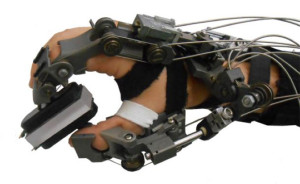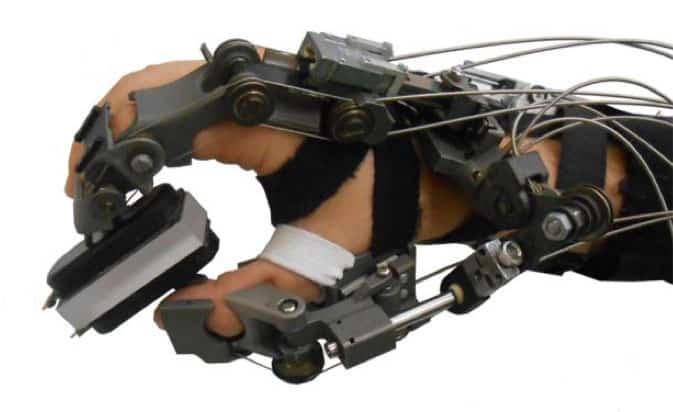 The above is the author's paper on a master-slave exoskeleton for remote rehabilitation.  The device presented is relatively simple and very practical.  These type of glove exoskeletons are not covered in the review from the review paper which makes this a great supplemental read.  Access the journal papers from the cyberlegs.eu website while you can (go to the main site, then click on Results from the main menu and Publications in the sub-menu).  The cyberlegs site also contains a full paper on Self-Alignement Mechanisms for Wearable Robotics (2012) and a Powered Elbow Exoskeleton For Physical Rehabilitation (2013) as well it's Intention Based EMG Control (2012).  The Cyberlegs project is currently complete and it is not clear how long the project's website will have access to the above exoskeleton journal articles.
Transformers: Exoskeletons in Disguise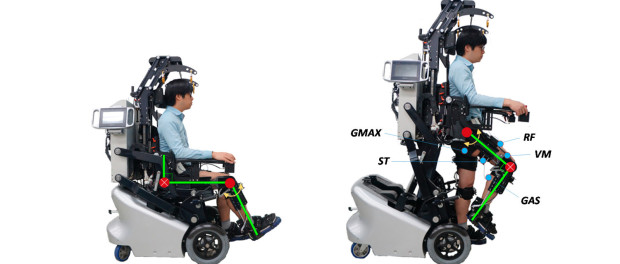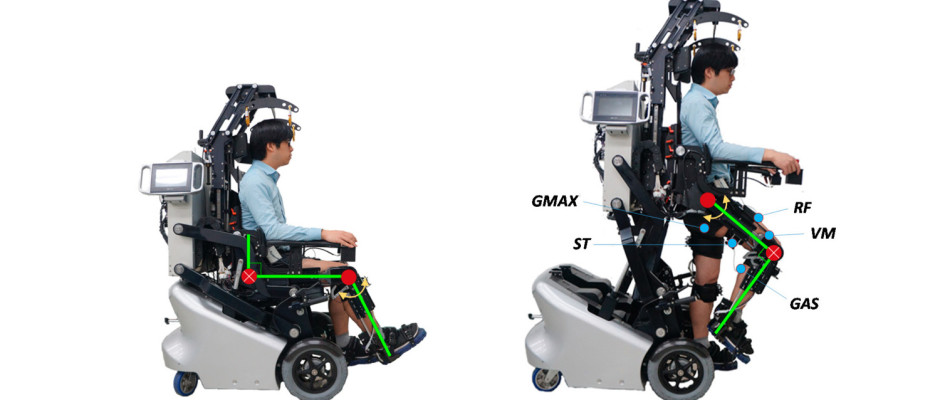 MDPI – Open Access Publishing has uploaded a full paper featuring a wheelchair that transforms into an exoskeleton device.  The exoskeleton is used to measure the muscle torque generated by the user using torque sensors:
A Method to Accurately Estimate the Muscular Torques of Human Wearing Exoskeletons by Torque Sensors, Beomsoo Hwang, Doyoung Jeon, April 2015, Department of Mechanical Engineering, Sogang University, Seoul 121-742, Korea, Link: http://www.mdpi.com/1424-8220/15/4/8337