As more commercial exoskeletons continue to be developed, can you tell them all apart?  This is a visual list of commercial exoskeletons that are either on the market or under development as of the start of 2015.  The exoskeleton devices are separated by type: mobile rehabilitation exoskeletons, fixed rehabilitation exoskeletons, powered commercial exoskeletons and passive exoskeletons:
Mobile Lower Body Exoskeletons for Rehabilitation or Walking Assist ONLY: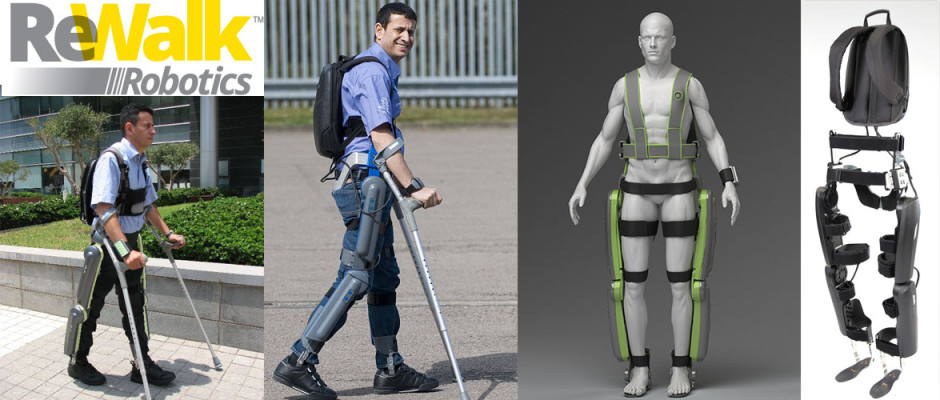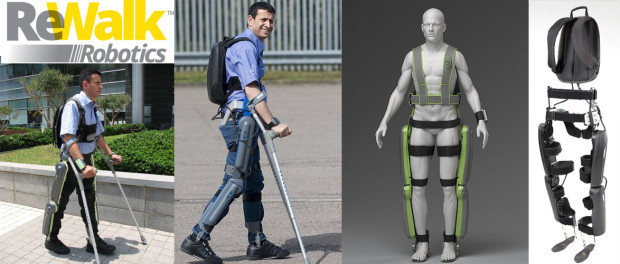 ReWalk by ReWalk Robotics is the only exoskeleton currently approved for home use by the FDA.  The company ReWalk, founded in 2001 has specialized exclusively in developing a commercial exoskeleton for mobility assist and one day, as a replacement to the wheel chair.  The ReWalk suit is currently being sold in the hundreds-per-year and is in extensive clinical trials around the world.  The company was also one of the first to use SolidWorks (CAD) files renditions.  For more information please visit the company website at ReWalk.com.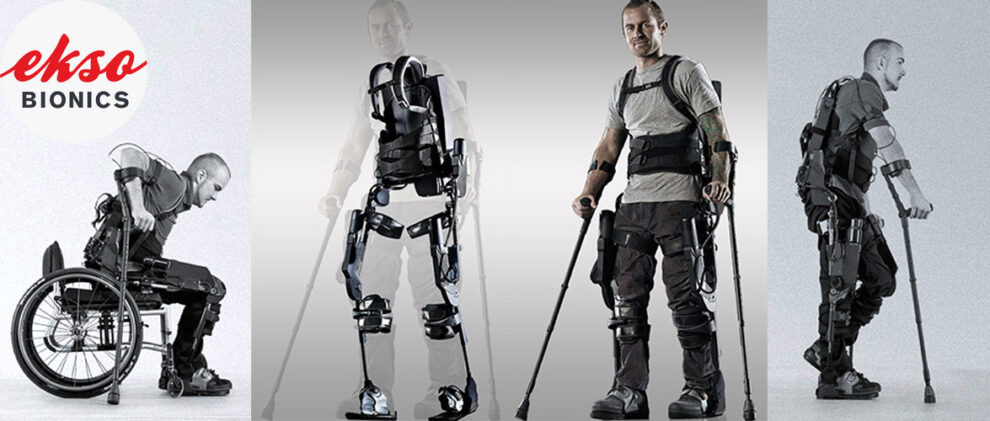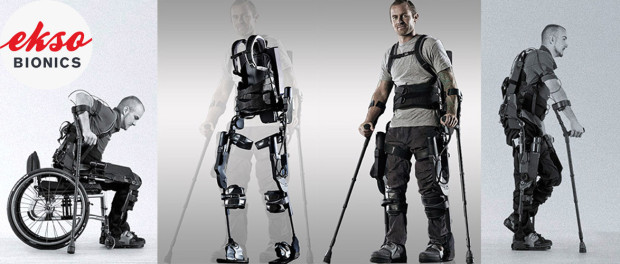 Ekso by Ekso Bionics is their 7th exoskeleton device.  Unlike ReWalk that has always had a laser sharp focus on one application for exoskeletons devices, Ekso Bioinics has the broadest experience out of all the companies.  Ekso Bionics engineers have worked on both active and passive exoskeletons, suits for both disabled and able-bodied users as well as solid and soft exoskeletons.  The current Ekso suit brings the full expertise into one suit, but only the clinical trials currently being conducted can show if it is superior to the competition.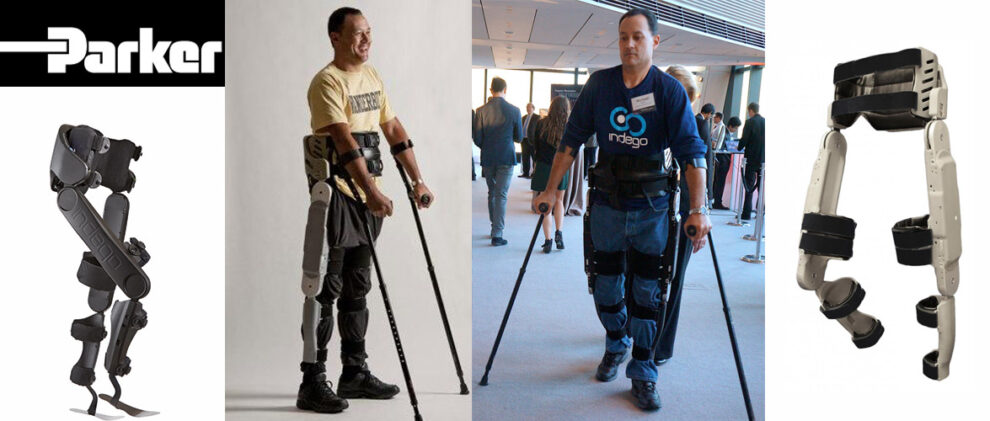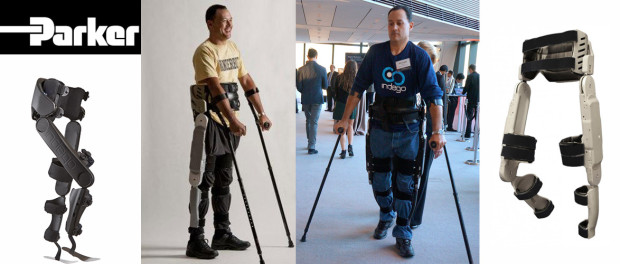 Indego by Parker Hannifin is probably the least publicized of the rehabilitation commercial exoskeletons.  Parker Hannifin is a large engineering company with over 58,000 employees worldwide and has the time and resources to patiently develop a quality product.  The Indego, which is also currently in clinical trials aims at delivering great performance with minimum hassle.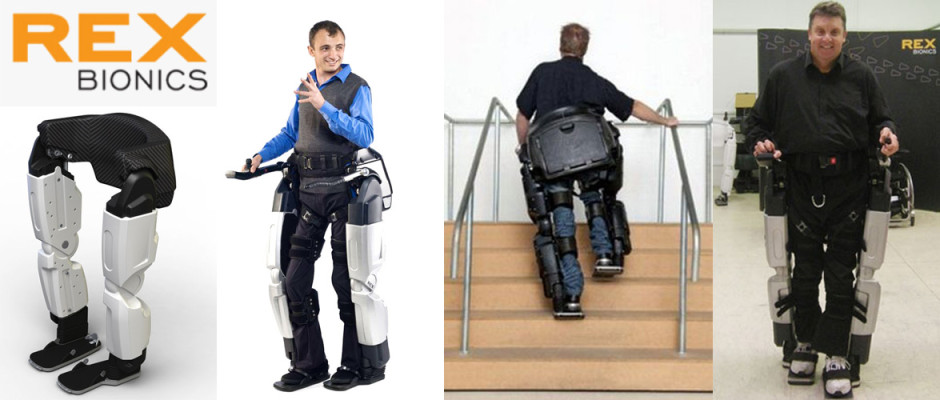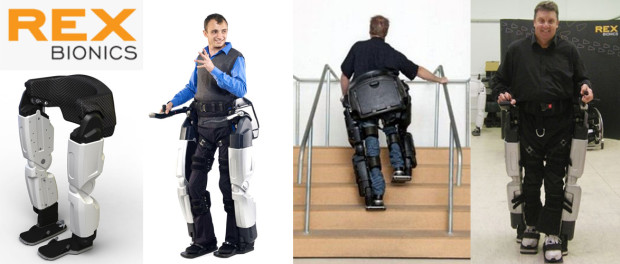 REX by Rex Bionics distinguishes itself by not requiring crutches or other balance support devices by the user to operate.  The exoskeleton controls its own stability which also has the added benefit that the device can be used by people with more extensive spinal cord injuries, up to the C4/5 level.
Stationary Commercial Exoskeletons for Rehabilitation: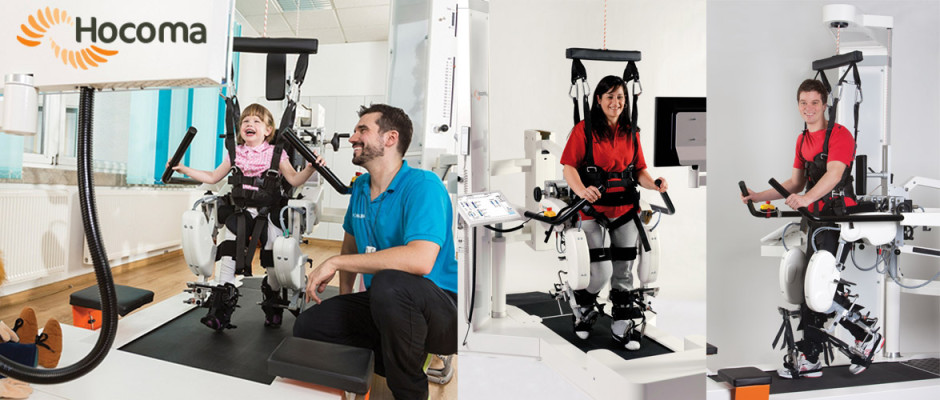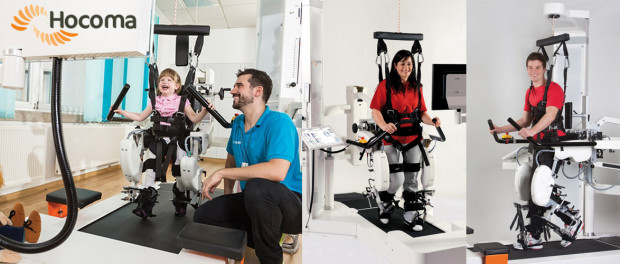 Hocoma has several commercial exoskeletons, mostly upper body, for rehabilitation use.  The Lokomat by Hocoma is an advanced rehabilitation and gait correction exoskeleton that comes in a pediatric and adult size.  The Lokomat is stationary and has a treadmill to simulate movement for the user.  In return, the Lokomat user can use a harness support, can be engaged by various exercises on monitors in front of them and fixed cameras and sensors can take measurements for purposes of gait corrections.  The Lokomat is sold in hospitals and privately-owned gyms that specialize in rehabilitation, for example Sci-Fit or Project Walk.
Powered Commercial Exoskeletons: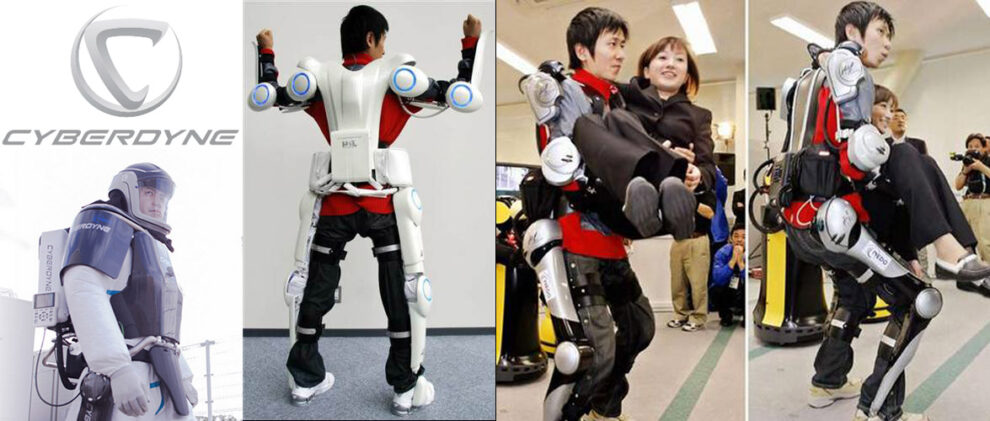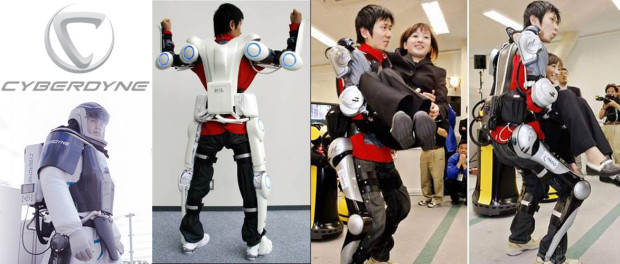 HAL by Cyberdyne is currently the most recognizable commercial exoskeleton.  The HAL suit, now in it's 5th iteration, was originally designed for able-bodied people, primarily for nurses lifting heavy patients but since then has been applied to other applications.  For example, modeled after the Fukushima Daiichi nuclear power plant disaster, a HAL suit was augmented with heavy radiation-proof armor that can be supported by the exoskeleton.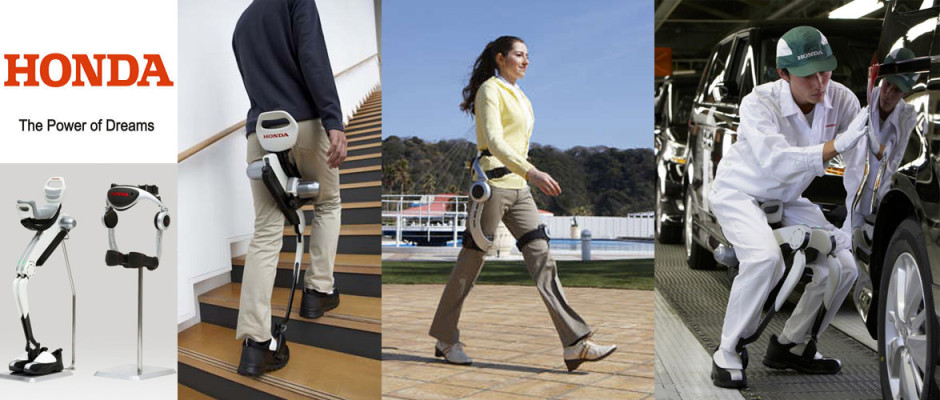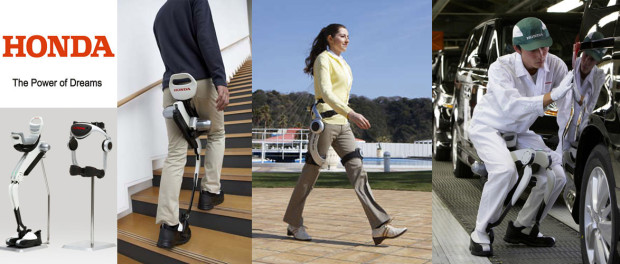 Honda is the commercial entity with the greatest experience in making walking robots second to none.  Since 1986, Honda engineers have sought to create a walking robot which culminated in the ASIMO.  Now, all of the knowledge and experience gained by Honda has begun to be channeled into exoskeleton devices that can be used by the general public.  The Honda company appears to be approaching the exoskeleton market like they are creating a unique new transportation device.  Currently all cars, motorcycles and bicycles require well maintained infrastructure in order to operate smoothly.  In the main cities that is usually not a problem, but in more remote areas or developing countries ground transportation vehicles start to struggle.  Exoskeletons for transportation have the unique advantage that they require minimum infrastructure and can operate equally well on a dirt path, stairs or a narrow mountain path.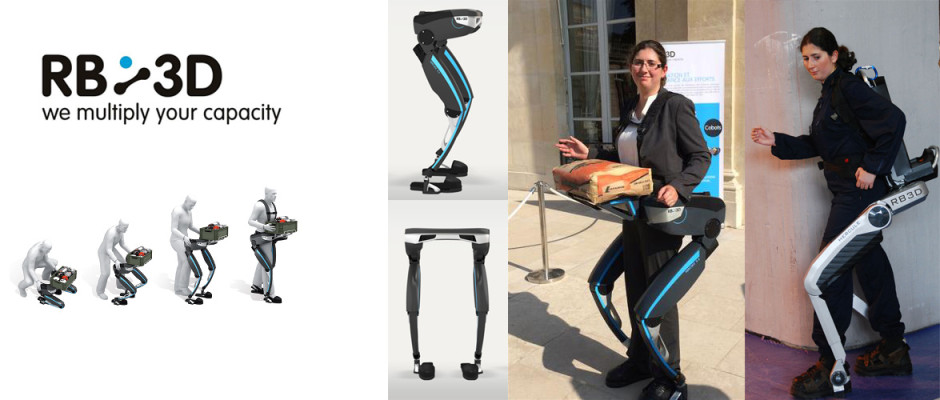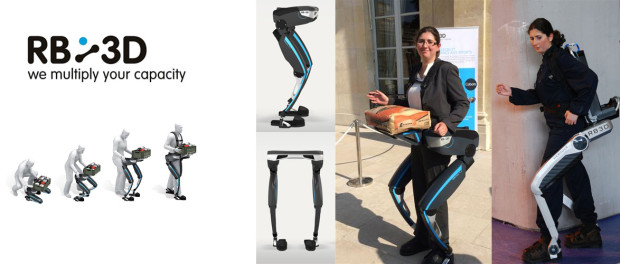 The French RB3D is currently working on the Hercule line of exoskeletons.  RB3D specializes in able-bodied augmentation and has experimented with multiple different configurations for both civilian and military use.  This is a commercial organization that is not afraid to make mistakes and sooner rather than later they will find an application for their devices.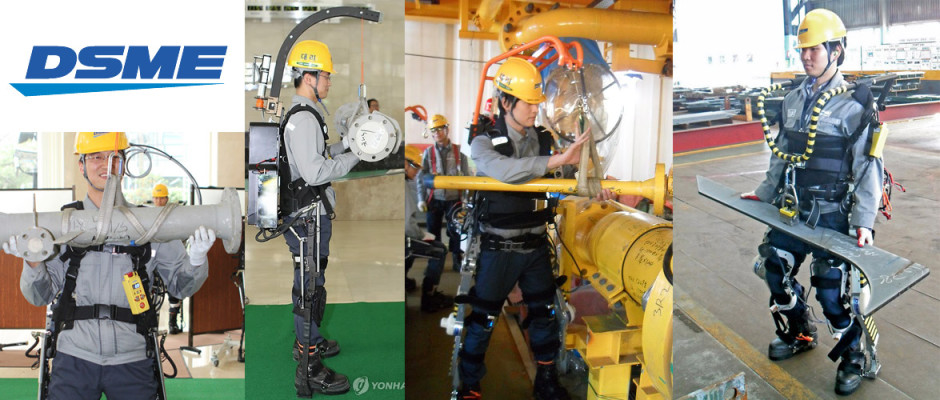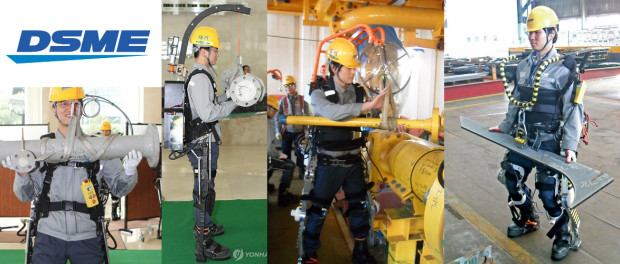 Daewoo Shipbuilding & Marine Engineering is developing an exoskeleton for use by their ship building workers.  The suit is designed to support the load of heavy tools and materials and improve the overall efficiency of employees while reducing injury rates on the worksite.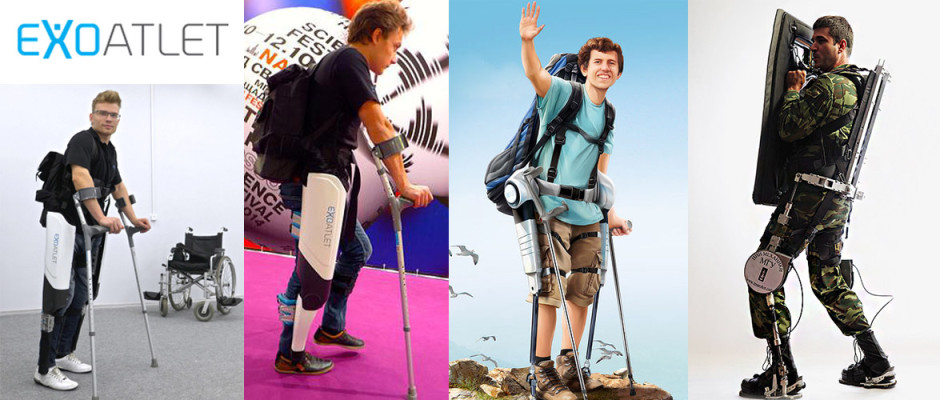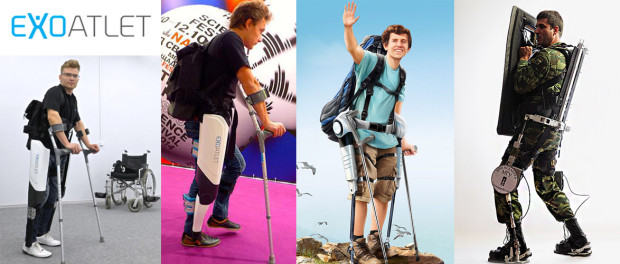 ExoAtlet is a relative newcomer to the exoskeleton field.  Winner of the Skolkovo StartUp Village, this exoskeleton was originally geared towards rehabilitation and power assist. Lately, there have also been pictures of the ExoAtlet being tested for police or military use.
Passive Commercial Exoskeletons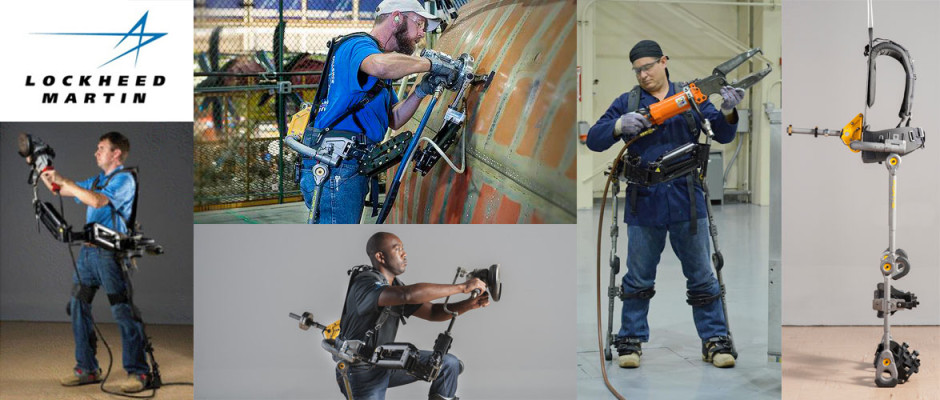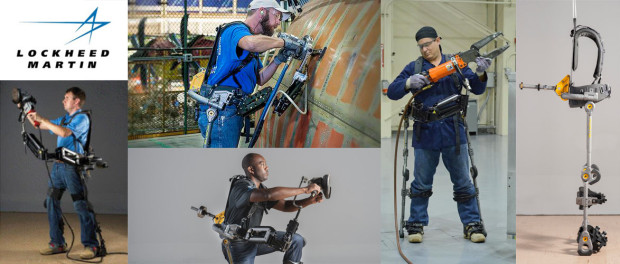 The FORTIS passive exoskeleton is a clever contraption by Lockheed Martin and Ekso Bionics.  As it stands, the main disadvantage of power exoskeletons is their high cost.  FORTIS is a passive exoskeleton, a suit with no motors, sensors or electrical devices that successfully fulfills a specific function.  The FORTIS uses a zeroG mechanical arm to connect to heavy tools and instruments and then transmits the load from the zeroG arm to the passive exoskeleton, around the user and into the ground.  The FORTIS is currently in testing but initial results show significant improvement in worker productivity.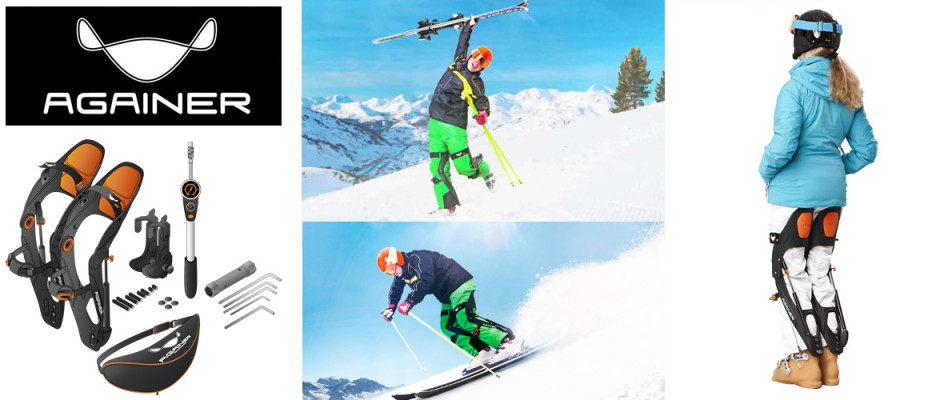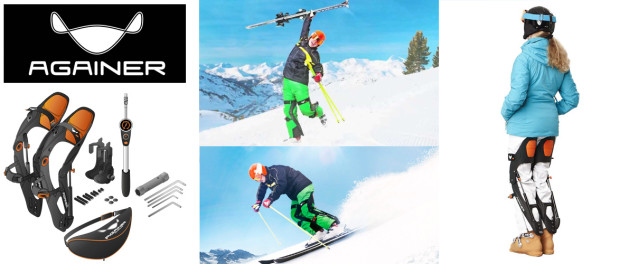 Againer is an example of one of several passive commercial exoskeletons for sports use.  The Againer prosthesis provides support to the knee during aggressive skiing reducing the stress and strain on the joint.    The Againer uses connector piece to attach to ski boots and has a pair of gas springs that function as shock absorbers.  Passive exoskeletons with a dedicated purpose are relatively inexpensive to produce and maintain and could become the first family of exoskeleton products to become a commercial success.